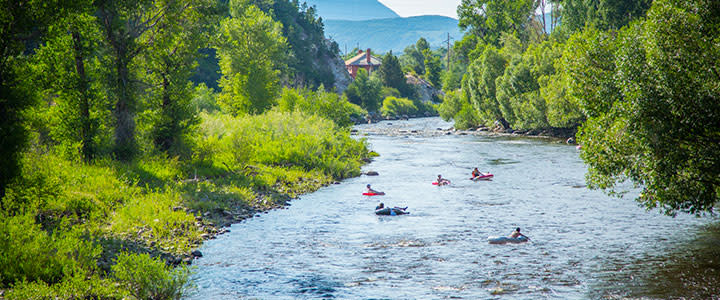 If you spend much time in Steamboat Springs, Colorado, it won't be long before you overhear someone say that Steamboat is their "favorite place in the world." This scenic mountain town certainly has a lot going for it, from its legendary, light-as-a-feather powder in the winter to its impressive trail system for hikers and mountain bikers in the summer. And year-round, everyone can enjoy the alpenglow sunsets. But what strikes a chord with so many visitors is that Steamboat's a place where people can enjoy themselves, no matter how old you are, where you come from, or what you like to do. The variety is what makes Steamboat so special. After all, who can resist a place where both six-year-olds and grandparents can have the time of their lives?
Many locals say that they came to Steamboat to experience its world-renowned skiing, but then they stayed for the other months. Driving through Rabbit Ears Pass in the summer, you'll view the pristine, emerald valley of Steamboat, which takes on a completely different feeling once the snow has melted.
Mountain bikers come to explore Emerald Mountain, which features more than 4,000 acres of public land filled with trails for all levels of riders. You can choose one that's appropriate for your eight-year-old kid or something that pushes your skills to the limit. For those who prefer to stay on paved surfaces—maybe you're pulling the kids in a trailer—the 7.5-mile Core Trail runs along the Yampa River through Steamboat Springs. If you're looking for a thrill, take your bike up the gondola at the Steamboat Resort and fly down one of the numerous downhill routes available—let gravity do all the work.
You can't visit Steamboat in the summer without seeing incredible views. But families with young kids should be sure to visit Fish Creek Falls, a 280-foot natural wonder that's easily accessible by a quarter-mile path. If you've got older kids who enjoy hiking, continue on the moderately rated hike for views of the Upper Fish Creek Falls and Long Lake. Another excellent family hiking option is the Mad Creek Trail bordering the Zirkel Wilderness Area. The trail features a little bit of everything—aspen groves, wild-flower filled meadows, and steep canyons—and two miles into the trail you'll hit the Mad Barn, built by homesteaders in 1906.
Nothing beats the summer heat like tubing on the cool and refreshing Yampa River on a summer day (rent tubes from Backdoor Sports). Paddling options in the area include Steamboat Lake, where you can rent canoes, kayaks, and stand-up paddleboards, as well as motorized boats for thrills. Steamboat is surrounded by excellent fishing opportunities, and beginners can learn the sport of fly fishing through Straightline Sports or Steamboat Flyfisher. These activities are especially delightful in the fall, when there are fewer people in Steamboat and the aspen leaves are changing from vibrant greens to brilliant yellows.
And of course, no matter the season, there is always town time. Skiing, hiking, and biking are loads of fun, but adventure doesn't have to leave the main streets of Steamboat. Every member of the family can delight in Steamboat's western culture and history by going to the Steamboat Springs Rodeo, which runs once a week in the summer. If you are a music buff, make your way over to Howelsen Hill to view Steamboat's free summer concert series or ride up the gondola to Thunderhead Lodge to catch a sunset with live music. If you are a shopaholic, there are plenty of stores to choose from—the kids will certainly ask to drop by Fuzziwig's Candy Factory. In the winter, you can partake in plenty of indoor activities, such as a seeing show at the Chief Theater. Make sure to visit the historic Old Town Hot Springs, featuring pools fed by the town's natural-gas fueled springs that have been soothing guests for more than 100 years.
Ready for more? How about a hot-air balloon ride, horseback riding, rock climbing, or even bumper cars on ice at the Howelsen Ice Arena? You'll never run out of activities on a trip to Steamboat.
At the end of the day, relax with some great food and a fabulous happy hour at one of the downtown restaurants. Some family-friendly favorites are Mambo's (Italian), Salt and Lime (Mexi-Cali), and Backdoor Burger (American), just to name a few. Enjoy a post-meal walk on Lincoln Street and look up at the last few rays of golden sunshine.
How your family spends its time in Steamboat is up to you. But it won't take long before you understand why so many people consider this their favorite place in the world.
Written by Kaiti Kinshella for RootsRated Media in partnership with Steamboat Springs Chamber.
Featured image provided by Kaiti Kinshella