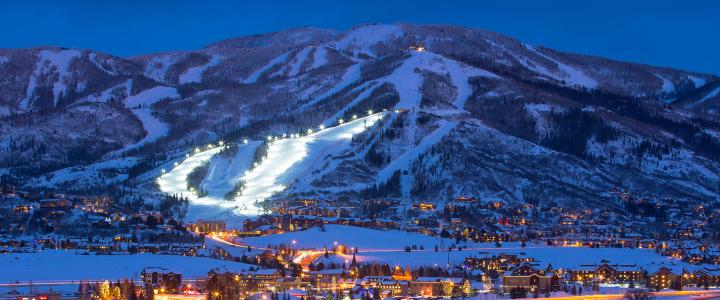 From the moment ski season ends until opening day, Steamboat Ski Resort is working tirelessly to improve efficiency, guest experience, and sustainability efforts. This year is one of the most exciting yet, with a brand new $15 million gondola set to take off in November. As snow begins to cover Ski Town USA, locals and visitors alike are tuning their gear, updating their apparel, and excitedly looking forward to the newest features of Steamboat Ski Resort this year. Below we have compiled the biggest, most exciting new features of the mountain to amp up your excitement for the 19/20 season!
Opening Day
Steamboat Ski Resort almost always opens on the Saturday after we fill our bellies with turkey. This year, things are changing! Thanks to an early dose of snow this fall, Steamboat Ski Resort opened the earliest it ever has: Friday, November 15. The following weekend, Saturday, November 23 will be a celebration for the new Steamboat Gondola including the Northern Ute Tribe's annual snow dance, Champagne powder donuts and mimosas, the christening of the Gondola, a donation to the Steamboat Springs Winter Sports Club and more.  



A Brand Spankin' New Gondola
The Doppelmayr gondola, possibly the most exciting addition to the mountain this season, will replace the resort's 30+ year-old lift. With this new installation, guests will be moved up the mountain at a significant increase in time -- 38 percent! The most beneficial perks of this new gondola will be the decreased base area wait times, additional cabins, and a more efficient, sustainable form of transportation for guests. In addition, the loading and unloading process will be smoother. With the elimination of the large step into cabins, wider cabin entrances, and an overall smoother transition process for loading and unloading, loading looks to be easier and more efficient than ever. You can also expect a renovated interior and exterior.
Ikon Perks
Although night skiing isn't new, it is for Ikon passholders. They can now participate in night skiing Thursday- Monday from December through March with their regular pass. Full Ikon passholders receive unlimited access to night skiing and snowboarding during the winter season by either staying on the mountain the whole day or using a day on their pass to ski or ride at night. Rather than getting caught in I-70 traffic and having to wait until the following morning to hit the powder, Ikon pass holders can jump off the highway right onto the mountain. 
 
Ski Your Pass Off
Bragging rights are always part of the skiing and snowboarding community and Steamboat continues to reward its most loyal riders with the Ski Your Pass Off loyalty program. Ikon passholders (ages 13 and up) are rewarded for the number of days they hit the mountain. Before the end of December 2019, if passholders have 10 days logged they'll earn a complimentary First Tracks ticket. From there, guests receive rewards at 20, 40, 60, 80, 100, 120 and 140 days with an initial $10 dining voucher for the first 10 days and $20 dining vouchers at each remaining benchmark. These vouchers can be used at any Steamboat Ski & Resort Corporation restaurant, located all over the mountain! Guests who ski all 144 days of the season receive additional recognition and rewards at an end of season celebration.
This coming year is expected to be one of the most exciting ones yet for Steamboat Resort. With an early heap of snow coming in, an extra week of powder days, a brand-new gondola, and many more perks for our loyal guests, we are expecting a phenomenal winter here in Steamboat.