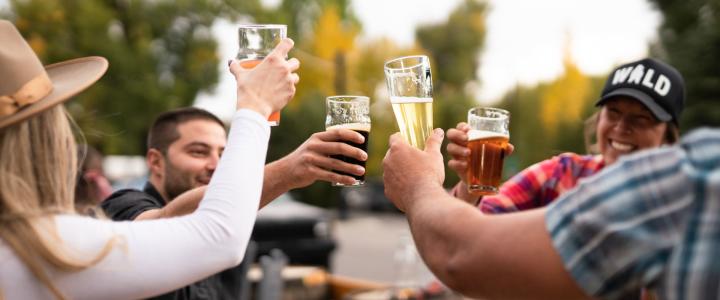 Throughout the spring and summer, Steamboat Springs blooms with activity with a vibrant downtown, an exciting calendar of events, abundant aspen trees, warm days and cool mountain evenings. Here's a look at what's new and coming soon for the 2022 spring and summer!
ACTIVITIES, EVENTS & OPENINGS
Moots Ranch Rally returns June 11, 2022 – A post-pandemic re-launch with some new twist and turns (just like the requisite roads the Ranch Rally highlights), the NEW Moots Ranch Rally will use the gravel roads right outside the Moots factory doors. The ride now features TWO courses – 54- and 76-mile routes. Both are nearly 100 percent gravel and include a few competitive timed segments. The Ranch Rally still celebrates the Western heritage and warm ranch hospitality Steamboat is famous for; the ride route crosses a host of area ranch lands, and participants are treated to a local ranch-hosted lunch and evening social gathering. Entries are limited and registration is now open. There is one way to ensure participation: register for the SBT TRVL BLUE through new partner SBT GRVL and you're guaranteed Moots Ranch Rally entry. Need another reason to join? Moots athlete and NBA Hall-of-Fame legend Reggie Miller will ride in this year's Ranch Rally, to help build diversity in cycling through raising funds for cycling programs at Historically Black Colleges and Universities (HBCUs). In addition to a Moots donation to Miller's efforts, the Ranch Rally will once again raise funds for the Community Agriculture Alliance (CAA). The CAA promotes agriculture in the Yampa River Valley, working to ensure the vitality and continuity of the area's unique heritage.
About the Ranch Rally: The Ranch Rally started in 2014 with a goal of raising funds for local and national non-profits. In the early years we called it a dirt road ride, and clearly, we were ahead of the times as gravel became the dominate discipline of choice for many riders. This summer's Moots Ranch Rally serves as the perfect recon for SBT GRVL with a much more relaxed pace.
First official gravel triathlon series in U.S. stops in Steamboat Springs – Gravel is growing, and its popularity has reached beyond just biking. The new USA Triathlon Gravel Series is planning an eight-stop tour this year, including the Stagecoach Gravel Triathlon in Steamboat Springs July 31, 2022. The series is supported by USA Triathlon in partnership with local race directors in New Jersey, Idaho, Michigan, California, and Texas, in addition to the Colorado event in Steamboat. The new gravel triathlon races will utilize mostly non-technical dirt roads and singletrack (some races will feature more technical terrain), as opposed to blacktop, and riders can choose bike type: road, mountain or gravel.
New pollinator garden at Yampa River Botanic Park — The Yampa River Botanic Park, a six-acre gem home to 50 gardens, ponds, benches, and sculptures, will unveil a newly renovated Hummingbird and Butterfly Gardens in Spring 2022. As one of the oldest gardens in the park, the pollinator garden will feature a fresh palette of colors, textures, and smells thanks to plants like the beautiful Hearty hibiscus, the fragrant Sunset hyssop, and the late blooming Yellow Sombrero coneflower. A wider stone pathway and a bubbling water feature will round out the improvements. The Park is free and open to the public from May to October. It serves as a place of serenity for visitors, a venue for outdoor yoga, and more.
Glacier Lilly brings fresh flowers and family traditions to Steamboat Springs – Following in her grandmother's footsteps, Michelle Evans opened Glacier Lilly in the Wildhorse Marketplace in late January. In addition to fresh flowers, houseplants and special event arrangements, the shop features a dried flower bar for make-your-own arrangements. There are also how-to classes scheduled regularly, and Bouquet & Brews classes the first Thursday of each month.
Denver-based Aksels opens shop in downtown Steamboat Springs – Aksels started creating its recognizable Colorado-branded hats and socks in 2007 and has since expanded to several locations outside of its Denver base, including a new store in Steamboat Springs. The downtown Steamboat store carries a variety of apparel, including the company's coveted socks and hats, plus shirts, hoodies, beanies, flip-flops, dog leashes, stickers and more. The shop's Steamboat-specific Aksels designs are one-of-a-kind and only available on-site.
Family-owned lodge now available for retreats, reunions, and group gatherings – Sky Valley Chateau is a 10-bedroom family-owned-and-operated mountain lodge in Steamboat Springs now available for singular rental for large gatherings. The spacious retreat comfortably sleeps 31 adults and includes cool amenities like the 16-person hot tub and an expansive yard.
BREWERY UPDATES
Storm Peak Brewing brothers open Bus Stop at resort base – Steamboat's Storm Peak Brewing Co. just opened a second location in town, the Bus Stop tasting room at the ski area base. The new location currently features 30 of the local brewery's hand-crafted beers on-tap, plus one of the largest bars in Steamboat Springs. The name – Bus Stop – is a nod to the tasting room's location between two stops, and a reminder to use public transit.
RESTAURANT NEWS
The Periodic Table channels the Argentinian steakhouse – The fresh Mediterranean fare of the European Riviera gives way to the pastures of Argentina in The Periodic Table's latest iteration for winter 2021-2022: Argentinian Steakhouse. From quintessential beef dishes influenced by Italy and Spain to the chef's own delicious take on traditional appetizers, diners can explore all manner of savory smoked, grilled, and fired fare from Argentina. The Periodic Table reinvents itself each summer and winter, pairing exciting thematic destinations with fresh, local, and seasonal ingredients. Located at Catamount Ranch, the restaurant opened with a 1920s New York supper club theme, followed by a visit to Havana, Cuba circa 1940, a sampling of the Classics of New Orleans, and a visit to the sun-kissed shores of the European Riviera. A Summer 2022 theme will be announced soon.
Steamboat's Tap House turns to Texas BBQ to address labor shortage – After nearly 25 years as a downtown Steamboat Springs fixture the Tap House is shifting gears. Citing staffing concerns as the catalyst, restauranteur Patrick Groves decided to try a different concept: Texas barbecue. The lemons-to-lemonade operations shift requires fewer employees, while providing hungry guests with hearty options, including smoked brisket, chicken, sausage and ribs accompanied by pinto beans, potato salad, coleslaw and macaroni and cheese. Mad Creek Barbecue is open Tuesday – Sunday, 11:30 a.m. to close. It's located at 729 Lincoln Ave.
New coffee shop opens downtown — Beard & Braid, a new light and airy downtown coffee shop, opened mid-February. The shop serves coffee drinks like Americanos, cortados, lattes and more made using coffee beans from Sweet Bloom Coffee Roasters in Lakewood, a direct-trade company that brings a representative from the village or farm to the U.S. to see firsthand how the beans are processed. Monthly, the coffee shop will feature a seasonal drink (currently a blueberry French toast latte). Along with coffee, the shop serves chai, matcha, golden milk, lemonade, organic wines and Colorado beers. The pastry menu includes homemade croissants, gluten-free cakes, danishes (including a savory ricotta pesto variety), quiche, scones and more. Beard & Braid is located at 116 Ninth Street and is open Wednesday through Sunday from 7 a.m. to 7 p.m. and Monday from 7 a.m. to 1 p.m. Closed Tuesdays.
VISIT RESPONSIBLY
We've created a resource page where you can learn about ways to care for and protect our mountain town on your next visit. From low-impact travel ideas to information on wildlife and fire safety, help us preserve our beautiful spaces for future generations.