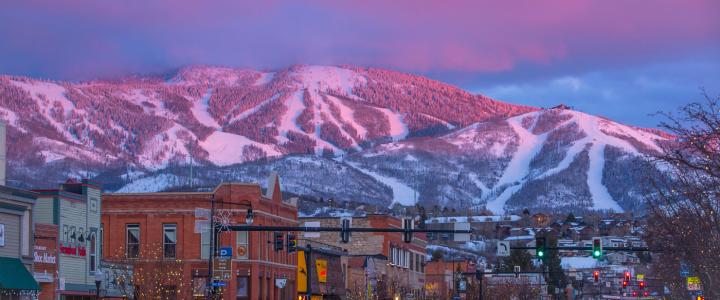 A look at what has just opened or is coming soon to Steamboat Springs
The temperatures are dropping, the leaves are changing colors, and the winter season is just around the corner! Winter in Steamboat Springs offers nearly endless options for exploring and adventuring, whether you hit the ski slopes, take to the trails, experience the downtown scene, or all the above! Keep reading for all the details on what's new this winter in Steamboat Springs, CO.
Where to Stay
Gravity Haus Arrives in Steamboat Springs: Gravity Haus, the "Colorado-based social club for the modern adventurer," purchased The Ptarmigan Inn in mid-September, expanding its membership offering in Steamboat Springs. Located steps from the base of Steamboat Ski Area and the Steamboat Gondola, the property will relaunch as Gravity Haus in November, following a light refresh.  The Ptarmigan leadership team will continue leading the hotel operations. Existing reservations will be honored. Overnight stays at The Ptarmigan Inn are available for Gravity Haus members and non-members and can be booked at www.theptarmigan.com.
What to Do
New Indoor Steamboat Tennis & Pickleball Center Could Open as Soon as Winter 2023/'24: Steamboat Springs will soon be home to a new and improved Steamboat Tennis and Pickleball Center. In June, the Center broke ground for phase one of the project, which includes outdoor amenities and upgrades, such as new tennis courts and 12 new pickleball courts, a parking area and green space. Phase two of the project, which will cover the new pickleball courts with a building that will also feature a welcome center, pro shop and locker rooms, could wrap up as soon as next winter if a fundraising push to raise $2 million by the end of October is successful. Nonprofit Court Sports 4 Life leases the land from the City of Steamboat Springs, manages the Center and is spearheading the project.
Fat Biking and Ski Tours on Emerald Mountain: The City of Steamboat Springs awarded first-ever permits for tours and instruction on the Emerald Mountain Trail Network by local outfitters Ride Workshop and Steamboat Powdercats. Both companies will offer mountain biking tours during the summer/fall and fat biking tours for winter. Steamboat Powdercats will also offer winter backcountry ski tours. Tours include trail etiquette and instruction. Permit requirements limit group size and number of tour sessions per day and per season. This community initiative is part of Steamboat Springs' effort to "Preserve the Place" - to take care of the natural environment and resident wildlife by informing and educating guests about protecting natural and cultural assets while enjoying an unforgettable visit to the area. Learn more about Steamboat Springs Chamber's new Kindness Floats the Boat initiative here.
Snow Tubing Returns to Howelsen Hill: Howelsen Hill will debut snow tubing in December, along with a brand-new tubing lift. Apres-tube at the Outrun Snack Bar, (debuted last season) with Powder Day doughnuts, calzones and more. Located in downtown Steamboat Springs, Howelsen also offers downhill and cross-country skiing, snowboarding, snowshoeing, snowbiking and ski jumping, plus free skiing every Sunday during the winter.
New Mural at Snow Bowl: A new mural featuring more than 120 pets from across the Yampa Valley was unveiled in September at Snow Bowl Steamboat. Artist Rory Clow created the mural, which overlooks the "Dog Bowl" outdoor area at Snow Bowl. The mural raised more than $3,800 for the Routt County Humane Society. Pet owners submitted photographs of their pets for the mural, along with a minimum $25 donation.
Where to Eat and Drink
Steamboat's First Food Hall Opening Soon: Steamboat's first food hall – The Commons – is slated to open in early December. It's conveniently located on 7th Avenue between Lincoln and Yampa, overlooking Butcherknife Creek in the heart of downtown. The freshly renovated gathering space will feature up to six food vendors, a full bar (operated by Justin Keys, owner of The Barley), diverse seating and common areas throughout, including a 650-square-foot deck. Burlap & Berry Coffee Co. will be one of the vendors as well as Clyde's Pies, which is serving 'za out of one of the two alley spaces available in the building's basement.
New Grain-to-Glass Distillery: Steamboat's newest spirits purveyor, Routt Distillery, is a "grain-to-glass" distillery specializing in gin, vodka and single malt whiskey. The grain is sourced from Southern Colorado and the Front Range, and everything is made in-house at the production facility located at 975 Captain Jack Drive. Agriculture products made locally and in Colorado are a focus of the distillery; bottles even feature a 1920 map of Routt County. Spent grain is fed to pigs and chickens at Hayden Fresh Farm. Owner Brad Christensen hopes to make a Routt County single malt whiskey with barley grown in the county down the road. There are future plans for an absinthe and serviceberry bitters recipe and an agave spirit and rum. The distillery opened its tasting room in August. It is open Thursdays and Fridays from 1-6 p.m. with expanded hours anticipated in the future. 
Mythology Distillery Slated to Open Summer 2023: Mythology Distillery, a craft distillery from Denver, recently broke ground on a new location in the former Butcherknife Brewery building. The new campus is slated to open summer 2023 and will include a production facility, tasting room, and an outdoor whiskey garden replete with an Asian dumpling restaurant, slides, game area and more.
Welcome to the Smoke Show: Yampa Valley Icehouse, located along the Yampa River at 751 Yampa Street, is a new live-fire barbecue joint serving up ragin' barbecue, including burgers, chicken, pork and more, courtesy of head smoker Mark Mlynski and a 14,000-pound custom smoker from Texas. The restaurant will feature live music outside during the daytime and early evenings. Enjoy views of Howelsen Hill, the Yampa River, Mt. Werner and more from the rooftop bar and deck. The restaurant is open seven days a week. Hours vary by day.
A Taste of Chicago at Trails End Bar-N-Bites: A second new restaurant debuted this summer on Yampa Street, Steamboat's dining and entertainment hub. Hotdog emporium Trails End Bar-N-Bites is located at 1124 Yampa Street in the space previously occupied by Double Z Bar & BBQ. The restaurant serves up a taste of Chicago, including Chicago Dogs on poppyseed buns and Italian Beef Sandwiches with Giardiniera pepper mix. Traditional and boneless wings, loaded cheese fries, fried pickle chips, cheese curds and more round out the menu. The restaurant is open Wednesdays through Sundays from 11 a.m. to 10 p.m.
Hop House Opens in Downtown Steamboat: The taps are flowing at Yampa Valley Brewing Company's newest taproom, The Hop House, which opened at 1125 Lincoln Avenue at the end of September. The brewing company built a new production facility in Hayden last year and has tripled production since 2019. The new taproom feels like an old-world pub with an upscale, European vibe. A large outdoor patio wraps around the building, allowing patrons to bask in the sun during the warmer months as they sip on the latest offering. A new mural by artist Dan Toro blends the Colorado flag with the slopes of Steamboat Resort. Along with 17 taps and a large selection of bottled beer, The Hop House will offer root beer on tap, another rotating soda selection and kombucha from Wave Brewing Company.
The Periodic Table Will Unveil a New Menu in December – Theme TBA: The Periodic Table reinvents itself each summer and winter, pairing exciting thematic destinations with fresh, local, and seasonal ingredients. Located at Catamount Ranch, the restaurant opened with a 1920s New York supper club theme, followed by a visit to Havana, Cuba circa 1940, a sampling of the Classics of New Orleans, a visit to the sun-kissed shores of the European Riviera, followed by an Argentinian Steakhouse theme, and, most recently, The Cape, with a focus on New England-inspired cuisine. A Winter 2023 theme will be announced in December and the restaurant will re-open for the winter season on Wednesday, Dec. 14th.
F&B by the (Yampa) River The owners of Snow Bowl Steamboat opened The Boat Yard, a permanent food truck venue located at 831 Yampa Street, in September. The quarter-acre space is located between Aurum Food & Wine and Backdoor Sports along the Yampa River. Along with the trucks serving food seasonally, the space includes open areas and picnic tables for people to sit and enjoy the views alongside the river as they eat. The space is also available to rent for concerts, weddings, fundraisers, reunions and more. While The Boat Yard will mainly be open during the summer months, it will be open Monday, Oct. 31 for a Halloween Stroll that includes trick or treating and Halloween activities.