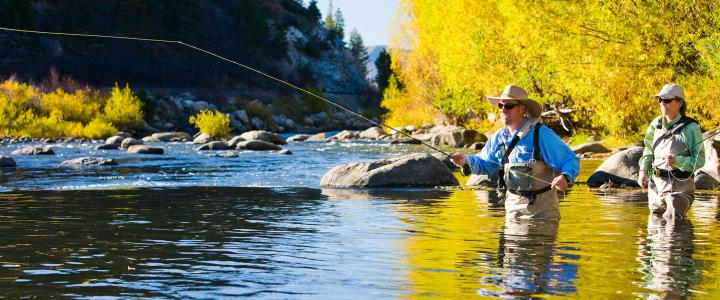 The most passionate fly fisherfolk in the world flock to Steamboat Springs and the surrounding water for some of the best fly-fishing opportunities. From the rolling streams to the rugged tailwaters of local lakes and reservoirs, the Yampa Valley has everything for the perfect fishing-based vacation experience.  Don't spend your whole visit fishing exclusively in the Yampa River or Elk River. Plan a few day trips to visit the fishing opportunities south of town too. Catch and release some of the most exquisite brown trout and rainbow trout you'll encounter in the American west. Fishing anywhere in the state of Colorado requires a valid fishing license. These are available at a plethora of outdoor outfitters and retailers in town.
Stagecoach Reservoir, Headwaters & Tailwaters
Just a 30-minute drive south of town, Stagecoach State Park contains a 770+ acre man made reservoir that contains rainbow trout, brown trout, and northern pike. Fish by boat, floater, or from the shore of the lake from multiple access points. A day pass or state park pass is required to enter as well as a fishing license, which is available for purchase at the park's visitor center. Fly fisherman should proceed past the reservoir and down to the tailwaters, where the lake spills out to form Sarvis Creek. This is a very popular spot for fishing with waders in the cool, rushing mountain water under the shade of the pines.
Sarvis Creek
Further down the road from Stagecoach Reservoir is the Sarvis Creek trailhead and parking area. As soon as you step out of your vehicle you will see trout basking in the warmth of the shallow river right below the bridge. Take a good look and a few photos, but don't bother casting your line until you're further up or down stream. (The fish under the bridge here are extremely savvy and will absolutely avoid your bait.) Walk up the Sarvis Creek trail to head upstream and find your own peaceful fly-fishing oasis under the aspen trees and pines. The solitude, quiet, and natural perfection of this area is not to be beat. Be mindful of wildlife that will also be enjoying the area including bears and elk. Head downstream along the dirt road beside the river to explore more private fishing spots. Give plenty of berth to your fellow fisherman and anticipate similar respect in return.
Flat Tops Wilderness Area
For even more epic South Routt fishing head out to the Flat Tops Wilderness area about 30 minutes outside of Yampa, Colorado. The Flat Tops Wilderness Area is home to more than 110 lakes at an average elevation of 10,000 feet. Here you will find limitless options for lake, tailwaters, or river fishing unlike anything else in the world. Bring your canoe, kayak, or other self-powered boat out to Yamcolo Reservoir and fish for rainbow and brown trout. Head further upstream along Bear River for great fly fishing along a gorgeously winding mountainous riverbed. At the top of the road, you will find Stillwater Reservoir nearly above treeline nestled in the valley between the enormously tall Flat Top Mountain and Devil's Causeway. With a valid state fishing license, you are allowed to fly fish or use a spin rod to catch the area's native rainbow, brook, and cutthroat trout.
Fish Kindly in Routt County
Kindness to your fellow anglers and parks and wildlife enforcement officers has a ripple effect in our community and your vacation. Local anglers will treat you with mutual respect when you cross paths in the backcountry. Give plenty of space to your fellow fisherfolk along lake shores and riverbeds. Each person fishing in this landscape is seeking solitude and quiet from their experience. Most local anglers around Steamboat Springs practice catch and release. The local fish population is cherished for its beauty, sport, and environmental role. Keep fish underwater in your net while you appreciate their colors, markings, and size, snap a few pictures, and then gently unhook and release them back into the lake or river. Consider fishing barbless to minimize your impact on the fish you catch. The local anglers in Routt County will be grateful for your sportsmanship and mindfulness during your visit and you will be able to return for years to come to appreciate the same pristine fishing spots in South Routt.