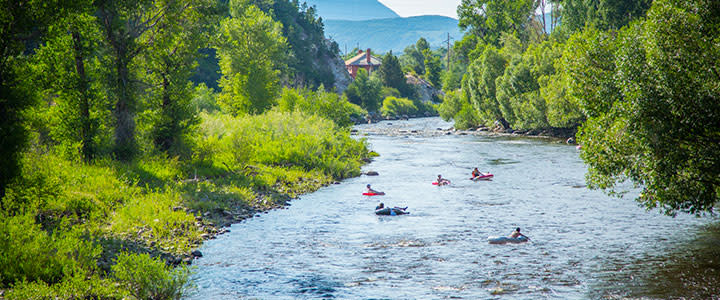 The sun is out. The temperature hit 80 degrees. You've rented your tube from a local outfitter and are ready to go. What's next?
For every Rocky Mountain denizen, summer tubing season is the moment everyone has been waiting for since the snow started melting. Floating the rivers is any Coloradan's favorite summer pastime. Instead of a day stuck in a concrete amusement park, tubing allows for bird watching and casual conversation on the water. Here are a few pro tips that will make your tube trip awesome--and minimize impact to the local river habitat.
Before the Float
Check the river forecast and scout the river. How fast is the water moving? The river flow is measured in the cubic feet of water per second (cfs), and you only want to get on the water when the cfs is below 700; that's when it is safest to float. Most mountain town newspapers will print the current cfs on the front page. Typically, that means Colorado tubing season starts in late June. If you're floating with young children, take advantage of local walking trails to scout potential rapids so you can make an informed choice on where to put in and put out. Although hot weather may make you feel like you have to hurry and float, it's imperative that safety comes first.
Pro tip: Drive two cars to your put out spot and leave one car there. When you finish your float, there's a car waiting for you with towels, water, and a comfortable ride home.
Tube Launch
Since you'll hopefully be basking in warm sunshine all day, make sure you lather up with waterproof sunscreen. If you burn easily, you may want to wear a quick dry top over your bathing suit to minimize sunburn. Since you'll encounter rocks and other debris in the river, definitely wear a pair of sturdy sandals that strap to your feet, like Chacos or Tevas. Flip-flops will fall off instantly, so don't even bother! Remember to bring along water to hydrate during the float. A Nalgene works well because the cap is attached to the bottle. If you do bring plastic bottles or aluminum cans, those pesky tops and tabs can get lost easily, polluting the river. To eliminate any accidental pollution and keep your belongings dry, it is worth it for a member of the group to get a small waterproof bag at a local outdoor store. You can then put drinks, snacks, and extra sunscreen in the waterproof bag and use a carabiner to clip the bag to your tube for safety. Notice that we do not recommend bringing your cell phone!
Pro tip: Start tubing before noon. Depending upon the speed of the current and your route, you could be on the water for one to three hours. Putting in before noon is your best chance to avoid any afternoon thunderstorms.
On the Water
Bring a great attitude! There are often other people on the river with you. Make friends! You'll likely be floating at a similar pace with them downstream, and there's nothing like a lazy day on the river to start playful and spirited friendships. While you're enjoying each other's company, encourage each other to be river stewards. In Steamboat Springs, we say this means you "Catch the Drift." In other words, respect the river as a resource. Instead of saying "Oops!" as you watch your flip-flops float downstream, make smart choices at the beginning and skip gear that could easily float away. Even better, pick up the trash you do find and secure it in your bag so you can throw it away post float! An afternoon of stewardship and laughter will ensure your credibility as true Colorado river tuber.
Pro tip: If you encounter a rock in the rapids, use the sole of your foot to press off the rock and change your momentum. Don't try to kick off it or you could easily injure your foot.