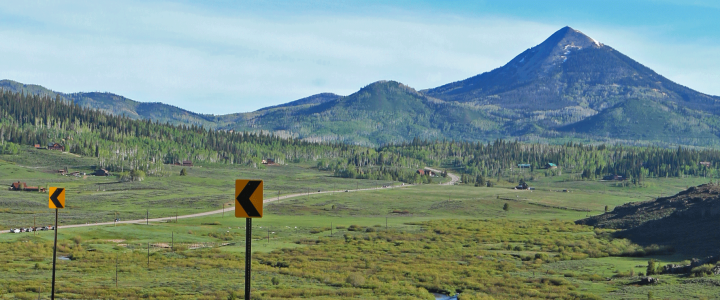 The Steamboat Springs Chamber is excited to share that Alpine Bank is the new Presenting Sponsor of the Steamboat Marathon, Half Marathon, and 10K. The 42nd annual race will be held Sunday, June 4, 2023.
"Alpine Bank has absolutely loved participating in the Marathon for 15+ years, so we were excited to be given the opportunity to be the 2023 Presenting Sponsor of the Steamboat Marathon," said Adonna Allen, Alpine Bank Market President of Steamboat Springs/Summit County. "The Marathon offers runners an opportunity to experience one of the most beautiful courses in the country while bringing our community together for an amazing race." Recognized as a corporate citizen in Colorado, Alpine Bank believes in giving back to the communities that made it successful.
As part of the sponsorship, Alpine Bank will help rally the community to come out and support the runners, their families, and volunteer staff.  They hope to work with locals to have amazing aid stations and a fun finish line celebration downtown for all racers, their families, and volunteers to enjoy. The Steamboat Marathon is a fun Steamboat tradition for so many near and far.
 "We are excited to welcome Alpine Bank as the Presenting Sponsor of the Steamboat Marathon.  As an iconic Colorado community-based Marathon, we're happy to have a community-focused Colorado bank as a partner," adds Paul Sachs, Steamboat Marathon Race Director.
The Steamboat Marathon is a nationally recognized running race and has earned accolades throughout the running community. The Marathon course was selected by Runner's World as one of the "10 Most Scenic Marathons" and one of the "Top 10 Destination Marathons in North America." The Steamboat Marathon is a true mix of small-town charm and world-class production.
Starting in historic Hahn's Peak Village, the Steamboat Marathon winds its way from the rugged mountains of North Routt County, through lush ranchland, and ends in beautiful downtown Steamboat Springs. The Steamboat Marathon is one of Steamboat's longest-running and most popular events.  In 2022, Steamboat Springs hosted 1,800+ Steamboat Marathon registered runners from 40 states and 6 countries. 
"Strong partners are the foundation to the success of the world-class race we're able to produce, and we are incredibly grateful for the continued support of community-centered businesses like Alpine Bank," said Cecilia Morter, Programs Manager, Steamboat Springs Chamber.
For more information about the Steamboat Marathon visit www.steamboatmarathon.com.