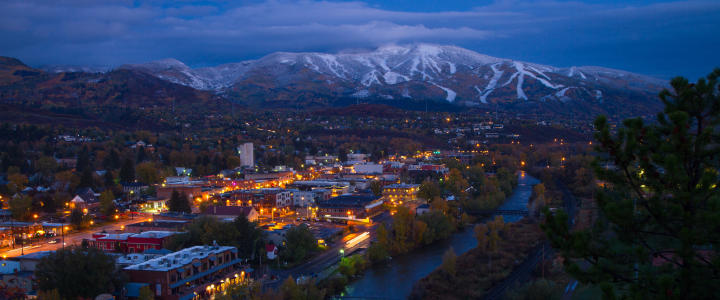 At 5'oclock on the dot, locals and visitors alike hop on their mode of transportation (may it be a mountain bike a pair of skis, or horseback), and head downtown Steamboat via the scenic Yampa River Core Trail to start the evening. With fantastic happy hours, evening activities to kick off your weekend, and a diverse bar scene - Steamboat Springs can accommodate the nightlife experience you're looking for!
Happy Hour
There's no shortage of happy hours in Steamboat Springs with over 100+ restaurants. Whether you are looking for casual bites at Mahogany Ridge or looking for a more delectable dining experience at Table 79, Steamboat Springs has a diverse culinary culture. Steamboat Springs happy hours usually kick off as early as 3pm, but be sure to secure your spot no later than 5 when most happy hours turn over to regular menus. There are plenty of après spots near the mountain during the wintertime, or sit riverside on a sunny summer afternoon watching river enthusiasts float by. Find a fantastic happy hour here!
Evening Activities
Wanting to spend your weekend evening out on the town? There's plenty to do outside of our awesome clubs or bars. Head across town to our fantastic bowling alley, Snowbowl for great drinks, food and of course - bowling. In the summer check out our Free Concert Series. The Free Summer Concert Series is a gathering for all ages to listen to nationally recognized artists right in the heart of Steamboat Springs, with acts ranging from pop-rock to reggae and from bluegrass and blues to funk. These free concerts have become a true Steamboat summer signature. For a full list of free summer concerts, see here. Or, head to the rodeo grounds and check out the Pro Rodeo Series happening all summer long.
Bars & Clubs
Steamboat Springs is packed with live music and lovers of it. From techno to rock to folk, folks can always get their concert fix in Steamboat Springs. Seek out Schmiggity's if you're looking for a dancing spot with a variety of live music including DJ's or instrumental bands. If you want to check out a local club, Double Diamonds near the base has the vibe you may be looking for. Some of Steamboat's great local bars for the later crowd include Sunpie's, Old Town Pub, O'Neils, Trails End, or The Press - most open until midnight or later. Dance your ski boots off, enjoy delicious cocktails and local brews, and be sure to catch the Steamboat Springs Transit bus home.