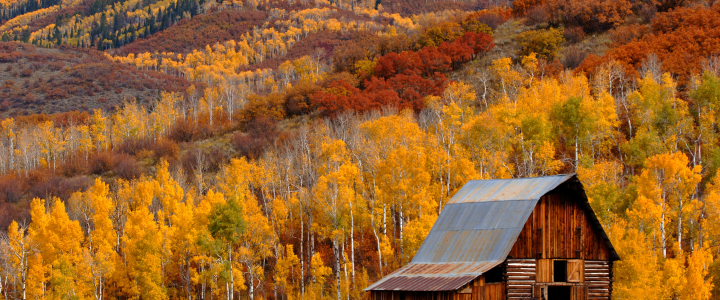 This is your bucket list, Steamboat style. The Boat List features every can't-miss fall activity. Are you ready to check them off?
Did you know that the Sandhill Crane is one of the world's oldest living bird species? In late summer and early fall, hundreds of cranes from the Rocky Mountain flock join the local birds to rest and feed before continuing their journey south. It's an incredible sight (with a distinctive sound) to witness these majestic birds take flight. The festival occurs during fall staging- when cranes gather in large numbers in the fall to feed and gain energy for their migration south. The festival is held in beautiful Northwest Colorado with events in Steamboat Springs, Hayden, and Craig. The festival features guided crane-viewings, bird and nature walks, expert speakers, films, crane and bird art, children and family activities, and more!
2. Take a Drive for a Unique Look at Fall Foliage
As summer temperatures dip into the cool of fall, the once lush green valley comes alive with Colorado fall colors and a vibrant palette of orange, red, and yellow. Patches of color slowly begin to dot the landscape until the stunning warmer hues can be seen sprawling as far as the eye can see. While there isn't a bad viewing spot for the incredible scenery, a few of our favorite places to take in the views this fall include: Buffalo Pass, Highway 131 and Rabbit Ears Pass. 
3. Ride the Gondola to Sunset Happy Hour
Speaking of seeing things from the air, a gondola ride is a great way to get a bird's eye view of the valley. During ski season, a gondola ride often feels rushed as you anticipate arriving at the top. But in the fall, overlooking the slopes alive with changing leaves, the journey is as exciting as the destination. Relax and enjoy the ride. At the top, grab a drink and listen to live music as you take in a mountain of scenery.
4. Soar Through the Trees on a Zip Line
Hidden away just minutes east of town on Rabbit Ears Pass is Steamboat's only zip line adventure park. This six-segment zip line offers breathtaking views of the east and south ends of town, including the Flat Tops Wilderness area. Adrenaline junkies will love it, but it's also a great bucket list item for anyone wanting to step out of their comfort zone.
5. Enjoy Brews at OktoberWest
This one happens only once a year, so mark your calendar. This celebration of the season takes a traditional Oktoberfest and gives it some Steamboat character. Like beer? Then you'll be in the right place.
6. Take in 360° Fall Views atop Hahn's Peak
History buffs will love this Boat List item. Hahn's Peak and the surrounding village are steeped in local history. This inactive volcano was once a mining hub and the town boomed during the gold and silver rush days before fading into a ghost town and later becoming a National Historic Site. Hike up the intermediate, 1.5 or so mile trail to the top of the peak and soak up views for miles and miles. Be sure to snap a picture of the historic, 100-year old fire tower at the top.
7. Relax in the Hot Springs
Colorado hot springs hit the spot year-round. In fact, fall is one of the best times to visit: the air is cooler, the pools refreshing, and the laid-back feeling of fall is in full swing. Steamboat Springs boasts over 100 hot springs, but you'll only want to soak in two of them: the downtown Old Town Hot Springs and Strawberry Park Hot Springs.
8. Horseback Ride, Hunt or Fish with an Outfitter
Fall is one of the best times to experience the vast, open spaces of Steamboat and Northwest Colorado. And one of the best ways to enjoy all of that open space is with a trusty guide. Going with an experienced local outfitter will help you plan the best possible excursion as well as make the most of your trip. For horse lovers, there are a variety of guest ranches and stables that offer anything from hour-long trail rides to multi-day stays. If you're after fish or game, Northwest Colorado fishing and hunting is some of the best in the country. Local experts can help you find just the right spots to go.
9. Tour Local Breweries
Fall and beer just seem to go together. So what better way to enjoy the changing of the seasons than with a pint of your favorite ale? Don't have a favorite (or looking for a new one)? Then check out the local brewery scene. Colorado craft beers are well known for good reason, and here you'll final a wide variety of style to suit any taste.
10. Mountain Bike through the Golden Aspens on Buffalo Pass
Strap your bike on the car and head up to Buffalo Pass for some of the most scenic fall riding around. A nice mix of established and newer trails ribbon across the hillsides, offering both expansive views and aspen-enclosed trails. Two wheel drive cars will do fine at lower elevations, but towards the top and final few miles of the road, high-clearance is recommended.
Still looking for more? Click here to view the next 10 can't miss activities on our Fall Boat List of the top 20 things to do in Steamboat Springs this Fall.