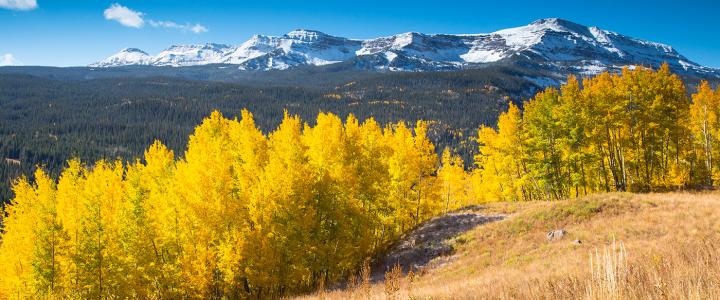 The color cascade in the Colorado mountains surpass any fall foliage you might find in New England. Because of Colorado's varying altitudes, you can extend your leaf peeping trips for several weekends, working your way from high to low mountains and enjoying a full month of glorying in nature's color cornucopia. Depending upon your drive time and your vehicle, there are a myriad of options to find the best Colorado leaf peeping sites in the Rockies.
If you road trip with 4WD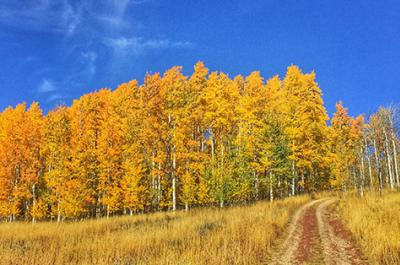 Get started in September. If you have a taste for adventure and do not get squirrely when driving Forest Service roads, then you can take full advantage of the leaf peep season. Start by pinpointing some national forest or wilderness areas like the Zirkels. Pack a lunch for the day and plan a drive that will turn increasingly remote - from interstate corridors to county roads to rutted USFS jeep trails. Grab your daypack and move your leaf peeping travels to hiking trails for a more private experience with the golden aspens at a remote lake or meadow. Your ability and determination to get into these off the beaten path corners will extend your foliage season and improve your chances to snap some photos that will make John Fielder jealous. If you prefer to stay in the car, take advantage of your 4WD and ride gravel mountain roads, like the Flat Tops Scenic Byway or Dunckley Pass, to keep your ride comfortable but gorgeous.
If you cruise with 2WD or motorcycle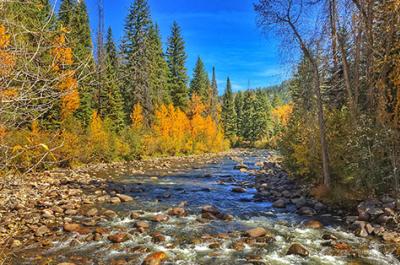 Enjoy the bounties of the season with other peepers, and instead of riding on risky roads, see the state's most famous aspen groves from the front seat of your car. Identify mountain passes that are on your bucket list, like Buffalo, that are also nearly all paved but closed to you when the snow flies. Consider going for a jaunt with lots of other leaf seekers on our public lands and traverse the famous (and well-maintained) Trail Ridge Road in Rocky Mountain National Park. Consider stopping for a snack in one of the sweet mountain towns to extend your viewing time of the showstopper colors. Regardless of where you land, make sure to pull over in designated parking areas, or all the way to the right of the shoulder to stay safe from traffic. 
If you can't wait for the snow to fly
Take advantage of fall hours at ski areas. Use your time to explore a new resort that you may want to strap your sticks on in a few months, and hike up where you'll get to slide down. Most ski areas keep gondola hours through the early fall, ensuring you'll get the close up view on the hike up and panoramic scenes on your gondola ride down the hill. As ski resorts are necessarily higher, you are guaranteed splashes of color even if it's early in leaf peep season.      
Regardless of your vehicle, you can't go wrong picking the mountains outside of the big city. Whichever way you go, as long as you head north, you'll find gorgeous autumn leaves that will make for great strolls, memory-making, and leaf peeping.