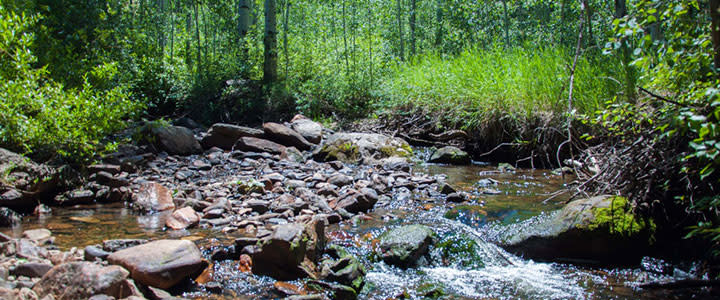 Everybody knows that cold suds taste better after you sweat, and a little breathtaking scenery along the way never hurts, either. In Steamboat, you can indulge in this winning combination every time you hit the dirt or pavement. Whether you're hiking, walking, running, or cycling, countless local trails end in a treasure trove of delicious beer. We paired some of the best local outdoor activities with the perfect spot to relax with a drink when you're done.
Here are six trail-to-tavern combos to add to your list on your next trip to this beautiful Colorado town.
1. Mahogany Ridge Brewery and Spring Creek Trail
Situated in the middle of town, Mahogany Ridge is Steamboat's longest standing brewery (established in 2003 and formerly known as the Steamboat Brewery & Tavern) and an ideal reward venue following a number of local adventures.
Given that it's a few pedals away from the Spring Creek Trail, nothing beats a Pinchflat Pale Ale and mahi-mahi fish tacos after a 10-mile, out-and-back bike ride to Dry Lake Campground. The trail passes through colorful meadows teaming with columbines (Colorado's state flower) and lush aspen groves. It begins on a dirt road, and after you pass a pond and picnic area, you're onto world-class singletrack. Besides a steep rocky section as you near the top (after climbing a little more than 1,400 vertical feet) the trail is super smooth, so an actual pinch flat is unlikely. However, given Spring Creek's awesomeness and accessibility, expect to navigate around numerous other trail users, including hikers and dogs.
2. Mountain Tap Brewery and Yampa River Core Trail
Seeing that Mountain Tap Brewery already delivers two of the universe's most perfect pairings—beer and pizza—the trail part is really more of an appetizer or a dessert. It can be both if we're talking about the Yampa River Core Trail, the 7.5-mile paved path that runs straight through town along the mighty Yampa River.
The easiest access from Mountain Tap is literally a few steps away, on the other side of Yampa Avenue at south end of 10th Street. Whether strolling, running, or cycling, the trail is virtually flat (meaning that it's totally manageable on a full belly) and meanders through parks and picnic areas (including the lovely Yampa River Botanic Park), across bridges, and around the tree-lined Hitchens Island.
3. Butcherknife Brewing Company and Strawberry Hot Springs
Located about three miles north of downtown and less than a mile away from the Steamboat Airport, Butcherknife Brewing Company is a small taproom beloved by locals. It sells cans with super cool comic book illustrations, and the beer can be found on tap at many local restaurants. The number one way to enjoy a Butcherknife brew, however, is following a hike and a soak at Strawberry Hot Springs. That's right—there's a bonus activity on this one.
Begin by driving to Mad Creek Trailhead, about five miles north of Butcherknife. After parking here, walk back down Elk River Road and find Hot Springs Trail (FS #1169) to your left. Stay left as the trail continues on a gentle incline along the creek for just under three miles to the Hot Springs. After soaking your stresses away, take your relaxation to a deeper level with a flavorful and super hoppy Amputator IPA.
4. Storm Peak Brewing Company and Cycling on Elk River Road
Road cyclists, this one is for you. Situated two miles north of downtown, Storm Peak Brewing Company features a bustling patio that you'll see as you pass it by on your way out to your two-wheel adventure. But don't worry, you'll be seeing it again in a couple of hours. The nearby "trail" that this brewery best pairs with is of the paved variety: Elk River Road. One of the favorite routes for the regular peloton of local skinny tire fanatics, the ride from downtown to the tiny but charming town of Clark allows you to truly appreciate the surrounding beauty of the Flat Tops Wilderness as well as the area's ranching history and the glistening Elk River that parallels the road.
The ride to Clark is about 18 miles from Steamboat, all on the gently climbing (about 600 feet up) pavement. Traffic is usually light, but be alert, because the shoulder is narrow. Turn around at the Clark Store, a classic general store and post office that sells everything from fragrant homemade soap to cereal to whiskey. Although you're on the same road on the way back, the landscape is fresh and equally stunning, with Elk Mountain, Rocky Peak and Copper Ridge beckoning you back to Steamboat for the downhill ride, along with the green slopes of Mt. Werner/Steamboat Ski Resort. Naturally, before you arrive back into town, you'll stop for a pint (or three) at Storm Peak, where you'll have plenty of cleverly named (Tropical Lawnmower, Coffee Moos) options, with up to 20 on tap.
5. Steamboat Bräuhaus and Steamboat Ski Resort
Steamboat Bräu Haus is hands down the place you want to land after your morning or afternoon of exploring the trails of Steamboat Ski Resort. Another newbie in town, The Bräuhaus lies less than a 10-minute walk (or 2-minute pedal) away from the gondola.
Before you even begin deciding which of the 100 brews you're going to sample, strap on your hiking boots and tackle the Thunderhead Trail, a hiking-only route that climbs more than 2,000 vertical feet, weaving through the wildflower-filled ski slopes and forests to the top of the gondola. To make it even more adventurous, hang a right on the Valley View Trail, which absolutely lives up to its name, skirting the pines that comprise the resort boundary. Whether returning the way you came or taking the gondola down, celebrate the trip with a Hefeweizen and schnitzel.
6. The BARley Tap and Tavern and Emerald Mountain
Don't be fooled by the name that focuses on a single grain. The BARley Tap and Tavern showcases some of the best brews around Colorado, with 31 rotating on tap, most of which are sourced from small craft brews located throughout the state. It also has a whole extra tap lineup for wine and a creative and insanely delicious selection of cocktails.
Whatever your drink of choice, make sure you precede it with a robust hike or mountain bike ride on Emerald Mountain, located directly across the Yampa River. Home to Howelsen Hill in the winter—the oldest operating ski area in Colorado and an Olympic-level training facility for Nordic ski jumpers—Emerald Mountain is a mountain biker's paradise, with a myriad of short singletrack routes and service road trails for every level of rider. For hikers, Quarry is an excellent option, as it winds steadily up the mountain for just under two miles, opening to spectacular views of downtown below and looming peaks in every direction.
Written by RootsRated Media for Steamboat Springs Chamber.