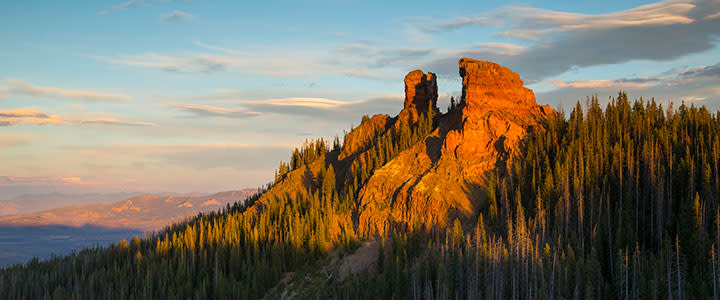 Hiking in Colorado is one of the state's biggest summer draws. With the beauty of the Rocky Mountains beckoning, visitors of all abilities are drawn to the incredible views. And whether you want to take a quick stroll to the base of a waterfall, scramble on all fours across a rocky, high-elevation ridge, or trek deep into the wilderness with your camping gear, you will not be at a loss for trails in and around Steamboat Springs, Colorado. Regardless of the length or difficulty level, the common denominator of hikes in the area is that they are all stunningly scenic. See for yourself with these six amazing hikes in and around Steamboat.
1. Fish Creek Falls/Long Lake
Distance from Steamboat: 4 miles Mileage: .5 miles round trip to lower falls, 5 miles round trip to upper falls, 12 miles round trip to Long Lake Difficulty: Lower falls: easy; Upper falls and Long Lake: moderate to difficult.
The most popular hike in Steamboat, the trail to Fish Creek Falls is accessible for all levels of hikers, with wheelchair access on the Overlook Trail—it's entirely paved and leads to a bird's-eye view of the falls. The lower falls can also be reached by walking down a smooth gravel trail for about a quarter-mile amid lush, dense pine trees to a bridge. Here, you can feel the occasional sprinkle as the falls cascade from 280 feet above, glistening and crashing onto the rocks below.
To reach the upper falls, continue on a considerably more rugged and steep trail as it switches back and forth up the forested canyon. The trees—both pine and aspen— periodically open to views of the cascading water and of downtown Steamboat shrinking in the distance. You reach the upper falls after about 2.5 miles and 1,600 vertical feet of strenuous climbing. As you continue to Long Lake, the trail becomes smooth once again and climbs gradually for another 3 miles through colorful meadows. Be sure to wear sturdy shoes and pack bug spray and plenty of water if you plan to go to the upper falls or lake. Come back the way you came. Keep in mind this hike is best done early in the morning, as both the trailhead parking lot (which requires a $5 day-use fee) and the trail can overflow with traffic by mid-day.
2. Uranium Mine
Distance from Steamboat: 4 miles Mileage: 3.1 miles round trip Difficulty: Moderate to difficult
Sharing the same parking lot as Fish Creek Falls ($5 day-use fee), the Uranium Mine Trail can be reached by walking a few paces back down the road on your right and is usually a lot less crowded than the falls trail. The hike begins on a rocky path that switches back and forth up the canyon through dense mountain shrubs while offering fascinating views of the opposite canyon walls, which, due to being more shaded, are flecked with foliage of a notably more alpine variety. After entering a sort of basin surrounded by aspen trees, the trail ends at the uranium mine, which was built in the 1950s during the Cold War but quickly abandoned. Come back the way you came, enjoying the unique, seemingly all-new views of the canyon as you go.
3. Thunderhead Trail
Distance from Steamboat: 2.5 miles Mileage: 3.8 one way Difficulty: Difficult
This trail begins at the base of Steamboat Ski Resort, just above the gondola building. Winding steeply up the green, wildflower-strewn slopes, this trail gives you a new appreciation for the summer version of the downhill terrain. Gravity is certainly not on your side this time, however, as you climb nearly 2,200 feet to the top, weaving through numerous evergreen islands and aspen groves as you go. These shaded areas provide respites before the trail again switches back and forth along the open slopes, offering magnificent views of the town of Steamboat and the base area. Hikers wanting to give their knees a break can take the gondola back down for free (there is a charge to ride up, but not down).
4. Hot Springs Trail
Distance from Steamboat: 5.5 miles Mileage: 5.7 miles round trip Difficulty: Easy
The destination alone is reason enough to embark on this hike, which leads directly to what many consider Colorado's most prized natural soaking pools: Strawberry Hot Springs. This being the case, the experience is not complete without packing your bathing suits, flip flops, towels and cash (entrance to the Hot Springs is $15 for adults or $20 on weekends). The trailhead is a little tricky to find and is located at the Mad Creek Trailhead Parking area off of Elk River Road. The Hot Springs Trail is marked FS #1169 and takes you up narrow dirt singletrack with a gentle incline along a small creek through ferns and tall grass. Following the stream, you pass through evergreens and aspen groves before the trail ends at the opposite side of Strawberry Hot Springs from the main entrance. Any soak is more euphoric when you earn it.
5. Devil's Causeway
Distance from Steamboat: 47 miles Mileage: 6 miles out and back or a 10.5-mile loop Difficulty: Moderate to difficult
Although it involves driving about an hour and a half out of Steamboat, this stunning display of Mother Nature's handiwork is well worth it. Begin on the north side of Stillwater Reservoir on East Fork Trail No. 1119. Skirting around the reservoir, the trail begins gently, weaving through wildflowers along the relatively smooth dirt path for just under two miles before reaching the glistening Little Causeway Lake. This is a fantastic photo spot, with the jagged line of the Devil's Causeway visible directly across the lake and to the west, the similarly impressive and rugged Chinese Wall.
This is where the ease of the trail ends, as it then climbs 1,000 feet in just over a mile up rocky slopes to the ridgeline, where you take a left up a steep jaunt to the causeway, a super-narrow land bridge that hovers at 11,800 feet above sea level. Many hikers are gripped by a knee-knocking fear of heights and make this their turnaround point, while others crawl across the Causeway on all fours. It is only three feet wide in places with sheer, 500-foot drops on either side, so definitely do not attempt to cross if it is raining or windy. For those wanting to brave it, after you pass the causeway and continue for just over a mile the trail ends at the Chinese Wall Trail (turn back the way you came for the 6-mile out-and-back option). To stay on the 10-mile loop, turn left on the Chinese Wall Trail, hike about 2.4 miles, taking in glorious views of the Flat Tops in every direction to the Bear River Trail, where you'll take another left and hike about 4 miles through wildflower meadows back to Stillwater Reservoir.
6. Rabbits Ear Peak
Distance from Steamboat: 22 miles Mileage: 5.4 miles round trip Difficulty: Moderate to difficult
This hike to the 10,654-foot Rabbits Ear Peak is known for its wildflowers, which peak in July and August. Located near the Dumont Lake Campground, the trail is mostly Jeep road, which means that you could, in theory, drive much of it with a sturdy off-road vehicle—and there's a chance you may encounter someone doing just that. But the majority of people hike the trail, which features some moderate climbing until the last quarter mile, which is a rock scramble to the top of the peak. The signature rabbit ears have eroded over time, meaning you may not exactly see that resemblance to a bunny that earlier settlers did. (And please, do not climb them to further the erosion.) But no matter—the view from the top is spectacular. Keep in mind that much of the hike is exposed, so sunscreen and a good hat are necessary. Bug spray is a good idea as well.
Written by RootsRated Media for Steamboat Springs Chamber.
Featured image provided by Brian Bennett