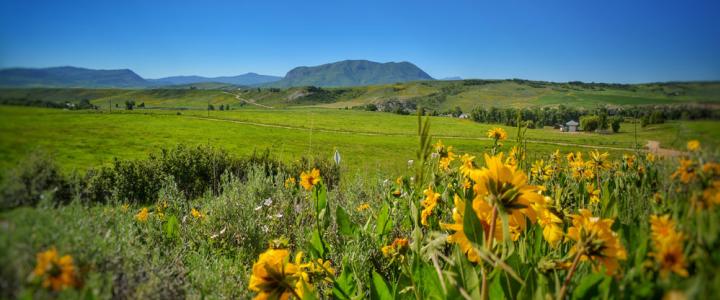 Looking for things to do in Steamboat Springs this summer? There's no shortage of activities to enjoy. Many people know Steamboat Springs for its incredible winter activities, but if you don't know the summer side of Steamboat, you're missing out! It's the biking and hiking side, camping and canoeing side, tubing and golfing, fishing and horseback riding side.
It's also the time of year filled with special events. Whether you're into mountain bike racing or classical music concerts, there's something for everyone to enjoy. Check out the info below for some of the events you can experience this summer in Steamboat.
June
June is when it officially starts to feel like summer in the Yampa Valley. The snow is (mostly) melted, the hillsides turn deep shades of green and the trees are in full bloom. The Yampa River is flowing, just in time for the Yampa River Festival June 3-4. Also that weekend is the 42nd Annual Steamboat Marathon, where runners from across the country test their legs and lungs in the Full Marathon, Half Marathon or 10K. The Farmers' Market takes over Yampa Street beginning on June 10 and runs throughout the summer and fall.
Looking for some creative inspiration? The Colorado New Play Festival takes place June 12-19. And if music is your thing, check out Reds Whites and Brews or one of the many excellent concerts at the Strings Music Festival.
June is also when a staple of Steamboat's Western heritage begins. The Steamboat Springs Pro Rodeo Series has been entertaining locals and visitors alike for over 100 years, so you know it must be good!
July
Summer in the mountains is in full swing in July. Each year, the Steamboat Springs Chamber puts on a fun hometown parade to celebrate our national day of Independence. Our dry weather conditions and alpine environment don't allow for a traditional fireworks show in town, but there are plenty of other activities to help you celebrate. Have you ever seen ski jumpers soar through the air on July 4? It happens every year here in Steamboat Springs.
If colorful skies and arts and crafts are more your thing, check out Steamboat Springs Art in the Park and the newly revamped Yampa Valley Balloon Rodeo.
July is also home to several cycling events, including the Tour de Steamboat, a long-running road biking event that raises money for local non-profits.
August
August is when local culture and world-class arts really shine in Steamboat Springs. Opera Steamboat takes center stage with two full-scale productions, while the Routt County Fair serves up large doses of local culture and heritage.
Now we might be biased, but Steamboat Springs is one of the best places in the country to ride a bike. If gravel is your game, SBT GRVL is a must-see event. The 2023 race is sold out, but keep this one on your radar for future years as the best way to experience the amazingly beautiful ranches and countryside of the Yampa Valley. If mountain biking is more your style, check out the Emerald Mountain Epic, the premier cycling and trail running races of the season.
While you're focused on the trail ahead, don't forget to look up: August 31 is the start of the annual Yampa Valley Crane Festival! This not to be missed festival celebrates the beautiful, graceful Sandhill Crane and features speakers, special events, and of course, bird watching. For even more events and things to do this summer, check out our online calendar. Of course, while you could do just about anything in Steamboat Springs in the summer, you could also do nothing at all. Whatever your pace and interests, there is something for everyone in the Yampa Valley.