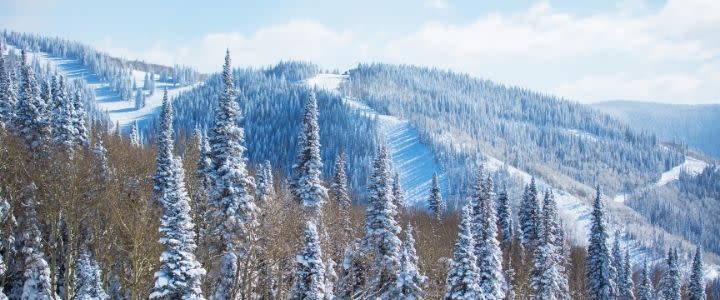 Whether it be a quiet, tranquil hiking trail, taking in a peaceful aspen forest, or a secluded winter wonderland, Steamboat's outdoors are unique in allowing visitors to enjoy getting away from the crowds. No matter the season, there is an abundance of beautiful and quiet places around the Yampa Valley that will help you destress, unwind, and relax during your Colorado vacation. Nature is the best stress reliever, so let's discover the best places to unwind during your visit to Steamboat.
Rabbit Ears Pass
One of Steamboat's most iconic and best places to find your slice of heaven is on Rabbit Ears Pass. Whether you're looking to escape to find a quiet place in summer, winter, or any season in between during your Colorado vacation, the trail system on Rabbit Ears Pass will allow you to get away from the crowds and discover nature how it was intended. The meadows leading up to the summit of Rabbit Ears offer one of the best, less traveled trail options with stunning views of the valley. In the winter, cross country skiing on Rabbit Ears Pass is the absolute definition of serenity. You will never forget soundlessly moving through feet of perfectly fluffy white snow surrounded by tall pines and distant peaks.
Chuck Lewis State Wildlife Area
Another unique local gem along the Yampa River, especially for wildlife and waterfowl viewing, is the Chuck Lewis State Wildlife Area. It is conveniently located off Highway 131 and County Road 14. You can observe the beautiful sandhill cranes in the spring and the fall; their mating dances are not to be missed. Many other Colorado wildlife species abound, so bring your binoculars and camera. Depending on the season, fishing is also permitted to cast away your cares during your Colorado visit.
Flat Tops Wilderness
Pack your lunch and head south to the epic Flat Tops Wilderness area outside historic Yampa. This National Forest brags over 110 lakes and ponds, as well as over 160 miles of trails, which are sure to help you find your private spot. Whether it be a hike, bike ride, fishing, camping, or horseback riding among the wildflowers, the fresh air, and clear water are sure to delight. However, keep in mind road and weather conditions vary greatly, so make sure to plan ahead. 
Yampa River Botanic Park
A place of serenity, trees, birds, flowers, and more, Yampa River Botanic Park offers a break from the stress to just be. Open May through October, this botanic park sits at 6,800 feet and has uniquely designed microclimates that support growth. So whether you're looking to explore the foliage, sit in peace on one of the intimate benches or learn more about native plants, you're sure to find something for the whole family. Wildlife such as osprey, hummingbirds, ducks, chipmunks, and even the occasional moose and bear can be spotted.
Buffalo Pass
Buffalo Pass is quite famous in the winter for backcountry sports, but in the summer offers off-the-beaten-path trails for hiking, biking, wildflower, and leaf viewing in the off-season. Buffalo Pass is the perfect scenic Colorado adventure. Secluded Fish Creek Reservoir is open to non-motorized boats and offers excellent fishing. Dry Lake and Summit Lake are also great camping spots. Wildlife viewing is also exceptional, and everyone in the family will enjoy the peaceful surroundings.
Stagecoach State Park
One of the best places in the state, boasting views and unlimited recreation options, is Stagecoach State Park. Set among an 820-acre reservoir, it showcases Colorado's abundance of wildlife, scenery, and so much more. Plan a secluded picnic to observe nature, cross country ski, or snowshoe along with one of the many trails, bike along its eight miles of trails, paddleboard over to a private cove or find that perfect spot to fish in both winter and summer. No matter what you choose, you'll feel your worries melting away.
Your Colorado vacation in Steamboat is sure to provide relaxation, joy, and a bit of peace that the valley is known for. With some planning, research, and a little adventurous spirit, you're sure to find some of the best places in Colorado to enjoy the private peace only nature can offer. Intimate views combined with the great outdoors will ensure your Colorado visit is everything you've imagined. Steamboat will help you ditch the rush and get the hush you're craving.