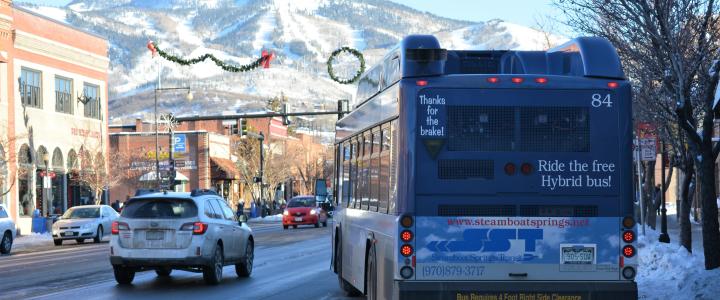 How to Get Around Steamboat Safely
Your bags are packed and you're ready for your trip to Steamboat Springs. But there's more to consider logistically than how to get from the ski resort to happy hour. The same snow and mountains that make Steamboat the perfect vacation destination, can also make it difficult to get around. Luckily, the city of Steamboat Springs has made it easy for you to get around safely and sustainably in the wintertime. Take advantage of free public transportation options, shuttles, and more!
Denver & Hayden Airport Shuttles
If you're flying into Denver or Hayden airport take advantage of a GoAlpine Shuttle direct to your lodge. These shuttles run on increasingly frequent schedules during the winter and can accommodate your skis, snowboards, and luggage. The GoAlpine shuttles are comfortable and spacious for individuals or the whole family. On the ride from Denver International Airport, enjoy a convenient restroom break in Silverthorne and grab a few snacks for the rest of your scenic ride to Steamboat Springs. Pro tip: Grab a seat on the right-hand side of the bus for the best mountain views on the way from Denver to Steamboat! Keep your eyes peeled along I-70 for wildlife hidden amongst the rocks and trees.
Bustang from Denver to Steamboat
Front Range residents and visitors can now enjoy convenient and affordable winter transportation to Steamboat Springs during ski season on the Bustang. This bus makes round trips from Union Station in Denver during popular winter weekends starting at $40 round trip, making it one of the least expensive ways to get to Steamboat. The Bustang is equipped with comfortable seats, onboard restrooms, and luggage space for your bags and ski gear.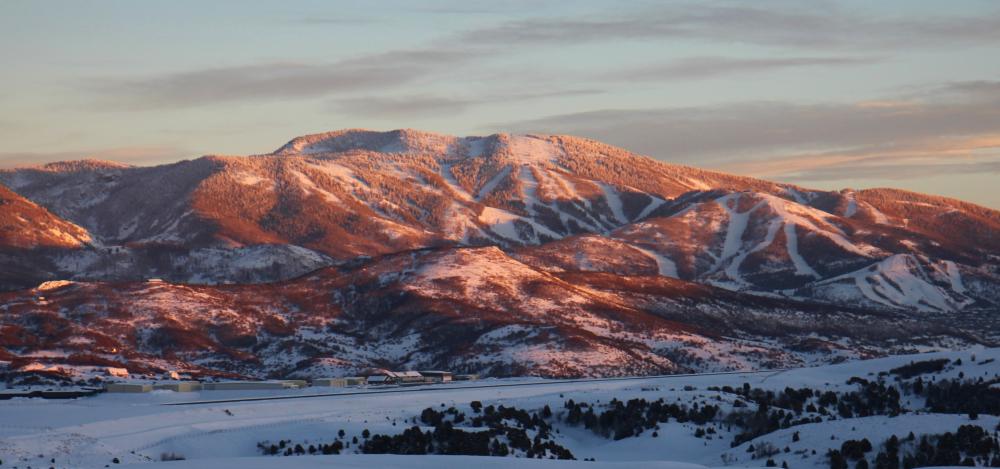 Getting Around in Town: Free Bus to the Ski Resort & Downtown
Once you're in town, utilize the free public transportation system to get from your accommodations to the ski resort and downtown Steamboat. Buses run every 10-15 minutes throughout the town. Hop on board in your ski gear and head up to the resort or ride back down for happy hour downtown. Steamboat Spring utilizes a fleet of hybrid buses to provide safe, sustainable winter transportation options for residents and visitors.
Strawberry Park Hot Springs Shuttle
Winter visitors simply can't miss out on Steamboat's natural hot springs. Visitors wanting to visit Strawberry Park Hot Springs should use the hot springs shuttle for safe winter transport up the dirt road to Strawberry Park. The road can be particularly precarious for visitors without 4WD vehicles and the parking lot can fill up quickly. Take the hot springs shuttle to avoid accidents along the road or getting turned away at the parking lot. Families looking for a more accessible winter option should visit Old Town Hot Springs located in the heart of downtown Steamboat Springs.
Rental Car Tips for Winter Trips
If you are interested in having the freedom and flexibility of a rental car for your winter trip, utilize the following tips. Be sure to request a rental car with adequate snow tires, especially visitors traveling from Denver who will need to travel on the I-70 corridor. Keep extra layers and bottles of water in the car, in case you get stuck or delayed in traffic. And lastly, always give yourself extra travel time so you can enjoy safe speeds on the occasionally snowy roads.