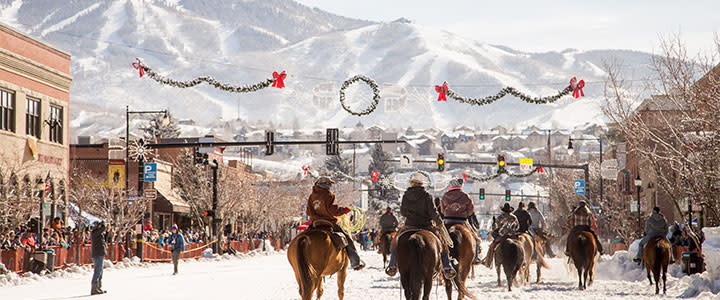 When you live in a place where hundreds of inches of snow falls every winter, you better enjoy being in it. That was the idea, over 100 years ago, behind the first Steamboat Springs Winter Carnival. Locals created a festival to get people out of their houses, enjoy each other's company and have some fun downtown. Today's Carnivals may look a little bit different, but the idea is the same: celebrate our mountain town character with friends and neighbors.
If you're looking for proof that Winter Carnival is one-of-a-kind look no further than Skijoring– horses pulling kids on skis at breakneck speed – or the Lighted Man – a human fireworks show on skis. The streets are shut down and the City of Steamboat Springs Public Work's department dumps hundreds of tons of snow on Lincoln Avenue. Fireworks blaze through the starry night sky. Kids are pulled down the street by horses. Skiers jump through fiery hoops. The entire town of Steamboat rejoices in celebration of winter sports, our Olympian heritage and white, fluffy snow.
There's something else that makes the Steamboat Springs Winter Carnival special: There's an air of small-town pride, community giving and a shared love of the outdoors that you have to experience first-hand to really appreciate. There's something special about a community that comes together– blizzard or sunshine – to celebrate the past, present, and future of our skiing and western heritage. Can't-miss Carnival classics:
Wednesday: Opening Ceremonies
Meet the 2019 Winter Carnival Royalty: The Queen and her court, the Little Princesses and this year's Grand Marshals.
Thursday: Air Bag Jam Session
If launching off a big air jump onto a giant airbag isn't exactly your kind of thrill, watching it might be more entertaining. Under the lights at Howelsen Hill, watch freeskiers careen through the air, spinning and flipping their way onto a massive airbag made for practicing new tricks.
Friday: Soda Pop Slalom
Watch the cutest, and fastest, kids around compete at Steamboat Ski Resort. The Stampede run at the base area is home to the annual Soda Pop Slalom, made for fifth graders and under. Watch the future of winter sports athletes take on the course rocking tutus and expert racing tucks.
Saturday: Night Extravaganza
The Lighted Man makes his notorious run down the face of Howelsen Hill – roman candles shooting off his back, lit up with LEDs – amidst an unrivaled fireworks display. The Lighted Man tradition began in 1936. Back then his outfit weighed more than 100 pounds, complete with 200 lights and powered by wet cells and yards of wiring. Today the suit, powered by a 12-volt D.C. gas recombination battery, consists of 32 Roman candles, 12 sky rockets and weighs 70 pounds. A metal cylinder mounted on a football helmet studded with flashing lights tops off the display.
That's not all of the pyrotechnics though:  Multiple firework launch points, torchlight parades and skiers jumping through a flaming hoop help light up the night.
Sunday: Street events and the Diamond Hitch Parade
Cowboy hats and tots on skis – does it get any more Steamboat than that? On both Saturday and Sunday, the streets of Lincoln Avenue will be filled with snow as cowboys on horseback pull young skiers through obstacles and over jumps. On Sunday, the Diamond Hitch Parade features floats pulling skiers attached to a rope in a traditional diamond formation. The Steamboat Springs High School Marching Band 'marches' down the street on skis.
Check out the full schedule and see how your perfect Winter Carnival weekend shapes up:
Local's tip: There's too much Winter Carnival fun to try to fit it all in. Check out the schedule and pick your favorite events, then make sure to leave plenty of time for eating, drinking and enjoying the Champagne Powder® in every way imaginable. From skiing at the Steamboat Ski Resort to snowshoeing through the pristine backcountry, there's something for everyone when it comes to getting out there and enjoying our snow.
The Winter Carnival is an annual fundraiser for the Steamboat Springs Winter Sports Club to help support athletic programs for kids of all ages and abilities. As is true with so many events in Steamboat Springs, the volunteers facilitate and coordinate the Winter Carnival solely as a service to the community. Don't forget to buy your $10 button to support Steamboat's athletes and receive entrance into all events. Visit the Winter Carnival page for more information and see you on the street!