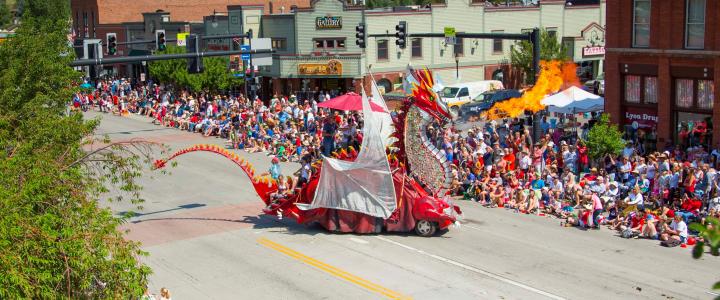 JUNE
5th - 41st annual Steamboat Marathon, Half Marathon, and 10k
Runners will race alongside the roaring Elk River through the emerald green pastures on Country Road 129.  With the snow-capped Rocky Mountains of Colorado all around, the Steamboat Marathon, a certified Boston Qualifier race, was ranked as one of the "Top 10 Destination Marathons in North America."
Three days of local roads guided by those who are fortunate enough to call this mountain cycling paradise home.
Some of the top playwrights in the nation collaborate with artists and directors on new works that are then read on the stage for the first time. There are no sets, no costumes, just the raw power of words.
Enriching the well-being of the Steamboat community through innovative, educational, and collaborative musical arts programs.
The Reds, Whites & Brews In The Boat Festival has evolved to become a 'don't miss' event of the summer!  This event will feature amazing unlimited wine & craft beer tastings, LIVE music, vendors and food all in beautiful Downtown Steamboat Springs.
JULY
The Fourth of July in Steamboat is more than a celebration of national pride; it's an opportunity to honor the Yampa Valley's rich western heritage with fun for all. Events like the Ski Jumping Extravaganza, hometown parade, and the largest Pro Rodeo event of the summer, have visitors proclaiming independence at this 100+ year-old event.
Don't miss over 150 artist vendors. All handmade art, gifts and crafts. One of the most colorful weekends of the year!
An annual bicycle event that brings together 1,200 cyclists for a one-day ride through beautiful Northwest Colorado.  There is something for riders of all ages and abilities at this non-competitive event, and participants are encouraged to ride at their own pace and enjoy the majestic scenery in our part of the world!
The swim starts out in the surprisingly warm waters of Steamboat Lake (74 degrees average race temp), then athletes transition to the most scenic bike course you'll ever find.  After a ride through the rolling country-side athletes will transition to a 3.5 mile run course that's 50% on road, and 50% on the dirt trails that hug the lakeside.  Pack the camping gear and make a weekend getaway for your all your friends and family!  This year they're also offering a aquabike, and stand-up paddle-board division!
Whether you're new to mountain bike racing and looking to build your skills, or an experienced rider ready to race for the podium, Revolution Enduro offers events at renowned trail centers and ride destinations that appeal to all rider levels.
AUGUST
The Honey Stinger Emerald Mountain Epic's mission is to host Steamboat's premier single track race experience.  They are a charity event that challenges racers to compete at their personal best while promoting safety, fun, camaraderie and community.
The Steamboat Triathlon features a sprint distance, Olympic distance, aquabike, Olympic distance duathlon, and stand-up paddle-board options.  The swim starts off in the picturesque Lake Catamount.  Triathletes will then quickly transition to the bike course with amazing views of the Yampa Valley and River!  The Olympic distance course will take athletes out to historic Howelsen Hill, while the sprint distance will feature a single loop course.  The run course hugs Lake Catamount for a flat and fast route which finishes back at the Lake!
A world-class gravel race experience held on some of the greatest gravel roads on earth. The unique combination of the quiet roads surrounding a thriving resort town create a setting for an incredible gravel bike race.
The Routt County Fair is held on the same tract of land as in 1914. Today's fair commemorates our past and celebrates our future. It shows us where we came from at a time when we're not sure where we're going. The fair is an event where Yampa Valley residents and visitors gather to swap laughter, tales, and tradition.
SEPTEMBER
The festival features guided crane-viewings, bird and nature walks, expert speakers, films, crane and bird art, children and family activities, and more!
Celebrating its 13th year, OktoberWest is a celebration of craft beer in beautiful Steamboat Springs, Colorado. With an anticipated 30 brewers and between 1,000-1,500 beer enthusiasts in attendance, this one-day afternoon event will include live music, food, and festivities.
The courses are spectacular 50 and 100 mile runs through the beautiful mountains and fall colors of the Routt National Forest of northern Colorado. The 100-mile run will also run through lovely Emerald Mountain.
SAM's Plein Air Event brings together the community and visitors with artists from near and far as they paint on location. Showcasing the beauty of the Yampa Valley, the paintings created during this extraordinary week spotlight historic landmarks, ranches, the community of Steamboat Springs, and our growing arts and cultural offerings – This event is uniquely Steamboat!
Steamboat Food & Wine Festival is your seat at the table of creation. Interact with renowned chefs in venues that are equal parts intimate and panoramic. Discover first-hand how the collaboration in, and origins of food and wine define the most luxurious of flavors.
All Summer Long