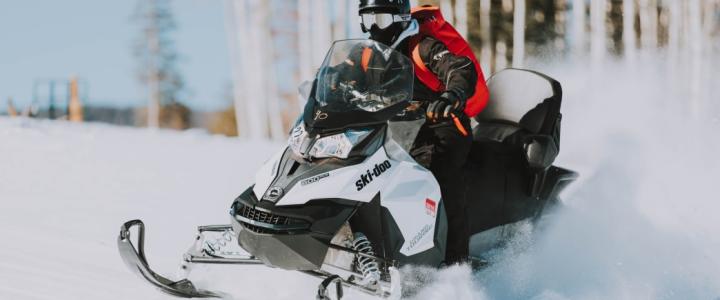 Steamboat Springs is less than three hours from Denver, but it feels a world away—not just because it's a charming mountain town, but also because it's so easy to get into remote wilderness and experience all that a Colorado winter has to offer. The town is, of course, best known as Ski Town USA, so dubbed because of its world-class skiing and the fact that it has produced a record number of Olympians (98 and counting). But there's more to Steamboat than its skiing prowess, and you'll have no trouble finding wintry fun off the slopes, too.
Steamboat Springs sees an average of 180 inches of snow each year, and once it starts to fly in October or November, the entire valley becomes a winter wonderland. Thanks to the town's rich western heritage, there are tons of ways to experience the area as its early inhabitants did. Whether you prefer to travel on two feet, four hooves, planks, or by motor, there's something for you to enjoy in Steamboat away from the slopes.
Dog Mushing
When you think "dog mushing," you likely conjure images of huskies running the Iditarod. There's some truth to that, but you don't have to go all the way to Alaska to experience mushing like the pros do it: You can hitch a sled to a team of dogs right here in Colorado. Of course, there are some common misconceptions about dog sledding. In reality, the dogs used to pull sleds have been bred for many generations to do just that, and like many working breeds—think labs playing fetch or pointers going hunting—these pups are happiest when they have a job to do.
Head out on a half-day tour with Grizzle-T Dog & Sled Works, where you'll get to learn to mush your own team of sled dogs. It's not just standing on the back of a sled—you'll not only get to experience winter in a whole new light, but you'll also get a serious workout. You can also hire a guide to take you and your family on a tour, allowing you to sit back and take in the scenery.
Snowmobiling
It's hard to imagine a more adrenaline-pumping good time than a snowmobile excursion, especially when it features views as good as those you'll find at Rabbit Ears Pass. Steamboat Springs is known for its epic snowmobiling conditions, thanks to its deep snowpack and the fact that you've got lots of wide-open valleys to race across. Much of the Routt National Forest surrounding the town is open to motorized users, and if you're not sure where to go—or if you don't own a sled—several Steamboat-based operators are ready to lend a hand.
Sign on for rentals and a tour with Steamboat Snowmobile Tours, which offers complimentary shuttle service to its cozy, well-stocked cabins. There, a guide will get you outfitted and show you the basics, then point you in the right direction to experience the thrill of cruising through light, fluffy powder.
Horseback Riding
Steamboat Springs is emblematic of the American West, and there's no more iconic way to celebrate that heritage than to tour Routt National Forest and the Flat Tops Wilderness Area on horseback in the winter. Horses are hardy and can comfortably handle riders even when it's chilly out and there's snow on the ground. There's something so peaceful about riding down the trail with only hoofbeats as your soundtrack.
Saddleback Ranch offers trail rides all winter, and their stable of steeds includes horses for riders of all ages and abilities. Del's Triangle 3 Ranch also offers winter riding, and there's a free shuttle from the ski-area gondola. Not quite ready to saddle up yourself? You can still enjoy time with Steamboat's equine residents: The resort runs sleigh rides during the winter, as does Saddleback Ranch.
Nordic Skiing
Why should downhillers get all the attention? Steamboat Spring is home to a vibrant Nordic skiing scene as well. Nordic skiing (also called cross-country) is a type of free-heeled skiing where athletes kick and glide their way along a groomed trail. There are two types of cross-country skiing—skate and classic—and there's no shortage of opportunities to try either in snowy Steamboat.
The resort's Haymaker Nordic Center is typically open from early December through late March and has eight kilometers of groomed trails for skiers to enjoy. Haymaker offers group lessons and has rental equipment for Nordic skiers of all ages and experience levels. Can't get enough? Follow up your visit by exploring the Steamboat Ski Touring Center, whose 15 kilometers of trails along Fish Creek make for an idyllic winter experience.
So, of course, spend time skiing and snowboarding on your next trip to Steamboat. But remember that there are a lot more options on the snow that are just as much fun.