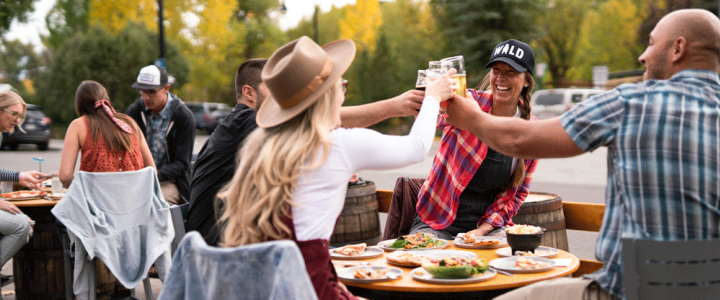 Here in Steamboat Springs, we pride ourselves on our Western Hospitality. Rest assured that when you arrive in town, you will be greeted with a tipped hat and a smile. Our community is here to offer a helping hand, whether it's for recommendations on things to do, assistance with directions, or help with shoveling your car out. Whether you're a visitor or local, we ask that you help us in spreading local love while spending time here in Steamboat Springs. Here are some ways you can help us do just that!
1. Spread Kindness
Despite access to robust amenities like a world-class ski resort, famous hot springs, and some of the best trails in Colorado, Steamboat Springs is still a small town. You can spread local love in Steamboat Springs by displaying kindness wherever you go. Practice patience with our staff members working hard to make your experience extra special! Help us keep it local by shopping at our mom-and-pop shops and restaurants located all over Steamboat. Find unique goods, gifts, and food products by shopping locally! 
2. Preserve the Place
You can also help us spread kindness by utilizing proper etiquette on the trails, downtown, and on the river to help us keep the natural environment thriving. While it may seem as though this is common sense, we've stacked all of this information together on our Kindness Floats the Boat page to provide you with more information on our Western principles and values. 
This includes first and foremost, leaving no trace. Please stick to our trails and reduce using shortcuts or hiking over muddy trails. We ask that you always trash the trash, and have made doing so much easier with hundreds of trash receptacles throughout town and on the core trails. This goes for our furry friends too - who we ask that you are mindful of picking up after. Even if there is snow on the ground, these are hidden treasures we don't want to uncover come spring! 
You can even ditch the car during your stay here and take our robust free transit system, or even ride an e-bike on the core trail to downtown. No matter how you commute, always be on the lookout for our wildlife. Steamboat Springs is a great place for wildlife viewing from a distance! We ask that you give elk, deer, and moose 75+ feet and our bear friends 150+ feet.
Regardless of how epic the ski season was, wildfires are always a possibility. Colorado's low humidity has perks but can create dry, dangerous conditions. Keep campfires small and manageable to avoid sparking wildfires and always check for local fire restrictions.
3. Take Care
Another way to spread local love here in Steamboat Springs is to return the favor to yourself! Taking care of yourself is an essential way we make Steamboat Springs a better place to recreate. This means always knowing before you go - checking the weather, letting a friend know where you are, and bringing the appropriate amount of clothes, food, and water. Take care by giving yourself a day or two to acclimate to Steamboat Springs' high altitudes! No matter where you are visiting from, it's important to be mindful of the effects of altitude. Not only can you get altitude sickness, but your chances are also higher for sunburn or dehydration.
You can stop by our Visitor's Center (even if you're local!) and stock up on sunscreen, pick up a reusable water bottle, and find out where emergency services are located. You will even get some great recommendations and local tips!
When spending time in Steamboat Springs, we hope you'll join us in protecting this community and landscape by spreading local love. Remember that Kindness Floats the Boat!