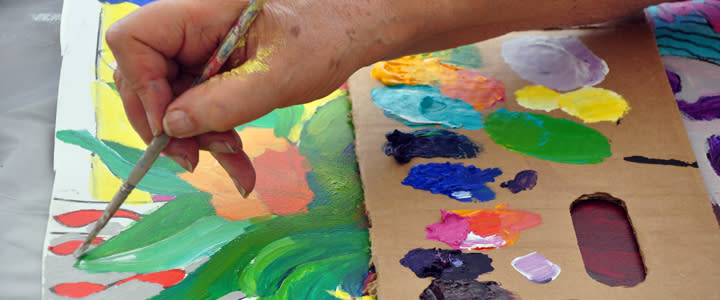 Surrounded by twinkling aspen leaves, babbling streams, rainbow trout, and wildflowers of every variety, it's easy to see why many extremely talented artists choose to call Steamboat Springs home. From photography, to painting, to sculpture there are artists representing every creative medium in Steamboat. Enjoy their works in a number of downtown art galleries and community studios. If you're visiting for a limited period of time and want to soak in Steamboat's arts and culture scene, here are just a few of our talented and unique fine artists and where to find them during your trip.
Abby Jensen, Landscape and Wildlife Photographer
Abby Jensen's nature photography captures the beauty of Routt County down to the last whisker on a fox. Abby was born and raised in Nebraska and started taking family trips to Steamboat Springs over the holidays. She became an official resident of the Yampa Valley in 2012 and has since enjoyed abundant opportunities to capture the local wildlife and stunning landscapes. See Abby's work and shop prints at the Pine Moon Fine Art Gallery in downtown Steamboat or browse online.
Shirley Stocks, Landscape Oil Paintings
For oil paintings you truly feel you could step inside, seek out the works of local painter Shirley Stocks. Shirley was born and raised in the Little Snake River Valley of Southern Wyoming. She paints many subjects but is best known for her western landscapes, wildlife and sensitive botanical illustrations of wildflowers. You can find Shirley's artworks on display at Wild Horse Gallery in downtown Steamboat alongside many other contemporary realist artists.
Sandy Graves, Bronze Sculpture
Sandy's works are a fixture in the Steamboat Springs community. Her iconic style is compelling for appreciators of classic fine art and more contemporary and modern art leaning individuals. Towering moose and elk, bucking cowboys, and slinking mountain lions all cast in bronze evoke the essence of rustic mountain life in an as seen between the aspens type of way. Don't miss seeing Sandy's work at Pine Moon Fine Art Gallery in downtown Steamboat or browse online.
Julie Anderson, Fine Art Ceramics
Gazing at one of Julie Anderson's ceramic wall installations you'll find yourself in awe of the way the clay seems to be as light as air, paused as if it was blowing away in the wind. Individual clay pieces gently spiral together to form a larger pattern of color, texture, and movement. Julie has been producing artwork inspired by the beauty of nature here in Routt County for more than 10 years. Her artworks are on display at the Warehome Studios Art Gallery in the West Side Creative Art District.
Sandi Poltorak, Nature and Wildlife Drawing
Blink once. Blink twice. Your eyes still won't believe that you are not looking at photographs. Sandi Poltorak's pencil and charcoal drawings present the details of nature in stunning depth. From the bark curling and cracking off a tree to the reflection in a moose's eye, Sandi's images will leave you wanting more. Sandi moved to Steamboat Springs in 2014 after retiring from a 30 year career as a forensic artist for the Tennessee Bureau of Investigation. Soak in every fantastic detail of Sandi's work at Pine Moon Fine Art Gallery or browse online.