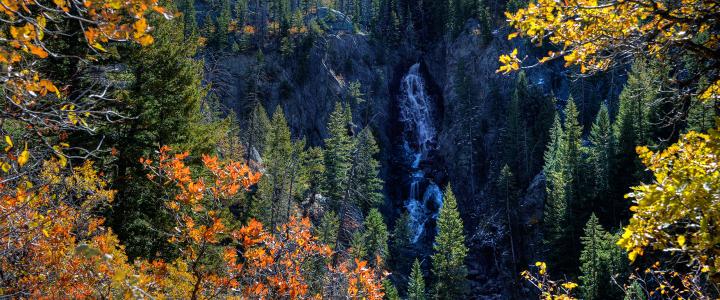 When it comes to exploring the best Colorado hiking destinations, crystal clear alpine water and unforgettable beauty can be found at legendary Fish Creek Falls. Located minutes from downtown Steamboat Springs in Routt National Forest, Fish Creek Falls provides solace and reminds visitors how pristine nature can truly be. It's easy to understand why this charming destination remains a must-see during your Colorado vacation. Stemming from the headwater of the Mount Zirkel Wildness, early Colorado settlers adored this iconic waterfall. Fish Creek Falls even inspired the 1937 Coors brewing company to use it on their famous can. Come see why generations of visitors have made the trek to Fish Creek Falls ensuring its enduring legacy as a Colorado outdoor icon.
1. Rewarding Views in All Seasons
Whenever you choose to vacation in Steamboat, you'll find the view of this 280-foot cascading waterfall will not disappoint. Year-round, the hiking trails surrounding Fish Creek Falls provide epic views of the waterfall and guarantee to be one of the best stops during your visit. Spring runoff will leave hikers in awe as the mist of Rocky Mountain waters roars. Colorado summers and fall send the river flowing smoothly over boulders and trickling downstream. Find peace sitting on the boulders by the riverside. Winter months provide the best scenic backdrop for outdoor enthusiasts for snowshoeing and ice climbing.
2. Convenient Access for Everyone
Just a 15-minute drive from downtown Steamboat, Fish Creek Falls is the perfect addition to any Colorado vacation. Fish Creek Falls has grown in popularity over generations because it offers such rewarding views within a manageable short hike. Abundant trailhead parking and well-maintained trails ensure safety for visitors and year-round access and enjoyment. Seasonal restrooms are available. The paved trail is handicap accessible, perfect for strollers, and anyone with mobility challenges looking to enjoy some of Colorado's unforgettable scenery. Whatever your hiking ability, your whole family will be amazed and inspired by this renowned Colorado gem.
3. A Variety of Trails Accessible from One Trailhead
If you are looking for the best accessible hikes, stroll up the one mile of the paved path for a panoramic overlook view of the waterfall and enjoy convenient picnic tables. If short hikes are more your style, make your way down the half-mile gravel path where you can marvel at the dynamic strength of Fish Creek Falls. Grab your hiking boots for a more intermediate hike up a 5-mile climb to Fish Creek's Upper Falls for a more intimate waterfall experience. Another breathtaking experience is between the lower and upper parking lots on the 3-mile Uranium Mine Trail. Advanced hikers can venture 12 miles up to Long Lake, connecting to the Continental Divide Trail.
4. Colorado Wildflowers & Wildlife
Nature's lush vegetation and wildlife sightings are common on the trails at Fish Creek Falls in the spring and summertime. As you take in the aspen groves and pines, you'll also find Colorado Columbines, Blue Penstemon, Red Gilia, Purple Sticky Geranium, yellow Arnica, and Mules Ears wildflowers alongside the hiking trails. Colorado wildlife, including elk, deer, moose, bear, and other creatures, can be safely viewed from a distance. For an educational tour of the flora and fauna sign up for a Yampatika excursion which operates year-round.
5. Photography Opportunities Abound
Whether you are a professional photographer looking to capture the epic Colorado waterfall or looking for the best social media backdrop, Fish Creeks will provide lasting memories of your Colorado vacation. Many travelers pose on the historic wooden bridge in front of the waterfall for family portraits, engagement announcement photos, and more. Epic spring waterfall runoff, summer's wildflowers, fall's Colorado foliage, and winter's icy beauty will provide a professionally stunning backdrop for photography.
6. Pre-Plan Your Visit to Fish Creek Falls
Fish Creek Falls is one of Steamboat's most popular trails, for all of the aforementioned reasons. Pre-plan your visit with the following considerations. Weekend mornings are the most popular times for tourists to make the trek to Fish Creek Falls. If possible, plan to visit on a weekday or in the afternoon to get the least interrupted and most private view of the falls. Practice leaving no trace and remember that your $5 access fee, which can also be purchased in advance, supports the Routt National Forest. All of the hiking trails around Fish Creek Falls provide soothing shade but make sure to bring your sunscreen, a reusable water bottle to stay hydrated, the right gear, and always pack out your trash.
Valuing Colorado's serene outdoor spaces during your vacation ensures these grand treasures remain breathtaking for decades to come. If you're a nature lover, a hiker, or a photographer, Fish Creek Falls offer something for everyone.