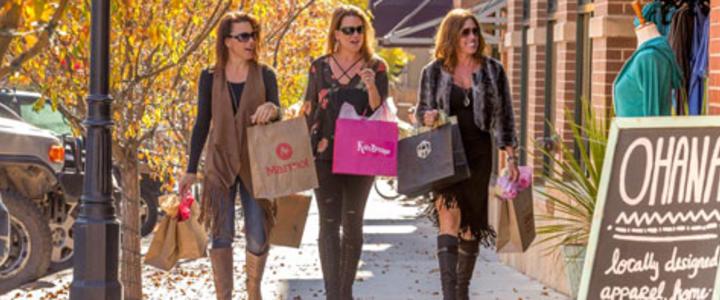 While there are endless things to do in Steamboat Springs, shopping local is a favorite for visitors and locals alike. Shopping local is the act of everyday consumers, like you, making the decision to buy your produce, clothing, and day-to-day items from a local business instead of going to a large retailer. With endless retailers here in Steamboat Springs, our little town is the perfect place to do your holiday shopping. Find unique knick-knacks, adorable clothing, or a locally-made hot sauce for a good stocking stuffer. Right now, small businesses need us more than ever. Here are seven reasons to shop local throughout the year!
1.    HELPS CREATE LOCAL JOBS
Small companies account for 64% of new jobs created in the US annually.
2. KEEPS TAX DOLLARS IN OUR COMMUNITY
When you spend at local retailers, approximately $70 of every $100 spent will be reinvested in your community. These dollars help fund schools, police, fire services, parks, and many other local amenities.
3.    BE SUSTAINABLE AND ENVIRONMENTALLY FRIENDLY
In addition to avoiding late holiday deliveries, shipping costs across the country create an estimated 1 billion metric tons of C02 per year. Shop local, ship less.
4.    SMALL BUSINESSES GIVE BACK TO THE COMMUNITY
92% of small business owners personally donate to local charities and nonprofits.
5.    HELP KEEP OUR COMMUNITY INTERESTING
Imagine Routt County with no small businesses, only franchise stores from major retailers and restaurants. Enough said.
6.    CELEBRATE YOUR COMMUNITY
Spend the day appreciating what made you fall in love with our Valley in the first place. Enjoy being greeted by a warm smile, browse local shops, your favorite hotspots and the latest joints in town, catch up with friends and neighbors, enjoy a beverage at your favorite watering hole, reconnect and rediscover what makes Routt County thrive.
7.    FIND UNIQUE GIFTS
Skip the overrated, mass-produced items and be rewarded with an array of unique and quality products for everyone on your list.
Below you can find more information about shopping local at our retail outlets, restaurants, and so much more! 
Shop Steamboat
Steamboat Springs has a large selection of retail stores to fit every shopper's needs. Take a stroll down Lincoln Avenue, a walk around the mountain area, or a short drive to the multitude of stores throughout town to find everything you could possibly need. It's never been easier to shop locally in person or event online! Bring a piece of Steamboat into your home and support small, local businesses. Check out our business directory to help plan your visit.
Eat and Drink Steamboat
Show your love for your favorite restaurants! There are 130 restaurants, bars, breweries, chophouses, and cafes that need your support. Oftentimes these restaurants source their ingredients from local farms meaning your support stretches further than you might think. From fresh greens and veggies to elk fillets and trout, Routt County has fresh spoils year-round. Enjoy breakfast or lunch from Freshies or Creekside served with local ingredients. Indulge in a luxurious fine dining experience and enjoy local ingredients prepared in the finest manor at Aurum, Table 79, Laundry, or Café Diva. Ask your server to highlight which ingredients are locally sourced.  Even if you can't make it to your favorite restaurant this trip, you can buy a gift card now at the Steamboat Springs Visitor Center to use later.  Visit our restaurant directory for a full list of options. 
Experience Steamboat
Immerse yourself in Steamboat's rich culture by visiting one of our many museums, galleries, or escape room. Choose from hot air ballooning, biking, hiking, horseback riding, fly fishing, or even stand-up paddleboarding! Check out some of our performing arts venues offering shows throughout the year.  Explore our activities directory and blend in like a local while here.
Health and Wellness
There's never been a better time to give yourself, a friend, or a loved one the gift of wellness. Whether you're interested in physical wellness including high-impact training and a yoga flow or rejuvenation and relaxation with a facial and massage – Steamboat has you covered. Purchase a gym membership or take advantage of virtual experiences, or visit one of our many spas to help you find that ultimate high. Discover all of the offerings using our wellness directory.