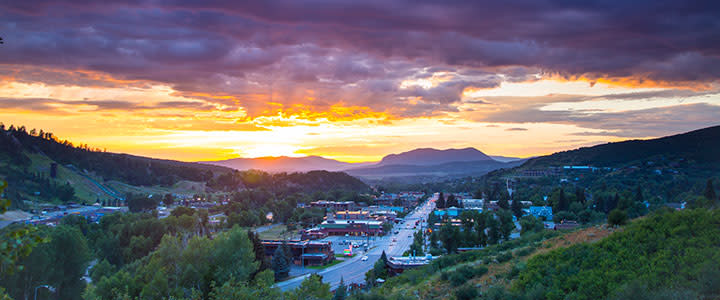 Possibly the most "Colorado" photo of all time is the famed depiction of a pair of Stetson- and spur-wearing cowhands on horseback riding through two feet of snow in Steamboat Springs and carrying wooden skis across their laps. This also happens to be the quintessential image of Steamboat, which strikes a dazzling balance of being both a year-round mountain sports mecca and a charming slice of the Old West, still home to a modern-day ranching community. For anyone looking for an authentic Colorado experience, Steamboat serves as an incredibly beautiful reminder of all that the state has to offer.
Here are just a few of the reasons why Steamboat is the perfect spot for anyone looking for a Rocky Mountain retreat.
World-Class Skiing
There's no question that Steamboat's cowboy/skier crossover continues today. Let's start by pointing out that the place is historically home to more Winter Olympians than any other town in America, including an iconic skier by the name of Billy Kidd (reminiscent, of course, of the famous American outlaw, Billy the Kid). Kidd (the skier) is on the slopes every day and is easily recognizable in his signature cowboy hat.
The reason why the nation's (and world)'s top skiers and riders have always gravitated to Steamboat is the aspen-lined slopes known for their deep powder. Often, due to the ski resort's unique northern location, Steamboat gets hammered by storms even when other Colorado ski areas do not.
Another standout is Howelsen Hill. This small ski area is one of the few places in America home to a massive, Olympic-caliber ski jump, and it's where Olympic Nordic skiers and aerialists refine their skills.
Easy Access to Endless Wilderness
Steamboat sits among well over a million acres of pines, aspens, rivers, creeks, cliffs, and mountains that make up the Routt National Forest, which is among the most extensive national forests in Colorado. The lush and sprawling alpine settings offer endless opportunities to fish, camp, hike, mountain bike, and lose yourself in the allure of nature.
Exceptional Restaurants and Breweries
After a day spent outdoors, it's true that even a smashed granola bar takes on a gourmet quality. But a cold craft beer and plate of wings is about as heavenly as it gets. Find both—a slew of hand-crafted beers as well as a pub-meets-gourmet comfort food menu offering everything from seafood to steak at Mahogany Ridge Brewery and Grill.
If you want to sample suds at a more off-the-grid, local spot (as we do here in Colorado), head north to Butcherknife Brewery, which is a premier specimen (six thoughtfully crafted brews on tap) of the state's renowned microbrewery scene. Not only that, the brewery hosts a History Happy Hour during which a local historian outlines fascinating details of Steamboat's decorated past.
Are you really hungry for something fresh off the vine or plucked from the field? The town's fine-dining options rival anything you'd find in Denver—or across the West, for that matter. You'll find a wide variety of restaurants that literally get back to the local roots. The farm-to-table Cloverdale Restaurant taps into the area's agricultural offerings to deliver either a delectable three-course dinner or a 10-course dining extravaganza.
An All-American Downtown
The mere sight of the neatly stacked, historic red-brick buildings tucked into the looming, aspen-strewn Rocky Mountains is enough to get you snapping photos from every street corner. The charming Main Street houses galleries filled with one-of-a-kind depictions of local wildlife and landscapes. You'll also find outdoor retailers that provide top-of-the-line equipment for all your outdoor adventures and boutique shops featuring handmade souvenirs and clothing. You might spend an entire day exploring right here.
Cooling Off on the Yampa River
Even in the hot summer months, the high elevation and cool evening breezes keep Steamboat's climate mild—but the gurgling river that flows through the middle of town helps, too. Whether you want to bob along in a tube taking in the downtown scenery from a minnow's point of view or navigate the adrenaline-pinching class III whitewater sections that abound north and south of town, the Yampa River delivers adventures at every level.
Rodeo Fun
The gamut of activities that fall under the umbrella of "rodeo" covers all the classic elements, like human ragdolls incredibly staying atop thrashing bulls, animals, horseback riders tearing around barrels at top speed and taking down calves with ropes and their bare hands. Cowboys' Roundup Days also includes some distinctly Steamboat stunts, including ski goggle-clad wranglers roping horses while riding dirt boards. There are also rodeos of the airborne variety—the Hot Air Balloon Rodeo, in which dozens of rainbow-colored orbs take to the sky in hypnotizing synchronicity, and the Wild West Air Fest, featuring brave pilots performing jaw-dropping aerobatics in bombers and propeller planes.
Cycling Trails Everywhere
The saddle has taken on a different shape and form these days, as Steamboat has become one of the state's top cycling destinations. With endless miles of open road through canyons and over mountain passes, the area draws skinny tire fanatics to take in the scenery for epic, multi-day rides. Families and sight-seers also use two wheels for casual jaunts down the Yampa Core Trail, the paved path that skirts the river and rolls straight through town. Mountain bikers have an endless amount of off-road possibilities, with more than 500 miles of singletrack in and around Steamboat to explore.
A Rich History Remembered
Steamboat possesses a great sense of pride about its place in the Old West. It wouldn't be a complete visit without wrapping your head around what life was like for the area's first inhabitants, the Native Americans who hunted buffalo among the Flat Tops as well as the early white settlers—pioneers, trappers, miners, and ranchers—who discovered the landscape's many riches and set up camp here for generations. There is no better place to do this than at the Tread of Pioneers Museum. Situated in a 120-year-old Victorian home, the museum displays artifacts and information from every era of Steamboat's glittering heritage. You'll find arrowheads and artwork from the Ute tribe (from whom the Yampa River gets its name), weapons and spurs from infamous Old West outlaws, and a comprehensive and fascinating collection of gear spanning Steamboat's long-standing Winter Olympic tradition. The museum offers a variety of tours, interactive exhibits, family activities and scavenger hunts.
If you can't get enough of visualizing the area's colorful past, continue your history lesson at the Mesa School House, a gorgeously preserved 100-year-old, one-room schoolhouse that sits about five miles outside of town. Not only did the building serve as education headquarters for pioneering schoolchildren, but doubled as a library, dance hall and meeting place.
No matter how you enjoy spending your time outside, Steamboat has something special for you to discover.
Written by RootsRated Media for Steamboat Springs Chamber.
Featured image provided by Patricia Henschen