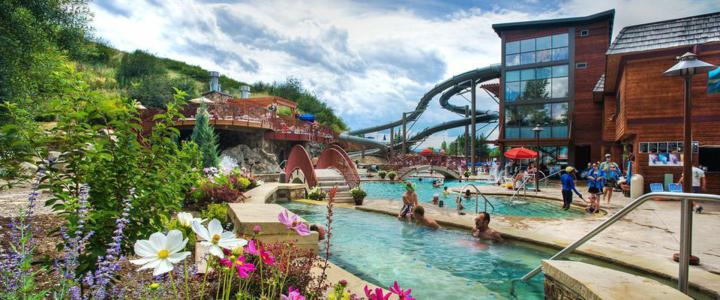 The Perfect Family Attraction
What's the number one year-round attraction in Steamboat Springs? Nope, it isn't skiing. It's hot springs, and the Old Town Hot Springs in downtown Steamboat Springs is a big reason why. It's convenient and family-friendly. On a cool summertime evening, soaking in a quiet hot spring pool while the sun is setting over Emerald Mountain is one of the most relaxing yet invigorating experiences you can have in our little mountain town.
Having hosted soakers for over 100 years, the Old Town Hot Springs is one of Steamboat's oldest attractions. But you wouldn't know it now, as the place recently underwent an extensive renovation. The modern facility contains several hot springs pools, a kids' climbing wall, an eight-lane lap pool, a kiddie pool, workout facilities, and two waterslides. The facility also provides a variety of fitness and yoga classes and excellent massage therapy.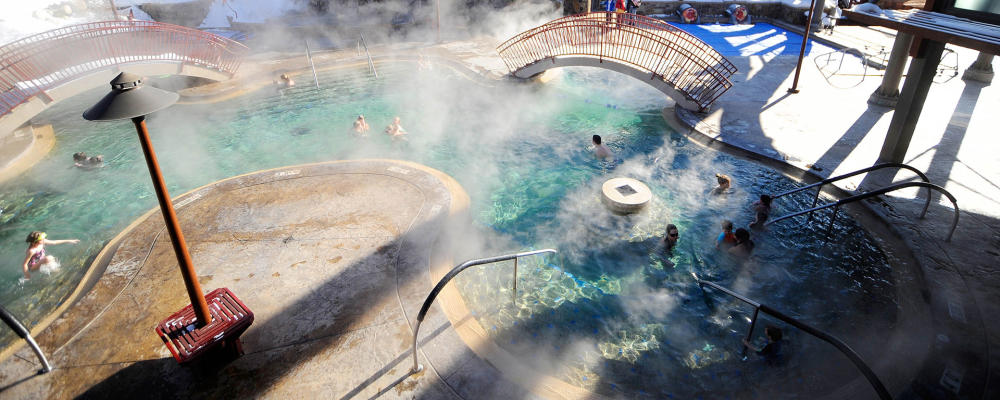 The Heart Spring
But for me, I come to the Old Town Hot Springs for one thing and one thing only—soaking in the natural hot springs waters of the Heart Spring. The Heart Spring is just one of the many pools, but it is the favorite of many regulars. I like the Heart Spring because it has that natural "hot spring smell" - not a strong odor, but enough of one to remind you that you're not sitting in some highly chlorinated Jacuzzi somewhere. No, this is natural water, flowing straight out of the ground at a rate of around 300 gallons per minute. If you prefer strong jets or hotter water, there are other pools for you. But if you're looking for that natural hot spring experience, try the Heart Spring. It's wonderful.
My favorite time to visit the hot springs is first thing in the morning (they open at 5:30am on weekdays). Instead of coffee and a newspaper at the local caffeine distribution center, I often opt for a slow and refreshing soak in the Heart Spring pool. At this time of day, the pools are relatively silent. Often there aren't more than a few people in the entire facility. It isn't hard to escape all your worries and plans for the day and instead enter a sort of meditative state as the steam rises from the surrounding pools. A morning soak really clears my mind and puts me in the right mood for the rest of the day.
Whatever time you visit the Old Town Hot Springs, you're guaranteed to find a truly unique Steamboat experience that'll have you coming back again and again.
- Soren Jespersen