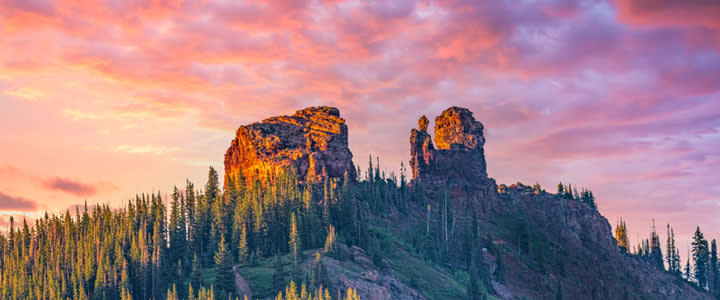 Last time I was hiking in Arches National Park, I encountered a sign that said something to this effect: "Hiking off trail takes the trail 50 years to recover." The biological soil crust is so delicate that one footprint pulverizes its tiny organisms, and it takes the living crust a full half-century to grow back. It's mind-boggling how powerful our literal footprints are as we navigate and explore the natural world around us. Signage like the one in Arches are becoming more popular on our public lands as caretakers encourage everyone to be responsible visitors. In Steamboat Springs, we're lucky to have Colorado Parks and Wildlife and US Forest Service offices right here in town as well as many local nonprofits that all contribute to Steamboat's sustainability year-round, keeping our area pristine and well-managed for locals and visitors. There's no action too small if you're invested in keeping our mountain community beautiful, no matter how long or short you are here. So, what can a visitor do to lessen their environmental footprint while visiting Northwest Colorado?
Carpooling and public transportation are two of the easiest and most effective ways to be sustainable as you explore some of the top attractions in the area. Our most popular destinations, like Fish Creek Falls during runoff, Buffalo Pass during autumn foliage, and Emerald Mountain during cycling season, are popular for a reason: they're incredible! However, many destinations don't have seven parking lots like you might find at Arches; in fact, in some places there is only limited street parking. To avoid frustration looking for a spot or worse, a parking ticket, make sure you carpool with friends, so you just have one car. Better yet, consider taking a local cab from Go Alpine to your destination (prearrange a pickup time in case your cell service drops) or if you're heading to Strawberry Park Hot Springs, make use of Sweet Pea Tours, a roundtrip shuttle. When you're ready to kick back after your day with cocktails and craft beer, don't forget the free bus. The city runs a robust, free transportation system that runs all day, and until midnight in the winter, perfect for commuting from your condo to downtown.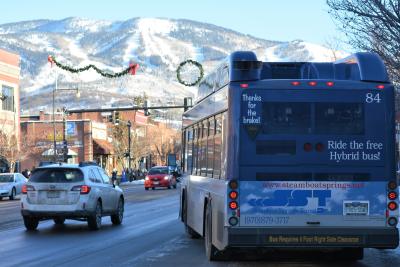 When you're out and about on our public lands, an easy way to lessen your footprint is simply to remember the tenets of Leave No Trace. This may ring a bell from your Scout days, yes? Even if you aren't familiar with the specific seven principles, the idea is self-evident: leave no trace of yourself in the environment. Plan to bring an extra Ziploc or plastic bag with you on your picnic lunch, so you can carry your trash out from the soccer field/trailhead/lake or wherever you're visiting. If you're with your sweet pup, don't forget to pick up the poop bag on your way down the trail. In the winter, it might be tempting to leave litter behind, knowing the snow will cover it. But, when the first spring snowmelt reveals candy bar wrappers, animal poop, and old soda cups, it certainly can get you down. If you're feeling like a Great Samaritan, bring an extra bag (or gloves) to take out others' trash on your way. It's one of the easiest and most responsible ways to recreate where humans share their roads, yards, and trees with bears, mountain lions, and moose.
A visit to Steamboat isn't complete without catching a glimpse of wildlife, whether it's a bear running down a street before sunrise or a porcupine under a chairlift on the ski hill. It's one of my favorite reasons to live here! To be a sustainable partner with our furry friends, give them a chance to get out of your way. In the winter, you may be tempted to stop for a photoshoot with the moose who shows up on BC Ski Way or Spring Creek Trail, but it's more sustainable to smile at your woodland friend and carefully move on.  If you have a dog, keep him on a tight leash. No one wants to be chased by a startled moose. As winter turns to spring, you may see black bears emerge from hibernation. They are as cute as teddy bears, in my opinion, but they're also hungry! Help the bears help themselves by keeping food out of your car (yes, they can open car doors) and making sure the dumpster bear bar is always locked. Trust me, the last thing you want is to clean up the leftovers of a bear feast.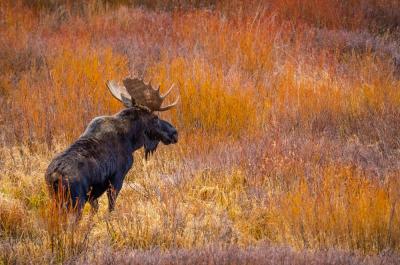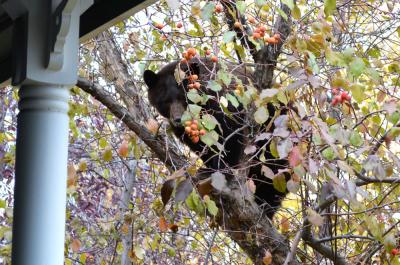 Finally, one of the easiest ways to be a low-impact visitor is to be informed. Knowledge is power, and the more you know, the more you will seamlessly blend into the community around you. Before your trip, make a night of it: pour yourself a Colorado craft beer and get after that Internet research. In winter, you'll want to learn handy tips about backcountry safety, maps, and avalanche forecasts. You can bookmark the "gondola cam" website to determine your timing to the lifts! In spring and summer, staying abreast of fire bans and wildfire conditions will be crucial to a successful camping trip and maintaining the approval of Smokey the Bear. Don't forget that there are plenty of people in Steamboat whose job is to help you navigate a great, low-impact vacation. Your friendly forest rangers, chamber employees, and even the hostess at your breakfast spot are all eager to give you local, real-time tips on where you can make the most of your Steamboat sojourn and leave the least impact.