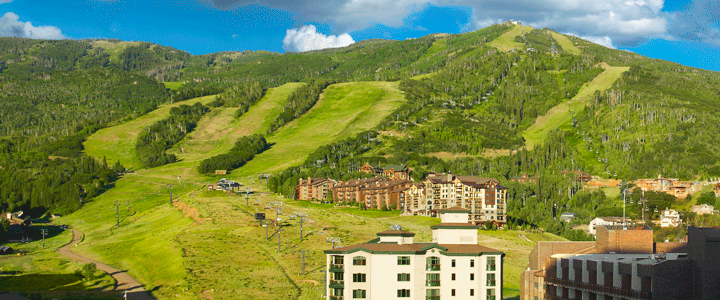 Steamboat Springs is your quintessential small ski town, full of many neighborhoods that have their own charm. There is a perfect place for every person, couple, or family in the valley, whether you're looking for luxury or western hospitality, or even a covered wagon! Where you stay all depends on what amenities you would like close by.
Condominiums
Mountainside, the condominium options are endless and varied. If you prefer to be within walking distance of the resort's base area, you might consider some of the luxury condos at Eagle Ridge or the Highmark, or the more affordable units at the West; all these condos are an easy stroll to Gondola Square and free downtown bus. If you want to be on the slopes, Bear Claw and Chateau Chamonix are ski-in ski-out ("hike in, hike out" for summer), or you might consider Torian Plum or the Sheraton (although a hotel chain, Steamboat's Sheraton is part of the brand's vacation club and boasts stellar condominium and villa options). Both properties are exactly in the heart of the bustling restaurants, bars, and shops at the base. 
On the eastern side of the mountain, you may find a little more bang for your buck. The Ranch at Steamboat, nestled on the mountainside, is one of the first condo complexes built at the ski area and has amenities that are great for families, including an outdoor heated pool, multiple hot tubs and saunas, and four tennis courts. The Bronze Tree Condominiums are technically within walking distance down to the ski hill along Right O Way if you want to take a hike, and the complex has one of Steamboat's only indoor swimming pools. Further up you'll find the quieter Storm Meadows units, which range from one to four bedrooms. For all of those areas, it's best to rent a vehicle; the bus line does not run up Burgess Creek Road or its side roads.

Hotels (including Pet-Friendly Hotels)
If you prefer hotel life, then check out The Steamboat Grand, located precisely across the street from the resort. The town's only 4-star hotel, it boasts a restaurant, coffee shop, spa, and bell service, along with being closely located to the best ski area restaurants. They also provide beautiful extras like cheese platters or champagne upon arrival.   
The town's downtown greeter, the Rabbit Ears Motel, is famous for its neon pink sign and traditional rooms and is right across the street from the downtown hot springs. If you want to be in the thick of it, you might consider the Hotel Bristol, located in the heart of downtown on Lincoln and 9th Street. The historic property has been recently updated and is close to parks, shopping, restaurants, and the downtown spa, Waterside.  
As Steamboat's other moniker is Dog Town USA, there are several pet-friendly options, with pet fees ranging between $20-$35 per night. The Holiday Inn, La Quinta Inn, and the Fairfield Inn, all located on Highway 40 as you enter town, are pet-friendly. The Fairfield and La Quinta accept up to two pets per room; the Holiday Inn only caters to one pet, and dogs only (sorry, cat lovers). The Steamboat Hotel is also only dog-friendly, although there are limited pet rooms, so make sure to call. If you wish to stay downtown, the Nordic Lodge Motel on 11th and Lincoln is an option, or you can head to the opposite end of downtown at 3rd Street and stay at the aforementioned Rabbit Ears Motel. Although it may seem obvious, none of the hotels allow for exotic pets, so leave your peacocks at home. All of the accommodations have nearby greenways to walk your pooch in the morning and evening.

Ranches and Cabins
If you want to get closer to nature, you may try one of the many ranches in Routt County, north of Steamboat Springs for a scenic twenty-to-thirty-minute drive. Vista Verde is a luxury dude ranch and it is the perfect place to kick back and enjoy the Old West. Vista Verde is all-inclusive by the week with a top-notch wine and culinary program and offers tons of guided outdoor activities. If you're looking for something a bit more casual, you might consider Elk River Guest Ranch, where activities are a la carte and lodging only requires a two-night minimum, making things easy for a weekend getaway. Cabins have fully equipped kitchens to prepare your own meals. If you don't care for horses as much, you might consider Glen Eden, a resort gem that feels like a summer camp for adults, complete with volleyball, horseshoes, a bar and restaurant, and easy access to multiple rivers. 
If being in unincorporated Clark is too "busy" for you, then keep heading north until you get to Hahn's Peak, the original county seat, where you can find the Hahn's Peak Roadhouse (rustic bunk rooms, a horse "hotel" if you are traveling with horses, and cabins) and the Cabins at Historic Columbine, gorgeous but rustic collection of units right on the wilderness edge, complete with a sauna for guests. 
Unique Lodging Options
Plan way ahead and book one of the cool – there's no other word for it – options at Strawberry Park Hot Springs. You can tent camp or choose to stay in a caboose, cabin, or covered wagon overnight. Your stay includes private access to the hot springs outside of normal operating hours, allowing you to enjoy the solitude of the aspen grove and the natural springs all by yourself (and the other people staying in the alternate two cabins). 
If you prefer the quiet ambiance of a neighborhood, the Mariposa Lodge is well known for its comfortable, southwestern rooms and is tucked into a corner of Old Town. The bed and breakfast boasts only four rooms, so you're guaranteed the personal attention of the hosts and a sumptuous locally sourced breakfast. 
Family reunion? You might consider the Porches of Steamboat: luxury 4 and 5-bedroom townhomes with subzero freezers and Wolf appliances, along with access to a community clubhouse, "The Barn," stocked with amenities perfect for a family get-together.