Three Steamboaters share their thoughts and traditions on Thanksgiving in Steamboat.  Enjoy!
Jon Wade, Broker Owner, The Steamboat Group Our Thanksgiving is pretty simple and that is the beauty of it.  We spend the day enjoying Steamboat as a family and then celebrate with friends.  We like to sleep in a little (in years they open the top of the mountain I will get up early since those can be some of the best powder days of the year).  Then we get up and head for the mountain to make some turns together, stop by Slopeside, fit in another sport if possible then head back to prepare dinner.  We share some food and wine, and the kids play and make plans for another great year. Time with friends who are like family is the highlight of the holiday for us.
It is not hard to be thankful since we are blessed with a great family & friends to enjoy life with, living in Steamboat is our dream come true and there are always plenty of great memories to give thanks for.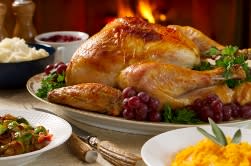 Sarah Coleman, CrossFit, and Personal Trainer, Fusion Fit Steamboat I recently looked up the synonyms of the word community.  The results were as I thought, a group of people, the public, the population, and last, but not least, the neighborhood.  The word neighborhood gives the meaning of the word depth and warmth.  Community is more than being just part of the population but adding the spice of life and friendship, the giving and the caring.
Speaking of warmth, I love Thanksgiving.  It's the warmest of all the holidays and, the most filling both in your belly and your heart.  It is both the act of giving and the act of thanks, a true gift of warm food to your "community" and your "people."  I had the exceptional opportunity to volunteer last Thanksgiving at our community dinner here in Steamboat.  It opened my eyes to the true meaning of community.
By giving back and serving gallons and gallons of gravy and mashed potatoes, I learned what an amazing sense of community is here, right in our own backyard.  There was no shortage of food, napkins, smiling faces, or rubber gloves.  The food line was always full of the next hungry man, woman, or child.  The constant ask for "what can I help with," never seemed to run out either.  The extent of work and preparation that goes into a community dinner astounded and humbled me.  I found the true meaning of community that day.
Here's to all you people in this community that make this happen, from the guests to the cooks, to the much-needed cleaner-uppers. Keep smiling. Keep giving. Keep eating. You are the warmth of our neighborhood.  And if you are looking for a very gratifying gift, volunteer this year!  I wouldn't miss it.
Kathy Stokes, Owner, Steamboat Post Net Almost everyone comes to Steamboat and makes family out of friends. Friends in Steamboat spend special days together including Thanksgiving. We have a regular group of friends who join our family for Thanksgiving dinner in addition to a few extras. This year in particular we will have a larger group with our son bringing home some college friends.
With our ever-evolving group, we prep the meal the night before so there is not much to do on Thanksgiving Day. We also make sure everyone brings something to add to the meal. That something has to be enough to not only feed the group on Thanksgiving but it has to be enough to send leftovers home with everyone. Leftovers are a very important part of Thanksgiving, after all.
Dinner is planned for no earlier than 5 or 6 pm. We've got to get some runs on the mountain in! In fact, we purchased an oven that has a setting for turkey. When the turkey is done the oven turns off. That way we can stay on the mountain longer if we want and the turkey is always ready no matter how many turns we take.
Thanksgiving in Steamboat is a very special day for my family and friends. We get to do what we love and be with the ones we love. I couldn't ask for anything more!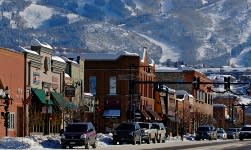 As you have read, Thanksgiving in Steamboat is a very special time for us all. We'd love you to join us for the holiday! There are lots of places to get an amazing Thanksgiving dinner.  Order your Thanksgiving dinner from the Drunken Onion Get & Go Kitchen's custom menu, make reservations for The Cabin's set menu, or check out the Community Thanksgiving Dinner and experience a truly special day of thanks. Happy Thanksgiving!