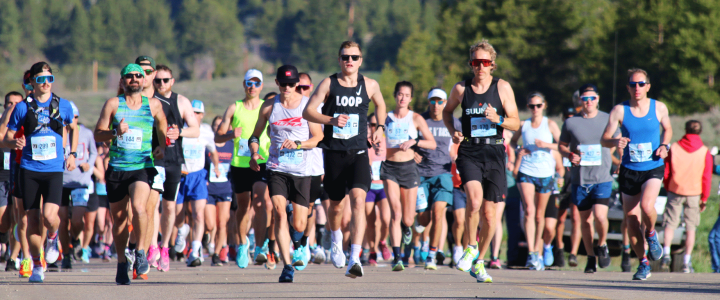 The Steamboat Marathon, Half Marathon, and 10K have been taking place in Steamboat Springs for over 40 years.  Since the 80s, we've been proud to host one of the best marathons in Colorado, one that begins in historic Hahn's Peak and finishes in beautiful downtown Steamboat Springs. As marathon and half marathon runners run alongside the roaring Elk River through emerald green pastures, past ranches, and the snow-capped Rocky Mountains, it's easy to see why this place is so special. And why we want to preserve it for the next 40 years.  Here are some tips to make the most of race weekend, both on and off the course.
1. Bring a refillable bottle/cup
An easy way to reduce waste and your environmental footprint is to bring a refillable bottle or cup on race day. We'll have eco-friendly cups along the racecourse, but there are also some pretty nifty ways to carry water these days. Check out your local running store for ideas and options. And while you're sightseeing around town or lounging in your hotel, try the tap water- trust us, it's delicious! Skip the single-use plastic bottles. Need a reusable bottle? Come by the Steamboat Springs Visitor Center and we'll give you one for free.
2. Bring a reusable bag
Steamboat Marathon race day can see a huge temperature swing in just a few hours. For the full marathon, runners start at over 8,000 ft in elevation at 7:30 in the morning. And that means it's cold! Plan to bring extra layers to warm up, then stash them in a reusable bag and we'll drive it back down to the finish for you. We will have bag checks on race day to ensure your eco-friendly bag has a place to hang out while you run.
While you're around town, be aware that stores in Steamboat Springs charge a fee for single-use bags. If you plan to check out the great shops downtown or fuel up at the grocery store, remember your reusable bag.
3. Reduce your waste
Several years ago, we cut back on the runner swag bags that were so common for many years. Instead of handing out plastic bags full of items that only some runners will use, our sponsors have a physical presence at the race and expo. Stop by to say hi and grab giveaways that you'll use and skip the ones you won't. But stop by and say hi anyway, because our sponsors are the best!
4. Don't litter
Whether it's snack wrappers, cups, or unused swag, be sure to find the nearest garbage or recycling bin to dispose of trash. We love where we live, and so does the wildlife that we share this valley with. Do your part to help protect the Yampa Valley by making that tiny extra effort to put your trash in a bin or a pocket.
5. Repurpose your race bib
You earned that race bib- keep it to remember your accomplishment. We've seen all kinds of creative uses for old bibs: wallpaper, quilts, t-shirts, bags, coasters…you get the idea. If you have an interesting way to reuse your bib, let us know! Use #steamboatmarathon and show it off.
6. Be kind
Around here we say that Kindness Floats the Boat, and that couldn't be truer than at the marathon. Thank a volunteer, wave to a traffic escort or police vehicle, high-five another racer - the possibilities are endless. While in town, show some love to local shops and tip your hat, even if it is a running one. And we know you like to run fast but take it slow while driving in town. For extra ways to make more memories with less impact, visit our Kindness Floats the Boat page.
Have a sustainability tip of your own? Join the conversation now by sharing a photo on Instagram, and don't forget to tag us at @steamboatmarathon.