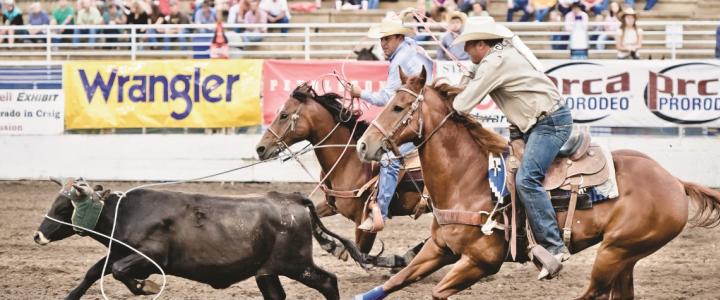 Rodeo is rooted in Steamboat's history as far back as 1898 when impromptu competitions popped up between local cowboys and cowgirls right on Lincoln Avenue. In the '70s, the rodeo was called the "Friday Night Jackpot"; today the Steamboat Springs Pro Rodeo Series is a must-experience event taking place right downtown Friday and Saturday evenings from June 24-Aug. 27.
Watch in awe as cowboys and cowgirls, including some Routt County residents, ride bulls, rope steers, ride horses bareback and more during the festive summer evenings. Pee-wee barrel racing, calf scrambles, and rodeo clowns provide plenty of smiles.
John Shipley, board president and the announcer for the Steamboat Springs Rodeo Series, shares his tips and tricks for experiencing this year's upcoming rodeo like a local.
What's New in 2022
New this year, there will be more tasty food options than ever with the Steamboat Ski Resort handling concessions. Enjoy traditional barbecue favorites along with hamburgers and hot dogs. Attendees can also enjoy fare from two food trucks popular at the ski resort: the Taco Beast and the Hot Mess. 
This year, four entrance gates into the rodeo (located at each corner of the arena) will ensure a more efficient entry and exit for everyone.
What to Wear and Bring
Feel free to don your best Western duds. Score the perfect boots or a new cowboy hat and support local family-owned F.M. Light & Sons, one of the oldest authentic Western retail outfitters in the country. Whatever you do, don't forget to bring a warm coat so you're not tempted to leave when the sun dips behind Howelsen Hill, recommends Shipley, the rodeo's announcer for the last 38 years.
"Bull riding is at the end, which you don't want to miss," he said.
Additionally, leave a raincoat/umbrella in the car. Rain or shine, the rodeo goes on.
"Rain performances are sometimes the most entertaining — the arena might be flooded or covered in mud and the calf scramble and ram scramble becomes a battle of attrition," Shipley said. "The kid that's willing to get wet and muddy will win the prize. You don't want to miss it."
Come early
The gates open at 6 p.m., a full 1.5 hours before the rodeo starts, for a pre-rodeo barbecue and live music. Shipley suggests arriving early.
"It's a festival down there," Shipley said. "There's live entertainment on the rodeo stage by local musicians and that way you'll also get your choice of seats."
Stay late
After the official rodeo wraps up, don't rush to leave.
"The concession stand stays open and on Friday nights especially, there are additional competitions known as "slack" where you can see more contestants," Shipley said.
Staying later also allows you to meet the contestants in person, a great way to connect to Steamboat's Western roots, slow down and enjoy meaningful, memorable experiences.
"Today's pro rodeo cowboys and cowgirls are the most approachable athletes in the country," Shipley said. "They'd be happy to take a selfie with you or sign an autograph and fill you in on the finer points of rodeo, which is a lifestyle as much as a sport."
Must see
Don't wander away to grab a drink or use the restroom when it's time for the calf or ram scramble. Watching littles chase a calf or a sheep around the arena is an audience (and announcer) favorite, Shipley said.
"Sometimes kids will get out there, see all the people and start to cry. Or they will sit down and play in the dirt. The rule here is the ram scramble gets as long as it needs because it's one of the best, most popular events we do."
Experience the Rodeo Year-Round
Not able to attend an actual rodeo performance? No problem. Here's how to "rodeo" even if you can't experience the real thing. Whatever you choose to do, just don't forget to keep the Western hospitality and spirit of Steamboat alive by practicing patience and spreading kindness. Tip your hat, say hello and don't forget to smile:
• Western History: Learn about Steamboat's hardy settlers and rugged ranchers (many of whom competed in the rodeo) at The Tread of Pioneers Museum.
• Western Art: Steamboat Springs boasts a vibrant local art scene. Duck into some of the local galleries (we suggest Wild Horse Gallery for exceptional Western art), as well as the Steamboat Art Museum, an impressive free museum located in one of the town's most historic buildings on Lincoln Avenue.
• Western Rides: See Steamboat's wide-open spaces the way cowboys from generations ago did and still do today: from atop a horse at one of the local ranches, including Del's Triangle 3 Ranch in Steamboat's Elk River Valley; Saddleback Ranch, a fourth-generation working cattle ranch also in the Elk River Valley; or Lucky 8, a family-owned and operated working bison ranch just 30 minutes outside of Steamboat Springs.
• Western Souvenirs: Snag a hat or boots at F.M. Light & Sons or create your own custom hat at Steamboat Hatters, located downtown.
• Western Memories: Snap your photo astride Lightening, the trusty steed outside the F.M. Light & Sons entrance, and share it to the store's Lightning Rider Gallery.