Two Hot Springs, One Town; A Soakers Guide to Steamboat Springs
Hot springs are one of nature's greatest gifts to mankind; all the glory of hot, percolating water combined with soothing natural minerals and epic Rocky Mountain landscapes. If you're looking to enjoy an all-natural soak, then look no further. They don't call this town Steamboat Springs for nothing! In fact, Steamboat is an official stop along the Colorado Historic Hot Springs Loop. Here you'll find multiple ways to experience natural hot springs that are sure to please the whole family. From the secluded, beautifully landscaped springs at Strawberry Park to the water slides at Old Town, Steamboat has everything a hot springs enthusiast could desire. Read on to find the hot springs experience for you.
Important COVID Info: Our local businesses are committed to the health and safety of all visitors. To find out what each hot spring is doing to keep you safe, please visit their respective websites. Also, please note that additional changes have been made at each location to abide by local and state guidelines including capacity limits, wearing face coverings when indoors, and the use of reservation systems.
Steamboat is one of five stops along the 720-mile Historic Hot Springs Loop in Western Colorado. Two of the 19 hot springs facilities highlighted in the loop are located here in Steamboat Springs. The hot springs loop was created in order to help people experience the rejuvenating benefits of natural mineral hot springs and soak up the unique history and heritage of these special Rocky Mountain locales along the way. Steamboat's 150+ natural mineral springs have played an important role in the lives of its residents over the years, from the Native Americans who revered them for their healing and spiritual qualities to the 19th century settlers who named the town after one hot spring that made a sound, "like a steamboat coming down the river".
If you're interested in learning more about the role of hot springs in the history of Steamboat, check out the self-guided Mineral Springs Walking Tour located on the West side of downtown between the library and the historic train depot, or pay a visit to the Tread of Pioneers Museum on the corner of 8th and Oak Street.
Located about a 20 minute drive from downtown, Strawberry Park Hot Springs is the ultimate best-of-both-worlds hot springs experience. This is the go-to for anyone looking to unwind and connect with nature in a peaceful setting with minimal man-made distractions. Amenities such as changing rooms, flushing toilets, guest cabins, and snacks and towels available for purchase don't detract in any way from the seclusion and natural beauty of this incredible place. In the summer you can drive or even hike to Strawberry Park. During more inclement weather months, it is strongly advised that visitors arrange a ride on the shuttle from town (the fee includes round trip transportation and the price of admission). Remember that admission is cash only and that there are no dogs allowed anywhere on the property, including the parking lot. Reservations are now required when visiting Strawberry Park Hot Springs. We recommend booking your spot 1 month in advance. Please visit their website to book your reservations.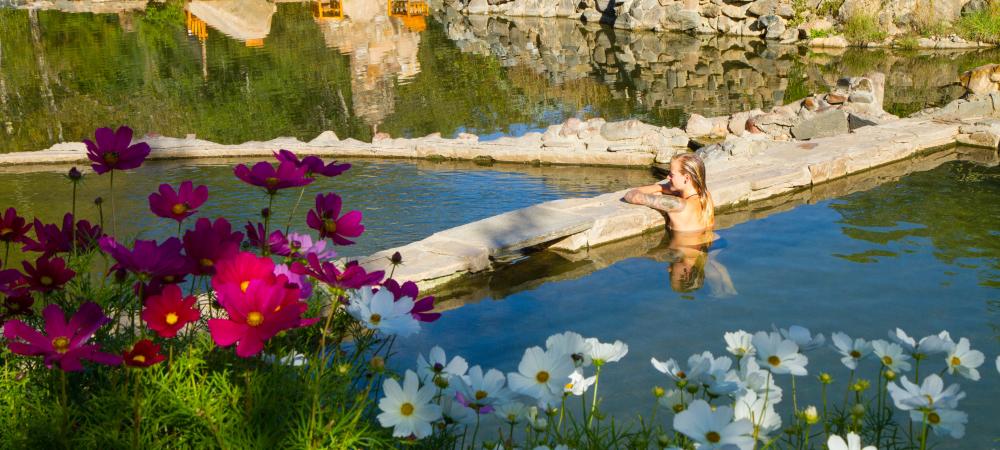 Need a place to take the family that is both fun and convenient? Located right in downtown Steamboat Springs, Old Town Hot Springs is a local non-profit fitness center that features large outdoor pools that are heated and fed by natural hot springs. Visitors to town are welcome to buy a day pass and enjoy a soak or a swim year-round. The pool area even features water slides that the whole family is welcome to enjoy. Towels and lockers are available to rent.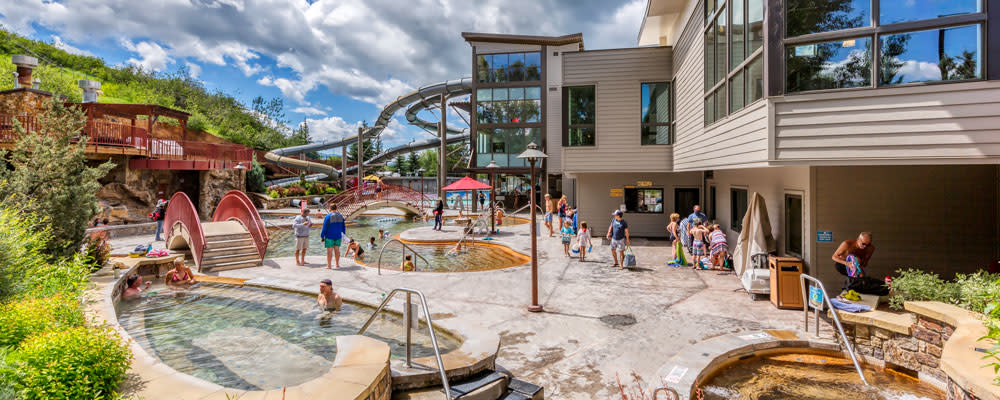 Pro Tips and Etiquette for Visiting Hot Springs
Be Respectful: Be aware of your surroundings and respect the fact that others are there to relax. At Old Town Hot Springs, make sure you keep an eye on the little ones. At Strawberry Park, be mindful that people are there to get away from it all and keep the volume down, don't show up intoxicated, and don't come after dark if you are not comfortable with the fact that Strawberry is clothing optional when the sun goes down.
Be mindful: If you do decide to take pictures at the hot springs, make sure they are tasteful and will not offend other guests. Please kindly refrain from taking pictures of people without their consent.
Stay Hydrated: Keep in mind that hot springs will make you sweat, even if you don't necessarily notice it because you're already wet. Hydrate well before arriving and bring water with you to avoid that woozy feeling.
Come Prepared: For your own comfort and convenience, be sure to bring a towel, flip flops or slippers, snacks and drinks, and robe/comfy clothes to change into. Additionally, remember to bring cash if you are going to Strawberry Park. Also, if you choose to drive to Strawberry Park in the winter, make sure you have four wheel drive and/or chains for your tires or you will get turned around.