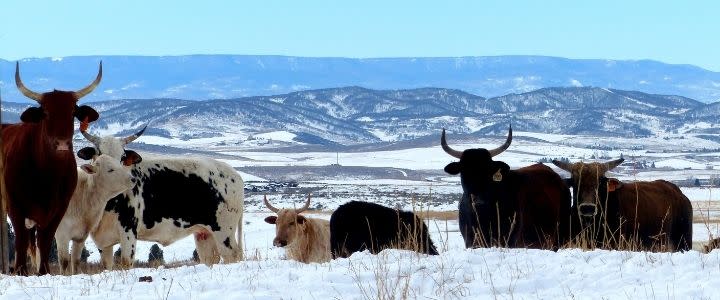 Steamboat residents don't typically choose to live here by accident. We choose to live here because we cherish the landscape, the endless opportunities for play, and the deep historical traditions that make Steamboat so special. In addition to our history as a ski town, a cowboy town, and a valley with rich native American history, we are also a community with vast agricultural roots. Farming and ag traditions run deep in Routt County, where we still celebrate Colorado farm-to-table meat and produce and push the boundaries of agricultural innovation with new businesses exploring the potential of indoor agriculture. Let's explore some ways you can get to know Yampa Valley's rich local heritage during your Colorado vacation.
History of Agriculture in Routt County
Routt County and the Yampa Valley have a long history in agriculture. There are almost as many cattle in Routt County as there are people, and the county has roughly over 230 ranches still operating today. Early settlers to the Yampa Valley, as early as the 1870's started sheep and cattle ranching and many of those same properties are still family owned today. By 1913, more cattle were shipped from the Steamboat Springs railroad depot than any other single point in the United States. Today, livestock sales are still going strong in the Yampa Valley and with the abundant natural resources, it's not hard to understand why.
While many have visited the Strawberry Park Hot Springs during their Colorado vacation, visitors aren't aware that the Routt County Strawberry Company used to ship their juicy strawberries nationwide, with berries too big to fit into water glasses. Also in 1890 a large flour mill operated in Steamboat Springs, providing a local outlet for wheat flour and "Joe Dandy" cereal that provided breakfast for many generations in Routt County. By 1923, over 700 railroad cars of lettuce were sent to California alone, and by 1926, thousands of sacks of potatoes and barley, oats, and peas were shipped around the country. Eventually labor and transportation issues around the 1970's lead to Steamboat's produce manufacturing demise, but a few local crops are still grown today and the stories remain with us as our treasured heritage.
Organizations Committed to Celebrating Ag
The Yampa Valley boasts multiple organizations dedicated to celebrating our local agriculture including The Community Agricultural Alliance, Historic Routt County and Colorado's Cattlemen's Agricultural Land Trust. The organizations help document the economic significance of agricultural output in Routt County, provide educational opportunities, and help connect residents with locally sourced goods.
Supporting Local Agriculture During Your Visit
Visitors can support the local agriculture community by purchasing local and sustainably produced goods during their visit. Steamboat is proud to offer local beef, pork, sheep, lamb, chicken, pigs, eggs, cheese, micro-greens, seasonal vegetables, bread, honey, mountain grass hay, wheat, alfalfa, and herbs. Make a difference by supporting local Colorado farmers and ranchers and shop the Community Agriculture Alliance Market, which features over 60 producers from the area and includes their walk-up storefront downtown on the corner of 8th and Oak Street. In the summer, the Steamboat Springs Farmers Market also showcases great local products during the summer.
Farm To Table Restaurants & Events
Steamboat believes that a resilient local food system is an integral part of our community. The farm-to-table movement has been helpful to ranchers who are working with local restaurants to provide locally sourced, high-quality products. Many local Steamboat restaurants such as E3 Chophouse, Table 79, Aurum, Cafe Diva, The Laundry, Mambo, Creekside Cafe, Freshies,  Yampa Valley Kitchen, and Harwigs are focused on using locally sourced products in their menus. Colorado visitors can also check out Steamboat Restaurant Week and Ag Appreciation Week during the year for exciting events focused on sustainably produced local products.
Visit a Local Farm or Ranch
Today you can learn about Routt County heritage and sustainably produced products first hand by taking a tour of the Whaley Ranch in Yampa that shows ranch operations and is a great educational experience for the whole family. Another outstanding Colorado partnership between Community Agriculture Alliance and CSU Routt County Extension is a highly academic short course for anyone interested in learning more about local agriculture and the basics of land stewardship. Elkstone Farms also offers events and educational cooking classes involving harvesting ready crops straight from their fields. These are great options for visitors to feel connected to the earth and the spirit of farming and sustainability in Steamboat.
Become a Routt County Yampavore
Our beautiful Yampa Valley is genuinely unique because our town has a down-to-earth culture that supports the land and gives back. You'll see our roots and western culture proudly remain in many local events throughout the year in town.  We invite you to partake in its firmly planted beginnings during your Colorado visit and look for small ways to nod to our heritage. Buy locally made products, choose food that's sustainably sourced, and maybe even make a small donation to an ag non-profit as a token of your appreciation for all the Yampa Valley offers. Your support during your Colorado vacation allows the community to keep agriculture vibrant in Steamboat Springs and value its sustainability for generations to enjoy.