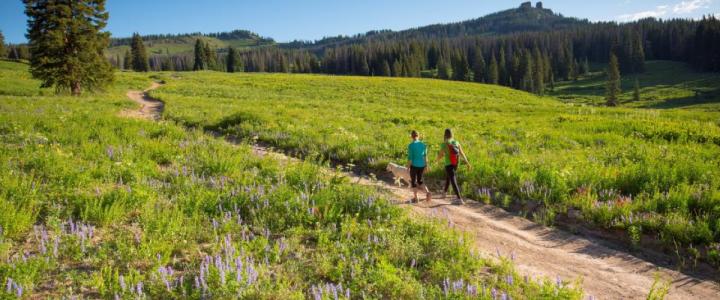 Some of the best hiking trails exist in Colorado - from the Cherry Creek bike trail and the Maroon Bells to off the beaten path roads like Forest Road 201, fall in love with the Centennial State before snow ever covers the Rockies. Besides the actual physical exercise, there is a world of wonder out there to see on the hiking trails in Colorado.
Colorado's Natural Beauty
The biggest motivator that gets folks out onto the trails is the natural beauty that you are surrounded by when hiking. Shimmering aspen trees, bubbling creeks and towering mountains are just a few of the break-taking sights to take in on a Colorado hiking trail, but Steamboat Springs is a true mecca for this. Our landscapes are known all around the state for our impeccable wildflowers. When hiking near Steamboat Springs, keep your eyes peeled for Colorado wildflower staples. Spot our state flower, columbines of white and purple. Or, perhaps you will stumble upon deep purple lupines or a stunning red Indian Paintbrush. While wildflower season ranges from mid-June through August, July is one of the best times to get out on the trail to look for Indian Blanket, Purple Archangel, or Bull Thistle.
If a tree falls in a forest and no one is around to hear it, does it make a sound?
Sometimes in early summer, trees are still settling from the harsh winter snows. Here in Colorado, we receive summer storms of rain, lightening, or even snow. If you find yourself on a hiking trail in Steamboat Springs in the spring, you may even hear some of the trees creaking. It can be surreal and amazing to see nature at work with bark bending- but make sure to find a safe space to stand when observing the phenomenon. If anyone hears a tree fall in the woods, tell us if it makes a sound! When hiking in Colorado and Steamboat Springs, it's common to see felled trees either from the pine beetle kill or a storm that split an aspen down the middle. You may see marks from bears, birds or even humans - but remember to never carve into a tree (no matter how romantic your partner may find it).
Be Aware of Wildlife
Naturally, everyone stays on the lookout for wild animals on the hiking trail. In some places in Colorado, you might hike and see nothing. Other times, you might see a ton, depending upon the time of year. In the summer, you might see red tail hawks, chipmunks, prairie dogs, rabbits, and all over manner of birds. Look for the gifts that animals leave behind - like a hawk feather. If you are traveling quietly, you could see deer, moose or elk in their habitat. Be cautious around all animals as your travel in their domain. If you do stumble upon an animal, please make sure to give them their space. Always give animals like moose or elk 75 or more feet when observing them, and bears at least 150 feet. While witnessing an animal in their natural habitat can be an incredible experience, we ask you to remember that this is their home and to respect their space.
Sometimes the best things to look out for on the hiking trail are things you can't look for; they just surprise you. We challenge you to look up now and then. You may spot a hawk's nest and flowers growing at the tops of trees, just by shifting your focus. Other times, the best things are invisible. Can you hear a rabbit next to you without looking? Can you feel the sun shining through trees above? Can you hear your breath in time with the wind? When you're out on the hiking trail in Colorado, it's about using all of your senses. If you do that, you'll never have the same experience twice.
 
Learn more about Hiking and Backpacking around Steamboat Springs, Colorado.