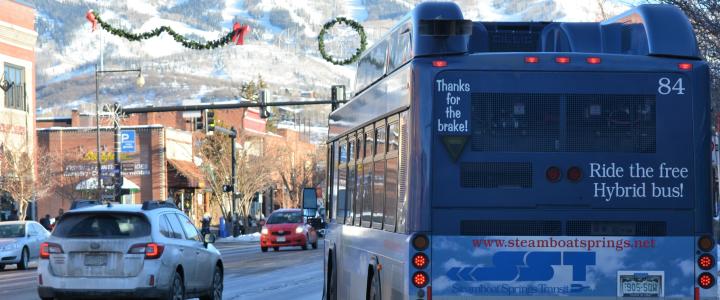 You've planned your trip to Steamboat Springs, packed your bags, and are headed our way. Now how do you get to Steamboat Springs, and get around town once you arrive?
Getting Here
Steamboat Springs is 75 miles from the nearest interstate, which is of course part of the appeal of Steamboat Springs. But our remote location doesn't necessarily mean it's hard to get here. In fact, it's easier than ever to get to Steamboat. From Denver, it's a beautiful three-ish hour drive along some of the most scenic mountain roads in the country. Or if you're coming from Grand Junction in the west, you also have about three hours through wide-open, western vistas.
Leave the car at home! Make your trip easier by reserving a seat on the Bustang, the Colorado Department of Transportation Outrider bus that travels daily from Denver.
Traveling by air? You can travel the friendly skies all the way to Steamboat/Hayden through the Yampa Valley Regional Airport. You can either rent a car at the airport or take a shuttle into town. Both require advanced reservations and fill up quickly, so plan far in advance!
Getting Around Steamboat
Now that you're here, how will you get around town? Early residents of Steamboat Springs relied on horses to move around town but today horses stick to the trails except for during special events like Winter Carnival. Steamboat Springs is a relatively compact City (it's about 4 miles from one end of town to another) and easy to get around. Is it possible to get around Steamboat Springs without a car? It definitely is! Here are three main ways to ditch your car and explore Steamboat Springs.
Take the free bus. That's right, it's free and can take you all over town, from the Steamboat Ski Area to the west side of town, with frequent stops in between. The Steamboat Springs Transit runs daily (schedules change seasonally) stopping at each location approximately every 20 minutes throughout the day.
Visit the City of Steamboat Springs website for the seasonal schedule.
Park and walk. Walking might be the best way to take in downtown Steamboat Springs. There is ample parking along the side streets off Lincoln Avenue, or park in one of the free public lots around town:
Public Parking Lots
10th & Lincoln Lot-8 hour parking 8am - 6pm
9th & Yampa Lot-8 hour parking 8am - 6pm
8th & Yampa Lot-8 hour parking 8am - 6pm
7th & Yampa Lot-3 hour parking 8am - 10pm
8th & Oak Lot-8 parking 8am - 6pm
Stockbridge Transit Center-6am-2:30am parking. One vehicle per space.
Just remember, there is no overnight parking, and you can't camp in your vehicle overnight either. Your vehicle may be ticketed if left on city streets within the restricted hours or TOWED during winter snowplow operations within the restricted hours. Cars illegally parked overnight make the job of our snowplow drivers and first responders even more difficult.
Driving an EV? Check out the public charging stations here.
Pedal-power. Want to travel like a local? Lower your carbon footprint and burn some calories while you're at it by biking around town. The 7-mile Yampa River Core trail is a paved trail that meanders along the Yampa River from one end of town to another, roughly paralleling Lincoln Ave. It's a perfect way to stretch your legs and take in the view of the river and more. You can even hop off to do some shopping and dining along the way. Bonus! You won't have to search for a parking space in our historic downtown or other areas. Not sure your sea-level legs are up to the task? Rent an e-bike from Pedego and enjoy the ease of pedal-assist biking. Make sure you check out the regulations for riding an electric bike in town.
No matter your personal style, you can easily get around Steamboat Springs without driving downtown. And while riding a horse downtown isn't an option anymore, there are plenty of other ways to get you where you want to go and enjoy the spectacular scenery of the Yampa Valley while you're at it.