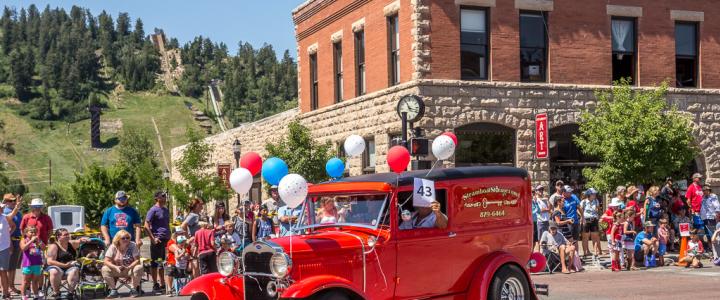 The Steamboat Springs Chamber, in partnership with Yampa Valley Bank, is excited to present the 119th Annual Cowboys' Roundup Days Fourth of July Parade this year. This event is an opportunity to honor the Yampa Valley's rich western heritage while bringing the community together each year.
This year's parade theme is "Red, White, and YOU." The parade will take place on Monday, July 4 at 10:00am and will run along Yampa Street for the second year in a row with Sarah and John Floyd as this year's parade marshals.
"Yampa Valley Bank is thrilled to be the presenting sponsor of Steamboat Springs Fourth of July Parade with this year's theme...Red White and YOU! There isn't a more all-American setting than a parade in downtown Steamboat Springs complete with local cowboys, horses, doggies, fire trucks, and extravagant floats" said PJ Wharton, Yampa Valley Bank President. "We are so proud to sponsor this family friendly event and can't wait to see our friends, neighbors, and customers along the parade route as we celebrate our nation's birthday.  See you on Yampa Avenue!"
The Fourth of July events kick off with the Pro Rodeo Series on Friday, July 1. They will continue throughout the weekend with live music, the First Friday Artwalk, Farmer's Market and more. Monday, July 4 you can expect to see other fun events including the Jumpin' and Jammin' Ski Jump Competition, a special July 4 Rodeo, and the parade.
Fourth of July Schedule 2022
FRIDAY, JULY 1
7:30 p.m. Pro Rodeo Series, Brent Romick Arena
8:30 - 10:30 a.m. & 4 - 5:30 p.m. Jumpin and Jammin Ski Jump Training, Howelsen Hill 
5:00 p.m. First Friday Artwalk, Downtown Steamboat
SATURDAY, JULY 2
8:30 - 10:30 a.m. & 4 - 5:30 p.m. Jumpin and Jammin Ski Jump Training, Howelsen Hill 
9:00 a.m. - 2:00 p.m. Farmers Market, Downtown Steamboat 
7:30 p.m. Pro Rodeo Series, Brent Romick Arena
SUNDAY, JULY 3
9:00 a.m. - 12:00 p.m. HS45 & HS75 Jumpin and Jammin Ski Jump Competition, Howelsen Hill 
7:30 p.m. Pro Rodeo Series, Brent Romick Arena
MONDAY, JULY 4
7:00 a.m. - 9:30 a.m. Lion's Club Pancake Breakfast, Downtown Steamboat (location to be announced)
9:15 a.m. Nordic Combined 1K run
9:30 a.m. 3k roller ski
10:00 a.m. Fourth of July Parade, presented by Yampa Valley Bank, Downtown Steamboat on Yampa Street
11:00 - 2:30 p.m. Jumpin and Jammin Elimination Ski Jumping Competition, Howelsen Hill
6:30 p.m. Pro Rodeo Series, Brent Romick Arena