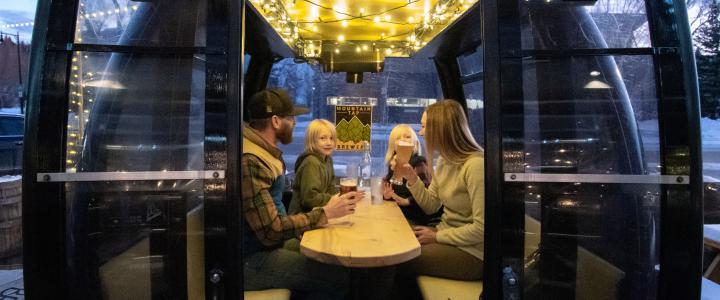 This winter restaurants in Steamboat are ready to serve you in a variety of ways! Looking for quick to-go options? What about family-style takeout meals? Want to safely dine indoors after a day of adventure? However you choose to dine this winter, we've got you covered with a list of the best ways to experience our restaurants and bars this winter.
1. FAMILY STYLE TAKE OUT
We know it can be challenging to round up the kids for a trip to eat out – and then have them stay in their seats for a couple of hours. So why don't you bring the food to them? We aren't talking about fast food (although the pick-up will be quick!). We are talking about delicious, full-course meals made with local ingredients, fresh and ready to enjoy in the comfort of your own home or lodging. Restaurants like Salt and Lime and Besame are offering to-go family meals that you can pre-order and pick up curbside. You can even order your favorite cocktail or glass of wine to go with the meal and take that with you too!
2. GRAB AND GO
Need something quick that packs easily for your day of adventure? Many Steamboat restaurants offer quick takeout options that are great for putting in a backpack and enjoying later or on the run. Colorado Bagel Company is a great option for breakfast and has over a dozen bagel and spread flavors to choose from. They will even deliver you bagels! For lunch, try Yampa Sandwich Co or Skull Creek for tasty sandwiches and gyros. Both have seamless online ordering systems making for a quick and easy pickup option. Check out our Takeout and Delivery Guide for a list of restaurants offering takeout.

3. EXPERIENCE OUTDOOR DINING 
We love our patio dining in Steamboat Springs – and this winter, businesses have come up with creative ways to keep their patios open and guests warm. Aurum Food & Wine has private yurts you can reserve to experience their food in an intimate setting. This upscale dining experience is sure to leave you with a memory you won't forget. Speaking of yurts – Storm Peak Brewing has set up their own yurt for patrons to warm up with one of their locally brewed beers with friends!
The party is also moving outdoors at Mountain Tap Brewery this winter with three gondola cars stationed on the patio. Sip on one of their beers as you enjoy a wood-fired pizza in your very own private gondola cabin. These cars will be placed outside their garage-style doors on their famous patio.
4. MAKE A RESERVATION
If you want to dine in – traditional-style – this winter, be sure to make a reservation early! Our restaurants are operating at a limited capacity to keep staff and visitors healthy this winter. This means your favorite spots will fill up quickly and will not have indoor space for you to wait for your table. Solutions? Visit our Restaurant Guide here for a comprehensive list of our restaurants and then visit their websites to make a reservation. If you arrive early, check out the nearby retail shops so you can take a piece of Steamboat home with you. Don't forget your masks!