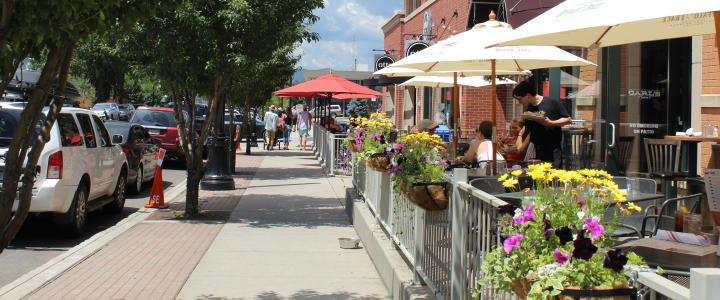 Enjoying a meal together as a family has become more of a rarity these days in our jam-packed lives. There's something pretty amazing about being on vacation with your family and not having to gobble down your meal in 60 seconds or less in order to get everyone to and from their various activities. With soccer practice, deadlines, and bedtimes on hold for the vacation lifestyle, a wonderful dining experience seems to bring everything to a balance. When getting to escape the day to day, routinized life, enjoying a calm meal with the family is always at the top of our list. Here in Steamboat, you get to kick back, enjoy the view and savor a little family conversation.
Because Steamboat is such a family-friendly town, it'll come as no surprise that even our white tablecloth establishments have tempting kids' menus. I have pretty much taste-tested every kid niblet in town and am happy to share a few of our family's favorites.
Mazzola's
Something about being handed a ball of real dough to play with before dinner, and then have it cooked and presented with their pizza is a treat my kids never tired of. This unique entertainment for the kiddos always seems to calm the store, something us parents can appreciate! Pasta and pizza are the go-to when you have picky kids, so the menu in partnership with the chance to "play with their food" makes for a smooth-sailing family meal. Mazzola's nice selection of wines and adult fare (three words: house-made raviolis) satiate the rest of us.
Johnny B. Good's
Johnny B's is the milkshake mecca of downtown. This 1950s-style diner is always fast and friendly and perfect for both breakfast and lunch. We firmly believe that all kids should have their requisite summer sugar intake long BEFORE bedtime, so with a lunchtime shake, there's still plenty of time to run that energy off. This classic diner-designed restaurant is also a great way to transport back to the good ol' days of classic cheeseburgers, delicious fries, and heck, even a milkshake for mom and dad. 
Slopeside
Slopeside has a whole new amenity that is truly hard to beat as far as summertime atmosphere. The newly daylighted Burgess Creek runs through the base of the ski mountain and right by Slopeside. The outdoor area at Slopeside is often called "The Beach" in the wintertime due to the ski-clad sun soakers sitting outside. And now Slopeside is in beanbag tossing distance to an actual beach at the base of the creek. We like to order pizza in a to-go box for the kiddos so they can munch and splash around in the base area beach while we're on the Slopeside patio enjoying the scenery.
Mambo 
Mambo has a lovely outdoor patio perfect for people-watching and relaxing. The considerate kid's meal includes a complimentary chipwhich (chocolate chip cookie ice cream sandwich) and is hugely popular with the little ones. If you're dining inside, crayon coloring on the paper table cloth is encouraged. Our kids light up at the opportunity to color where they eat – another way to keep them entertained during a family dinner! Accent your art with a little marinara sauce for an edible masterpiece.
Old Town Pub 
Old Town Pub is a great spot to bring big groups. Does the size of your family resemble the Brady Bunch or a baseball team? Then OTP has you covered with games to keep kids occupied and a nice mix of pub fare, kids plates and upscale items (plus that infamous burger) to satisfy everybody's appetite.
Rex's American Grill & Bar
Rex's American Grill & Bar also accommodates big groups plus a wide variety of taste buds. Hula hooping is encouraged on the beautiful back patio and Chef Vicki's menu truly has something for everyone.
When getting to escape for a weekend in our mountain paradise, enjoying a calm meal with the family should be the top of our list. From unique ways to keep the kids entertained, to some delicious bites to satiate you and your kiddos' cravings – Steamboat has everything to fill up your bellies. Now get up here, so you can dig into these delicious Boat bites.