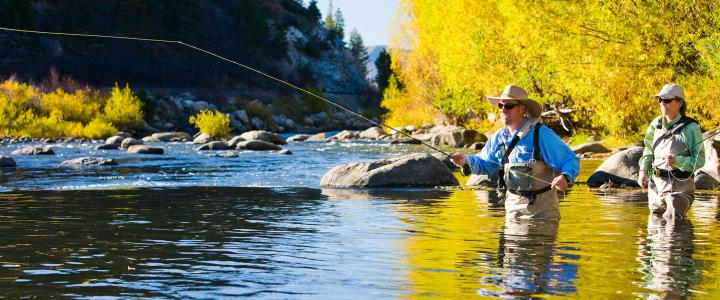 The Yampa Valley is known as an international ski destination proudly recognized for its Champagne Powder®, short lift lines, Olympic athletes and its rich history. Aside from snow culture, the community of Steamboat Springs has deep roots in the culture of fly fishing dating back to the town's first residents, the Ute Indians.
Not only does the town have a river that runs directly through it, but there are countless nearby lakes and streams to prove the trout fishing opportunities are endless.
It is no secret that fall in the Colorado High country is awe-inspiringly beautiful. The mountains are covered with amber and crimson colored leaves. The air is brisk yet the weather feels perfect and there is the wistful sound of leaves crinkling with each step. What might be a secret to some is in addition to leaf peeping, fall in Colorado offers what is arguably the best season for fly fishing.

As the dog days of summer come to an end and autumn sets in, most anglers retire their fly fishing gear to the garage and Steamboat's typically crowded gold medal waters will become secluded. Other seasons simply cannot stand up to fly fishing in the fall which offers solitude, rich colors, and aggressive trophy trout as they start to bulk up for winter.
That is not to say that fall doesn't present unique challenges as well. There are many things to keep in mind before you throw on your best flannel and head to the river in search of big trout. Here are a few tips to make the most out of what is in my opinion the best season for fly fishing.
The early bird does not get the worm, or in this case early bug does not get the fish. Temperature matters and as the mornings and evenings get cooler, the days get shorter and the nights longer. The optimal time to hit the water is no longer the crack of dawn or late evening. Instead, enjoy a second cup of coffee or even better, grab breakfast at a local's favorite restaurant, and wait to hit the water till after 9. Those of us who are known to suffer from last cast syndrome will have to forgo late evenings as trout will be most active from mid-morning to mid-afternoon.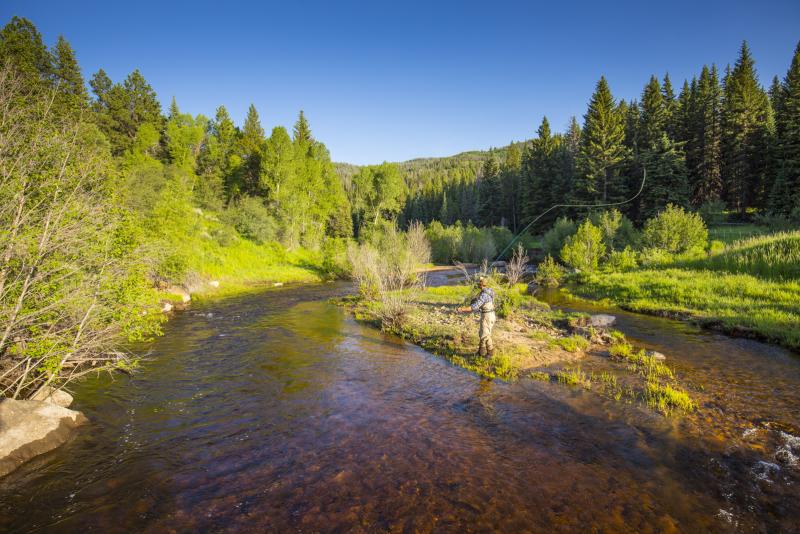 In autumn, water levels will be low and clear, which makes it much easier for trout to see everything above the water's surface. Autumnal and earthy toned clothing is paramount. In order to remain completely stealthy, anglers need to be aware of their shadows. The sun angles in fall are lower than in summer and change throughout the day. Keeping a low profile is critical so that trout notice your fly and not an intimidating shadow.  To ensure that you are not spotted before your fly, use long leaders and light tippet - this will keep your cast stealthy.
Steamboat Springs is home to many different species of Trout including Rainbow, Brown, Cutthroat and Brookies. Naturally all trout begin to bulk up during the fall in preparation for winter. They are looking for the easiest, quickest and most delicious way to gain calories. The Yampa River in fall is just like one large buffet line at Golden Corral and the trout are searching for the juiciest meal in the line. Different from Rainbows though, both Brook and Brown Trout species spawn during the fall, and as they approach their time to spawn they become extra aggressive and territorial. Using a streamer can provide immense reward as browns will be more tempted to strike at quick moving steamers.
Be sure to educate yourself on what a spawning bed and redds look like. You can typically spot them by the bright, clean gravel that has been turned over. Targeting actively spawning fish, is a big no no. The guides at Steamboat Flyfisher, Straightline, or Bucking Rainbow are excellent resources to make sure you are able to recognize what these look like.
Fly fishing during the autumn in Colorado is a truly unique opportunity, it's peaceful, a breath of fresh air and a chance to recharge from summer. So, when fall comes around and you find yourself in a little town, located in Northwest Colorado, be sure you have packed your fly fishing rod, because you may just land the trout of your dreams.