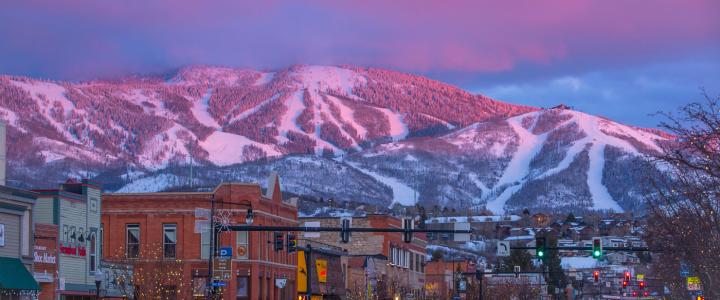 Steamboat Springs is where western heritage meets abundant outdoor adventure.  The unique mix of warm sun, cowboy boots, and friendly locals lends an inviting, laid-back atmosphere to our historic Colorado resort town.
Steamboat Springs was originally a summer resort before it became known as Ski Town, USA©, and renowned for its world-class skiing and famed Champagne Powder©. Travelers in the early 1900s visited Steamboat Springs in the summer months for the natural hot springs and vast hunting and fishing opportunities.
Today, the snow falls in abundance in the winter months, our cowboys ride mountain bikes and summer adventure runs the gamut, from biking along Steamboat's Yampa River Core Trail to exploring the hundreds of miles of singletrack and endless county roads; from floating down the Yampa to soaking in natural hot springs; from golfing among the peaks and valleys to casting a line for native trout; and above all, making the most of the long, summer days.
Location
Colorado's Yampa Valley is located just 160 miles northwest of Denver. From Denver, take I-70 west through the Eisenhower Tunnel to the Silverthorne exit; go north on Colorado Highway 9 to Kremmling, then west on U.S. Highway 40 to Steamboat Springs. From Salt Lake City (390 miles), take I-80 east, merge into U.S. 40 east (exit 148) and take U.S. 40 into Steamboat Springs.  Check out more maps and directions here.
Elevations Around Steamboat Springs
Downtown: 6,695'
Steamboat Ski Area: Base: 6,900' Summit/Mt. Werner: 10,568'
Medicine Bow/Routt National Forest: 5,500' to 12,940'
Mt. Zirkel Wilderness: Fifteen peaks reach 12,000' with Mt. Zirkel being the highest at 12,180'
Flat Tops Wilderness: Devil's Causeway 11,600'
Hahn's Peak Village: 8,128' Hahn's Peak Summit: 10,839'
Population
City of Steamboat Springs: 12,965
Routt County: 25,220
Geographic Setting
Steamboat Springs lies against the western ridge of the Continental Divide and is nearly surrounded by national forest and wilderness areas. The Yampa River begins in the Flat Tops Wilderness Area, flows through downtown Steamboat Springs, and eventually meets the Green River in Dinosaur National Monument. Steamboat Springs boasts two ski areas, three Colorado State Parks, more than 150 natural springs, lakes, rivers, and trail systems that cater to a plethora of outdoor activities.
Climate
Steamboat Springs's summers are mild, cool, and dry. July is the hottest month with an average high of 82 degrees and a low of 41 degrees. Low humidity and elevation combine to make the summer comfortable and pleasing.  Winter temperatures can range from -30 degrees to highs in the upper 30s.  The weather can change quickly here so we recommend always being prepared with extra layers, sunscreen, and water.  You can stay up to date on the local weather forecast for Steamboat Springs, Colorado here. You can also view the current conditions, the upcoming forecast, and a link to our webcams where you can see real-time snapshots of Steamboat Springs here.
Access
With the Yampa Valley Regional Airport (Steamboat/Hayden HDN) located just 22 miles from town, Steamboat is a conveniently accessed resort destination in Colorado. A newly transformed, ultra-spacious terminal facility will greet passengers upon their arrival. Steamboat offers year-round all-jet air service with convenient connections nationwide. Another option, Denver International Airport (DIA) is approximately 160 miles east of Steamboat Springs with most major airlines servicing DIA from both domestic and international locations throughout the world.  Explore more information regarding flights here.
Area Attractions & Points of Interest
Accommodations
20,542 pillows; 11,411 beds; 3,390 units. No matter what the season is you can count on a great vacation experience at any of the variety of lodging options that are available in Steamboat Springs. Steamboat is home to convenient slopeside condominiums, luxury hotels, budget-friendly motels, rustic guest ranches and private single family home rentals - find a property that fits your needs by searching our Steamboat Springs lodging options.  You can book your vacation with Steamboat Central Reservations here or by calling (877) 754-2269 (toll-free) daily 7:00 a.m. to 7:00 p.m. (MST). Learn more about accommodations in Steamboat Springs here.
Area Transportation
It's never been easier to get around town because Steamboat offers many options including the free city bus, lodging property shuttle services, Yampa River Core Trail, taxi services and more. Airport shuttle services and private transfers are also available.  There are several options for the 30-40-minute transfer between Steamboat/Hayden Airport (HDN) and the city of Steamboat Springs. Transportation to/from Denver International Airport is also available. Please plan ahead and book your transportation in advance to avoid delays at the airport.  Book directly with one of the following shuttle providers: GO Alpine/Steamboat Express, Storm Mountain Express, Alpine Airport Transport Service, Black Diamond Transportation, Powderhound Transportation, Ski Town Transportation, and Slope Transportation.  Steamboat also boasts a regional bus service featuring Bustang and Snowstang.
Shopping & Retail
Steamboat Springs has nearly 250 shops and boutiques including art galleries, Western outfitters, outdoor retailers and gift shops for every taste. Two primary pedestrian friendly shopping areas include Steamboat's Mountain Village located at the base of the Steamboat Ski Area, and downtown Main Street.  View the complete shopping directory here.
Restaurants & Bars
Steamboat Springs is home to more than 100 restaurants representing the full spectrum of cuisine to satisfy every appetite. From fresh game to fresh fish, flown in daily, every culinary delight set in a variety of atmospheres is waiting to serve up a delicious meal with a healthy helping of Western hospitality.  Check out the full restaurant directory here.