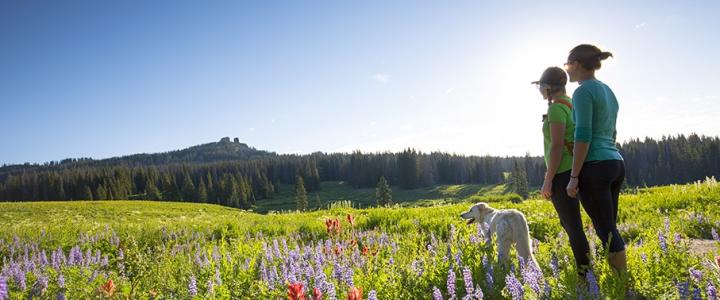 Steamboat Springs wears many hats.  Ski Town USA, Bike Town USA, and most recently the town has been dubbed Dog Town USA by Dog Fancy Magazine. For good reason, too. We love our dogs in Steamboat Springs; in fact, 50% of households have at least 1 dog if not more.
But when it comes to taking a trip with your furry family in tow, things can get complicated. That's why we are here! We have you covered with where to stay, play, and dine with your pup when you visit our little slice of mountain paradise.
Finding the perfect pet-friendly lodging can be a challenge. Luckily, Steamboat Springs has several options to choose from. For those that don't need much in terms of amenities, there are several camping options in and around town. But, for those who prefer a plush bed and running water, a dog-friendly hotel probably sounds more appealing. The Nordic Lodge and Rabbit Ears Motel are both conveniently located in downtown Steamboat Springs and offer pet-friendly rooms. Either option makes it easy to explore main street by foot along with your favorite furry pal. Additional lodging options include the Holiday Inn which is home to Rex's American Grill and Bar, where delicious homemade, American fare is served up for breakfast, lunch and dinner. If you need more square footage than a typical hotel room, check out Pioneer Ridge for condo and home rentals.
When wandering around town, don't forget to leash your pup. The City of Steamboat Springs requires all dogs be on a 6 ft lead while within city limits. However, there are a few designated spots in town where you can let your pet roam free: Spring Creek Park and Rita Valentine Park both offer off-leash areas. The area also boasts countless hiking trails for every level of adventurer. For a great overlook of the town, give Blackmere Trail a try. Or go for a stroll along the Yampa River Core Trail. This seven-mile paved trail extends from one end of town to the other, with plenty of opportunities for your pup to cool off in the Yampa River. For a little more of a challenge, head north to Mica Lake via the Slavonia Trailhead in the Mt Zirkel Wilderness Area.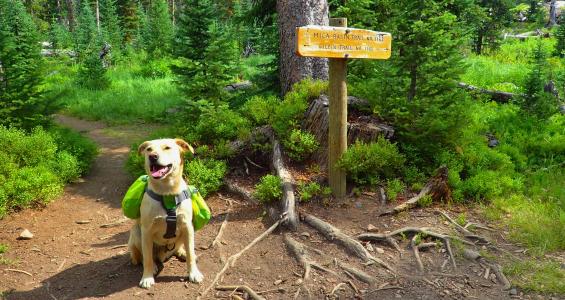 Remember to keep your dog on a leash and in voice command when you are out in the wilderness. Our national forests provide habitat for many wild animals that can become upset and aggressive due to human (and dog) presence. Always keeps your distance and practice proper Leave-No-Trace etiquette by packing out your animal's waste. And don't forget to pack water for both of you!
If your dog is a fan of water, head to one of the three lakes surrounding Steamboat Springs. Pearl Lake is wakeless and ideal for those SUP and kayak pups. If you don't have your own gear, grab a rental from Steamboat Mountain Kayak School or Paddleboard Adventure Company. Rather stay in town? Visit the Burgess Creek Beach at the base of Steamboat Ski Resort. Relax in an Adirondack chair as Fido splashes around in the water and surrounding grassy area.
After a day of adventure, you might be thirsty. Both Storm Peak Brewery and Butcherknife Brewery welcome pooches in their taproom if they are on a leash. While at Butcherknife, make sure to try the Sunshine Express which was recently awarded a gold medal at the Great American Beer Festival®. Both breweries have food options available at nearby restaurants and food trucks. Colorado state law prohibits dogs inside anywhere that serves food. However, several restaurants have patios where you can tie them up next to your table. Backdoor Burger, The Salt and Lime Burrito Bar, and Slopeside Grill are a few great patio options.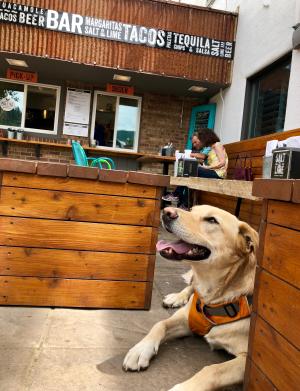 You can't visit Steamboat Springs without getting a souvenir! Outdoor K9 has everything a Colorado adventure dog could possibly need. Or zip over to Elk River Pet Ranch for some locally made treats.
Sometimes accidents happen. Thankfully, we have several animal loving veterinarians here to take care of your furry family members as if they were their own. Steamboat Veterinary Hospital offers 24-hour on-call emergency and on-site services should your dog get sick or need medical attention during your visit.
Summer is the Colorado Rockies with man's best friend can't be beat. Get up here to discover what's so great about Dog Town USA.