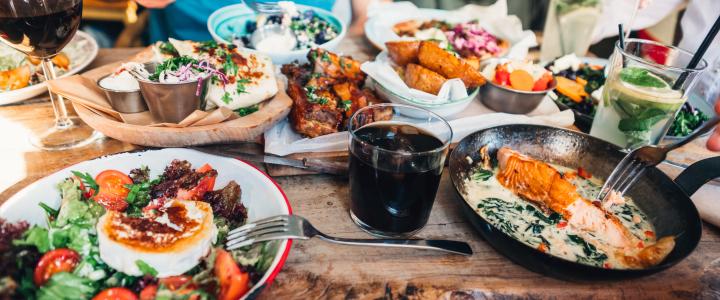 Steamboat Springs may be a rural mountain town, but that doesn't mean the dining experience is anything short of diverse, unique, and make-you-drool-just-thinking-about-it delicious! Regardless of your tastes, Steamboat provides a dining experience that you and your loved ones will not soon forget. There's a restaurant for everyone in Steamboat, whether you want a 5-star experience, a cozy bar scene, or the scenic view of the Yampa River. 
Chow on the Ranch
As Steamboat remains close to its Western heritage, our cowboys make their own dinner. At Saddleback Ranch, they'll do all the work for you, plus throw in a first-class meal to boot. Head north out of town for one of the Dinner Rides. Choose a 30-minute horseback ride or horse-drawn wagon ride to the Double Dollar Lodge on their gorgeous property. Take in the sights before enjoying a delicious dinner of your choice between New York strip steak, marinated and grilled pork tenderloin, baked garlic salmon, teriyaki chicken, or vegetarian lasagna. Pair it with a hearty side and of course, Chef's choice dessert! There is even a kid's menu for the young ones. This all-encompassing experience is unique to Steamboat's heritage, with some of the most finger-licking delicious meals you can experience.
Indonesian and Thai
If you can't live without a good Pad Thai, you're in luck. A local secret, Sumatera hides behind Dude & Dan's and only has six tables. With the small and intimate dining experience, there is often a wait -- but one that is well worth it. The staff fulfills all roles together, performing triple duty as cooks, hostesses and waiters. They move quickly between the small dining area and the kitchen, and the food they serve up out the kitchen sizzles with Indonesian flair. The flavorful dishes at Sumatera will leave you dreaming about it long after and will provide a unique experience for you and your party. You can even choose how spicy you want it on a scale of 1-5. A 5 is surprisingly hot, even for the most experienced spice eater. Most find that a comfortable 3 gives you all the spice you can handle, without sacrificing the other unique flavors on the dish! Sumatera is closed Sundays and Tuesdays, so plan your dining experience in advance.
Breakfast Necessities 
For one of the best breakfast experiences in town, head over the Creekside Cafe. With an extensive and diverse menu, indulge in fresh baked goods, Hayden eggs, and incredible customer service! The creek quietly trickles beside you, the perfect pairing when sipping warm coffee. Located in the historic Soda Creek building, this location is tucked off the main street to create a more intimate dining experience. Their famous Bloody Mary's and eggs benedict are the perfect way to kick off your ski day or a float down the river! They do not take reservations, so make sure to stake out your spot early to avoid a wait.

Images: @creeksidecafe_steamboat
Authentic Mexican 
One of the most popular Mexican restaurants is located on Lincoln in the heart of downtown: Vaquero's Mexican Restaurant & Taqueria. This restaurant is beautifully adorned with tall wooden carved booths and vibrant paintings from Mexican artists. In the summers, they have one of the best rooftop patios in Steamboat, with 360 views it's the perfect place to enjoy happy hour margaritas. But Vaquero's isn't all flair and no punch, the food is both tasty and filling. Described as "real Mexican" cuisine, the restaurant uses family recipes that date back many decades. Every item on the menu is made fresh daily from scratch and will leave you wanting to come back for more. 
Though Steamboat Springs resides off the beaten path, the dining experience is nothing short of original and delicious. No matter what your tastes are, there's a restaurant for everyone in Steamboat. From an all-American breakfast to tasty Mexican food, and even spicy pad-thai, Steamboat has anything you need to fill your bellies while vacationing. Jump out of your comfort zone on your next visit and try one of our hidden gems!