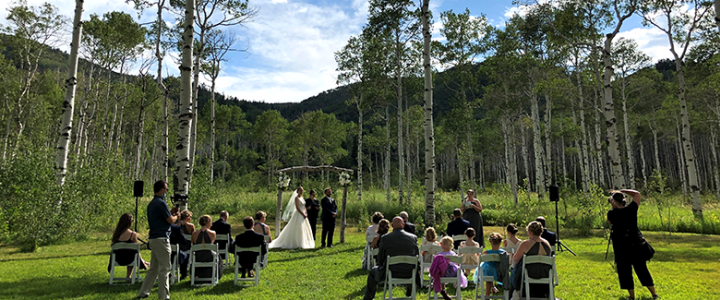 The past year has been a crazy, unexpected year for engaged couples. When COVID-19 hit back in March, I emailed all my couples (25!) and advised them to remain positive. I had no idea we would end up postponing most weddings to 2021. After many tearful conversations, these couples made new plans, reserved new dates, and we started to get creative dreaming up new ideas. At first, it wasn't easy for the couples to let go of the wedding they had spent years dreaming of, but it was time to think outside of the box and implement new ideas and concepts.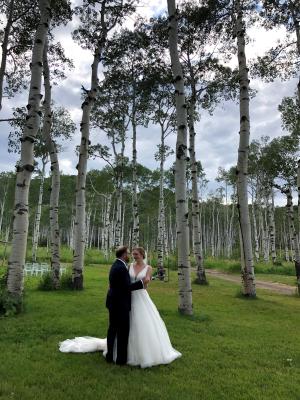 As we begin to think about weddings this winter, summer, and fall, I encourage you to think about your wedding with a fresh set of eyes. Be creative. Think about what is most important to you. We hosted seven beautiful weddings over the summer and fall in Steamboat Springs. Each wedding was unique and completely different from the originally planned wedding (new venues, new vendors, smaller guest count etc. etc.) But every couple shared with me that their revised wedding exceeded expectations and that they couldn't have imagined getting married any other way. 
With a new year and many challenges still ahead, here are some alternative ideas to get you going on planning your dream wedding in Steamboat Springs, Colorado.
Photo credit: Andy Barnhart
A New Approach To Cocktail Hour
Last summer food and beverage service could only happen if guests were seated under COVID restrictions. So, how do you make cocktail hour fun? How about a beverage tasting during cocktail hour? A wine flight with wine tasting notes can be served to seated guests. You can spice it up by selecting wine from some of your favorite vacations or memorable moments in your relationship. Guests can then discuss their favorite wine with others around the table! Not a wine fan? Try a cocktail or beer tasting using locally brewed spirits and brews. 
Daytime Weddings
Current state regulations in Colorado do not allow a shared dance space at events. For most couples, dancing is an integral part of their evening. One way to avoid dealing with dancing is to completely remove it altogether by having a day time wedding. At a day time wedding, your guests will not expect to dance the night away. Instead of focusing on the party, focus on a delicious three-course meal, or perhaps enjoy a more casual picnic with individual picnic baskets packaged for your guests to enjoy outside in the sunshine. You and your guests will love being home by 8 pm!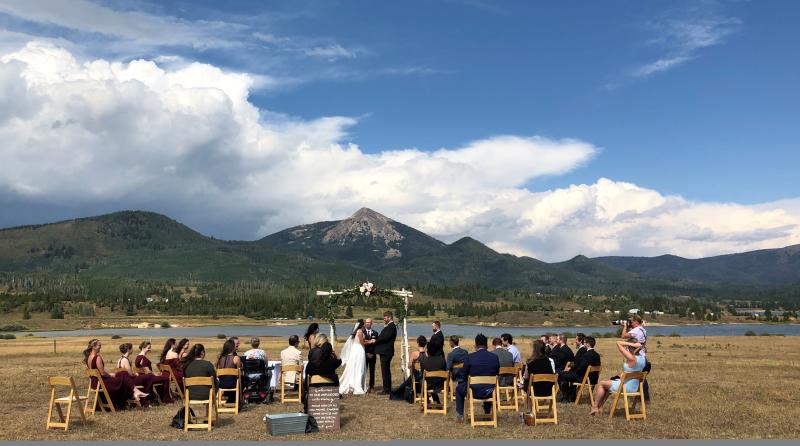 Photo Credit: Blue Spruce Photo
Smaller Guest Count, New Options
A smaller guest count may mean that new and different options are now on the table. Embrace your group size and think outside of tradition. We had one happy couple get married on a boat at Steamboat Lake. Yes, a boat! Another couple opted to hike up a mountain with just their photographer and officiant. Again, what matters to you most will help guide you to some creative venue ideas you wouldn't have thought of with a 200+ guest list. 
Indulge in a 6 Course Wine Paired Dinner
If you are a foodie, then why not rethink your dinner plan. With fewer guests and no dancing, your budget can stretch much further. Consider a paired food and wine dinner from a local restaurant or caterers. Choose a theme for your dinner (maybe farm to table or choose a country or region that is special to your relationship) and then design an elegant dinner with your caterer. Chefs love being creative and have been enjoying this opportunity to shine.
Read more on wedding planning in Steamboat Springs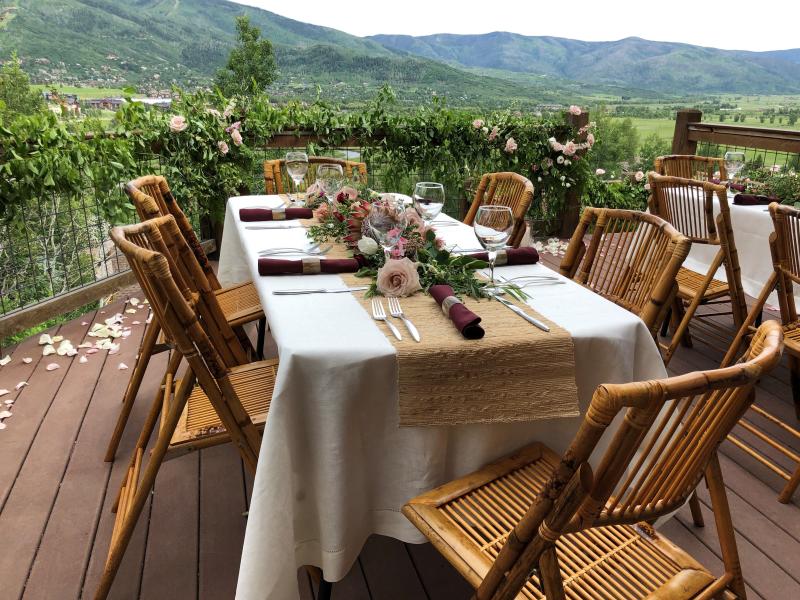 Photo Credit: Nate and Jenny Weddings
About the Author
Alexandra Mathisen founded SoulSpark Events in 2013 with the desire to help create unforgettable stress-free experiences. Originally from London, England, she have lived in Steamboat for twenty years. Her unique journey has provided her with a wealth of experience from a diverse background including the roles of outdoor travel guide, yoga studio owner, guest services manager and summer camp counselor and director. 
The goal at SoulSpark Events is to create magical moments from start to finish, and take away the stress that comes with planning an event. Since 2013, SoulSpark has planned and coordinated over 200 events from fundraisers to birthday parties and weddings. SoulSpark Events specializes in weddings and events around the Western Slope of the Rocky Mountains and beyond. The possibilities are endless.