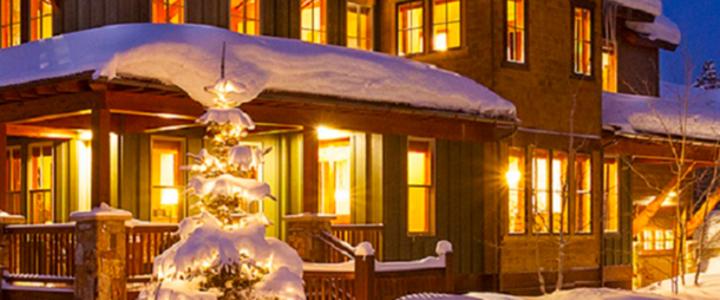 Looking for the perfect home away from home for your Steamboat stay? Steamboat Springs has a huge selection of condos and townhomes to suit every style of travel. And what a treat to not just have a place to rest your head at night, but to also have a sprawling living room for family gatherings, gourmet kitchens, and outdoor hot tubs to complete your Steamboat experience. There are endless places to stay in Steamboat Springs that fit your and your family's needs! 
Condos or Townhomes
With nearly 80 condominium complexes in Steamboat Springs and the surrounding areas, the perfect condo for your vacation is easy to find. We also have an array of townhomes available for vacation rentals that are great for families, groups, or those simply wanting more space. Cook in your own kitchen, park in your own garage and enjoy the comforts of spacious rooms and common areas for the whole family. With locations downtown, close to the mountain, or in a quiet, family neighborhood - one of our condos or townhomes will be the perfect place to stay for a fun-filled vacation in the 'Boat!
We have a multitude of vacation rental companies that can assist you in choosing a home that fits your vacation needs. Whether you have a gaggle of children, a pet you'd like to bring along, or are simply a couple looking for a bit of extra space, our rental companies can help you do just that. Many of our vacation rental companies in Steamboat Springs can also assist you with other needs, whether it be a grocery delivery, a mid-week cleanup of your home, or recommendations on activities and dining. 
Find sleek interiors, hot tubs or heated pools, state-of-the-art views, or panoramic valley views. Anything your family desires when looking for a place to stay in Steamboat can be tended to. Check out some of our local companies below!
Vacation Rentals, Condos, and Townhomes
Hotel and Motels
There is something special about visiting a beautiful place and staying in a hotel with your friends and family. That's where some of our best memories are curated - kids enthralled by the wonder of it all, the fluffiest bathrobes, and beds that your one at home could never compare to. Steamboat Springs hotels and motels offer a range of services and amenities. From locations in town, on the mountain, and everything in-between, there is a hotel or motel sure to suit your needs. The options are endless and there is something for every taste and budget. Slopeside to riverside, Steamboat Springs' hotels and motels run the gamut in mountain lodging. 
The Rabbit Ears Motel is one of our most iconic Steamboat symbols - most everyone can recognize the neon pink rabbit as they roll into town. One of Steamboat Springs's most popular places to stay, it is located in the heart of downtown Steamboat Springs and offers all the comforts of a modern lodge facility without the fancy pretense or big price tag. Stroll right from your doorstep to downtown shops and restaurants, or to the bus stop to hitch a ride to Steamboat Resort. 
If you want to level up and spend a luxurious vacation in Steamboat Springs, the Sheraton or Steamboat Grand will help you accomplish just that. The Sheraton Steamboat Resort Villas is Steamboat's only full-service resort right at the base of the ski area and offers a variety of family-friendly villas combined with all the amenities of a fine resort. The Steamboat Grand has award-winning dining; a full-service day spa & fitness center; as well as an outdoor heated pool & two large whirlpool spas. Both hotels sit at the base of Mt. Werner, ensuring you can catch the first chair and ride until the last. 
Other Options
Looking for somewhere to stay in Steamboat Springs that's a bit more unique? There are more options than what's listed above! Steamboat Springs also offers lodging that accommodates different kinds of needs. Explore our options for full home rentals, our local bed & breakfast, or even something more immersive - such as our guest ranches or designated camping areas. 
Many vacation rental companies in town have expansive options outside of condos or townhomes. Consider staying in stunning mountain homes with anything you could need. Steamboat Springs already feels like home, so why not opt for lodging that completes your dream vacation? Whether it is a cozy romantic retreat or a large home to fit multiple families, you are sure to find something that is perfect for your vacation retreat.
Mariposa Bed & Breakfast is another great option as the leading bed and breakfast in Steamboat. The southwest-style lodge has four guest rooms, each with a private bath. The Mariposa offers the highest quality, locally sourced daily breakfasts! 
Guest ranches are one of the most exciting and immersive ways to experience Steamboat Springs! Spend your morning horseback riding, your afternoon fly-fishing, and your evening participating in a cooking class with a glass of wine. We have a few local guest ranches that are a great way to get the full western experience here in Steamboat Springs. Check out all of our lodging options here - we can't wait to see you soon!