You've made the decision to vacation in colorful Colorado this Summer... Congratulations! You're about to visit one of the most beautiful, peaceful, energizing, and exhilarating places in the country. Next, it's time to make the all-important checklist; a list of items to pack that will seamlessly see you through all the adventures that your vacation has to offer. Check out our list below of must-have items that are essential to ensuring you have the best Colorado vacation!
1. Sunglasses!
You'll want to properly protect your eyes from the strong mountain sun when gazing at all the incredible scenery. Although Colorado doesn't constitute as a warm beach vacation, we are closer to the sun than many people understand. Having proper sun protection is an absolute must! If you plan on fishing, a pair of polarized glasses will work to your advantage in seeing those glistening trout below the surface of the water. If you're planning on participating in some other water activities, it's always a great idea to bring some croakies. This will prevent you from not only losing your favorite pair of shades, but also will prevent any kind of pollution should they slip off!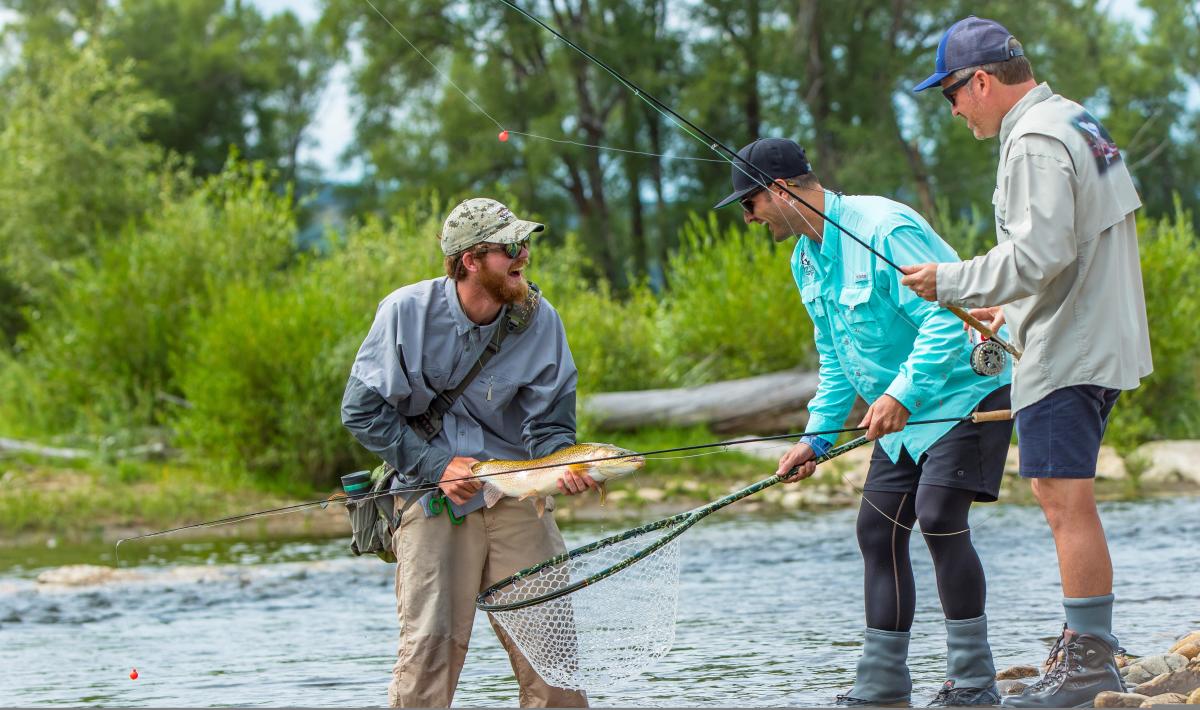 2. Sunscreen
Along with sunglasses, make sure to remember sunscreen. Remember, you'll be a lot closer to the sun here. This item is a must or you could experience an extreme type of sunburn you never thought existed. Well it does, and you're going to be glad you were prepared to protect your skin from the elements to make sure the rest of your vacation isn't spent in an aloe bath.
3.Proper Footwear
Hiking shoes are always a great item to bring when visiting Colorado in the summer. While we have some easy hikes you could bring your Nikes on, we recommend hiking-intended, ankle high boots for some of our more vigorous terrain. This is highly recommended, as we want you to take advantage of the many stunning hiking trails! Throw in some sandals to kick back and soak your feet in the river after the trek. Make sure they strap to your feet -- as flip flops could also become a contribution to river pollution just by being carried away by the stream!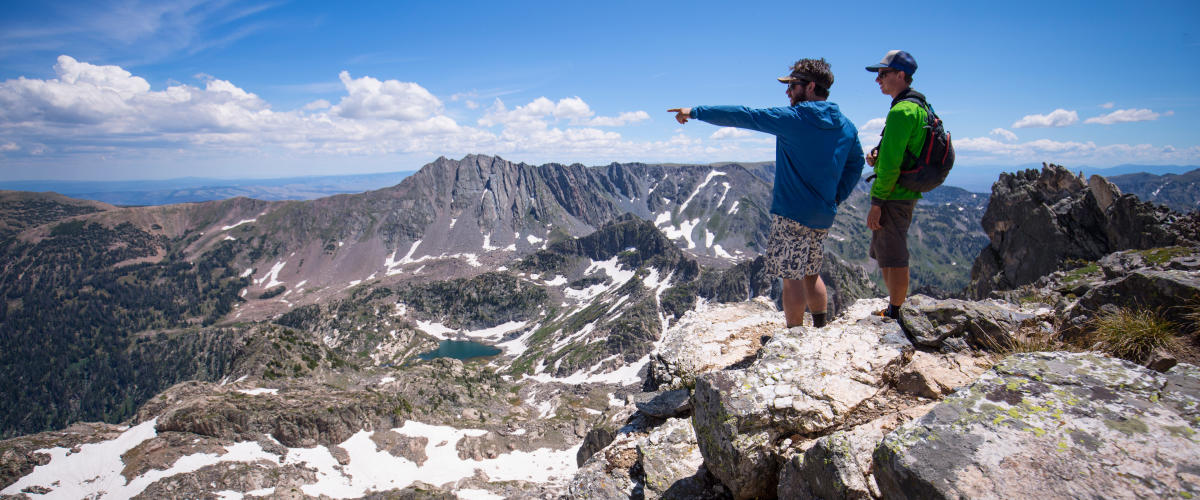 4. Reusable Water Bottle 
Keep yourself hydrated on all the adventures you'll be going on! As lovers of our community and delicate ecosystem, a reusable water bottle will be ideal to have on your trip to the Rocky Mountains. This will not only keep you hydrated (Colorado is incredibly dry, you'll want to be drinking plenty of water), but also will keep you from going through 3-4 plastic water bottles a day. Plus, many of our local shops have awesome stickers to decorate your new water bottle!
5. Bathing Suit.
There are countless rivers, lakes, and hot springs in the state of Colorado and there is nothing better than a refreshing dip or a long, relaxing soak in the hot springs at the end of the day. Although our rivers and lakes are cold, that warm sun will surely give you a reason to jump in! There are tons of activities to take part in as well, such as SUP, tubing, white water rafting, kayaking and more!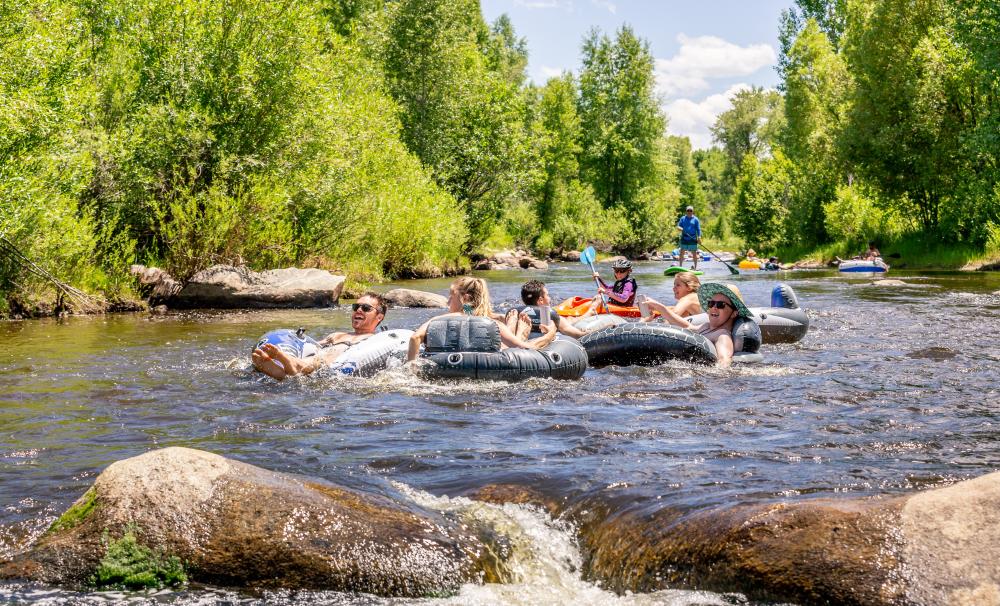 6. Camera
Of course, it will be important to have a camera so that you can reminisce about all the places you went, things you saw, and good times you had. You'll want to show all of your friends the amazing things you did while in Colorado, and encourage them to visit your new favorite place!
7. Sense of Adventure
Last but not least, be SURE to pack your sense of adventure. You may find yourself doing things you never thought you could do all while making memories that will last a lifetime. 
Is Steamboat Springs part of your itinerary? We hope so! Start planning your Colorado Summer Vacation!
Colorado Summer Vacation Ideas FAQ
Where should I go for a summer vacation in Colorado?

Colorado has endless opportunities for outdoor adventure in the summer, but few locations in the state have more to do than Steamboat Springs and the surrounding area. The beautiful mountain town in northwest Colorado has unparalleled mountain and road biking, longboarding, fly-fishing, hiking, off-roading, camping, whitewater rafting, hot-air ballooning and parasailing. There's also championship golf, intriguing museums and galleries, festivals, events and a long list of family friendly children's activities. Need more? Stroll pristine botanical gardens, take a brewery tour or sign on for one of Steamboat's tasty culinary experiences!
What is Colorado like in the summer?

Most people consider Colorado's summer weather to be "perfect." That's the word most commonly used. Most mornings begin cool and damp, as the sun reflects off the morning dew while temperatures warm and the early haze begins to lift. By mid-morning, bluebird skies appear as temperatures creep into the 60s and 70s. Depending on your elevation, temperatures can reach 90 or 95 degrees. Higher in the mountains, the temps often cap around 80 degrees, making for an ideal mountain day. Temperatures cool later in the day as the sun lowers below the mountains around 5 p.m. In the evenings, take a light jacket with you for a moonlight stroll around town.
Where should I stay in Colorado in August?

August is a great time for a vacation to Colorado because it's during the apex of summer when temperatures are just right and everything is green, lush and in full bloom. Around Steamboat Springs, the month of August is ideal for hiking and biking the many trails, or hitting the rivers for amazing fly-fishing or whitewater rafting in crystal-clear waters that are just the right temperature. You'd be surprised how comfortable and refreshing the mountain rivers can be in August. In the evenings, you can walk around town and enjoy the cool night weather following an entertaining show or amazing dinner at one of Steamboat's fine restaurants.
What is the prettiest mountain town in Colorado?

Each mountain town in Colorado has its own character and charm. Vacationers tend to love the unique setting of Steamboat Springs for its diversity. You can hike and bike beautiful trails that take you through aspen groves and stunning meadows of wildflowers that display an entire spectrum of colors. There is amazing scenery, views and natural wildlife around seemingly every bend. Match that with more than 60 bars and restaurants in town and a full calendar of events and festivals, and it's easy to see why people return to Steamboat year after year.
What does Colorado look like in the summer?

You simply cannot beat Colorado in the summertime for ideal weather, unmatched outdoor activities, and picture-perfect scenery. The Rocky Mountains come to life during the warmer months of the year with lush fields of wildflowers, majestic aspen groves, thick forests and roaring rivers filled to capacity. Most days have bluebird skies, meaning there isn't a cloud in the sky. In mountain towns like Steamboat Springs, temperatures tend to stay in the 70s and 80s for most of the day. At night, you can walk around town with a light jacket as temperatures cool down the 50s and 60s.
What should I pack for Colorado in summer?

It depends on where you're going, but plan on packing a good selection of summer clothes like t-shirts, shorts and tennis shoes. Be sure to pack a swimming suit if you plan on swimming in a pool, or getting in the river to swim or raft. If you're heading to a mountain town like Steamboat Springs, be sure to pack a few long-sleeve shirts and pants/jeans for the mornings and evenings when it can be cooler. During the day, you should be fine in regular summer garb. Don't forget sunscreen, sunglasses and maybe even a hat to protect against the sun.
What is there to do in Colorado in July?

If you're looking to get to Colorado in July for a family getaway or a romantic escape, you have a lot from which to choose. Whitewater rafting is one of the most popular summer activities, and there are half-day and full-day outings available. Many vacationers enjoy getting in the car and sightseeing the old fashioned way, while others choose to see the state from a more unique perspective. Ever been parasailing or hot-air ballooning? If you prefer to keep your feet more on the ground, never fear. Hiking and biking are still wildly popular summer activities. And don't forget: Colorado is home to some of the coolest summer festivals, concerts and events, too!
What should I know before visiting Colorado in the summer?

Before you head out the door for your Colorado vacation, there are a few things you should know. First, be sure to pack some warmer clothes because it can get cool in the mountains after the sun goes down. Pack a light jacket and some long-sleeve shirts or a hoodie to help keep you warm. If you want to plan an amazing whitewater adventure, make your reservations online in advance of your trip so you can get the perfect trip for you. Some of the more popular whitewater trips can fill up!
What is the best month to visit Colorado?

Colorado is probably best known as a winter destination, but there's probably more to do in the summer than any time of year. When the snow begins to melt in April is when things begin to heat up in Colorado with thrilling whitewater rafting and fly-fishing in some of the nation's finest Gold Medal waters. By May and June, the entire state is in full bloom and the snow is gone, except for high up on the beautiful white-capped Rocky Mountains. July, August and September provide premium weather and plenty of days to experience all that the state has to offer. Late September and early October is when the splendid fall colors appear and the mountains display endless ribbons of harvest hues.
Are there quick trips in Colorado?

The best thing about many of the amazing summer activities that the state of Colorado offers is that you can accomplish two or three different things in a day. Start your day with a quick jog, walk or bike ride along one of the many beautiful trails. Or plan an exciting half-day whitewater rafting trip for the morning or afternoon and have the rest of your day to do something else. You can also head to one of the area's many rivers for fly-fishing during peak time, and still have most of the day to meet with friends or do some work.
How much is an average trip to Colorado?

The overall cost of your Colorado vacation will depend on what you include in the itinerary. Surprisingly, many of the wonderful activities in Colorado are affordable. Whitewater rafting, for example, is reasonably priced, especially if you have a group of eight or 10 people so you can get a group discount. Most of the sightseeing around the state is free, although there is a charge for admittance to some forests and parks. Many of the mountain hotels that cater to the winter ski crowd offer affordable rates during the warmer months to attract summer visitors. If you are savvy, you can find a deal to save you money!
How much money do you need for a trip to Colorado?

If you're planning to vacation to Colorado, start by creating a budget for all the things you want to do. Set aside funds for travel (gas for a car, flight costs or overnight stays) and lodging (your hotel room when you arrive). You will also want to set aside some money for food and other incidentals, along with activities you want to do. If you can find a package deal for travel, accommodations and food, you can often save the most money that way. Creating a list will help you prioritize what's important for you and help give you a checklist so you don't miss anything.
Where should I go for a weekend getaway in Colorado?

There are a few spots in Colorado that make for a perfect weekend getaway. Steamboat Springs is popular with travelers because it's easily accessible and offers an authentic mountain vibe. Many people looking to get away want something different, and Steamboat is in a class all by itself. It's a traditional mountain town with a classic feel, but has a wide variety of contemporary establishments to visit. From chic restaurants to downhome diners and hole-in-the-wall pubs, Steamboat Springs had just the right amount of everything.
When is the best time to go whitewater rafting in Colorado?

Near Steamboat, you can whitewater raft on four awesome rivers: the Colorado River, Arkansas River, Yampa River, and Elk River. These rivers have nice sections for family floats and a few stretches that are experts only. Excellent whitewater can be had most months during the summer, but peak times tend to be in May and June when waters are at capacity and reaching the optimum temperature.
When does the summer end in Colorado?

Ah, we wish summer could last forever, but alas it must draw to a close. But what a finish! We sure hate to say goodbye to a Colorado summer, but the fall colors season that begins as the temperature cools is second to none. Beginning in late September the weather will cool and the mountains will turn a vibrant array of fall colors. It's a beautiful sight that shouldn't be missed. Make plans to head to the mountains in late September and early October for the fall colors and you can brag to your friends that you're a real "leafer."