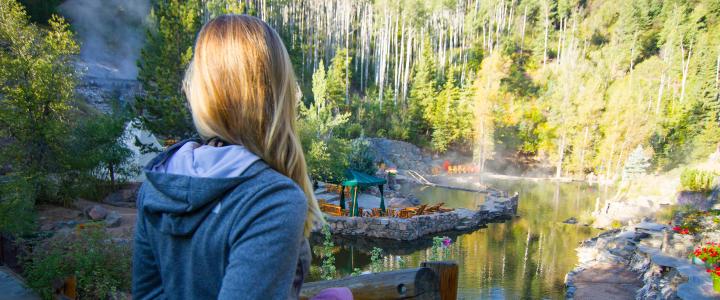 There's one other thing besides snow that brings together tourists and Colorado locals: hot springs. After a day filled with wild activities in Colorado's gorgeous outdoors, there is nothing like a soak in the hot springs to take away the sting of a fall mountain bike ride or burning through thigh-high powder at a ski area. Colorado's landscape is full of natural hot springs and geysers for the unsuspecting visitor and the knowledgeable local. Here's a question that truly has merit: was manifest destiny really about land expansion or was it motivated by finding the best hot springs in the Rockies?

The water that bubbles up out of the ground is naturally heated geothermally through the water's contact with the earth's crust. While Old Faithful reigns supreme in the nation's geyser imagination, our Colorado Hot Springs are gentler pools, sans eruptions and boiling waters. Most of them are in the 100-110 degree temperature range, and often you can switch between pools that are heated to hotter or cooler temperatures. Folks have come up with ingenious ways to subtly regulate temperature for the comfort of visitors, either by diverting river flow or building pools farther away from the "mother hot spring."
In Colorado, hot spring resorts are popular and they spin a magic spell of springs, massage, and fluffy bathrobes. While you can certainly choose your resort to match your personality - 60s era hippie vibe, or high-end tiled pools with sparkling lights at dusk - there's nothing more lovely than falling into a comfortable bed 25 steps from the pools. Resorts include hot springs entrance in their overnight rate, and while some have closing hours for visitors, guests or members often are able to stay and soak as late as they would like.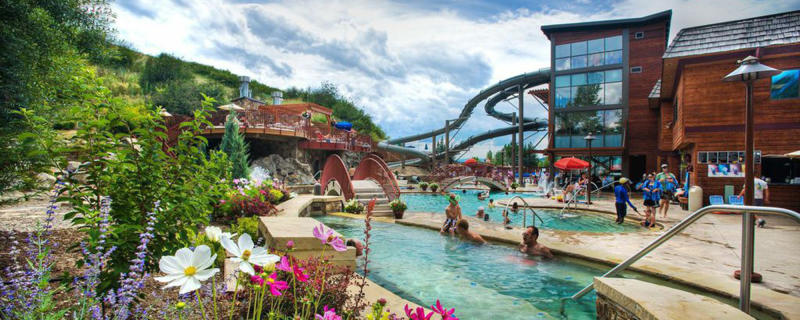 On the other hand, some of us find a hot springs adventure best after working hard for it. If you prefer rustic settings of river rock, aspen trees, and no electricity to mar your relaxation, you're in luck. Colorado has plenty of remote hot springs, often with unpaved one-and-a-half lane dirt roads or old-school directions, like "Take a left at the huge boulder near the aspen grove." Although you can drive, there are hike-in options for many hot springs as well. Just don't forget that you'll have to hike out afterward! If you are a family crowd, be prepared: after dark may be more revealed than the constellations. The wild settings of these springs sometimes mean clothing-optional after dark policies.
Whichever way you decide to go, don't forget to plan ahead so none of the stress will leach back into your body after you spend an hour or two enjoying your surroundings. Bring a lot of water or other hydrating drink of your choice (I often dilute an EmergenC packet in my water bottle with lots of ice). Being at altitude is dehydrating enough; add in a 108 degree soak and you may feel a bit woozy after twenty minutes. This is not a lowlander issue - it happens to locals as well! When you go in late fall or winter, bring a hat or earband to keep your head warm while you're in the water - it really helps you stay warm when you decide to get out of the pool. Once you do make that inevitable but difficult choice, make sure you have cozy clothes to pull on. The warmth from the water only lasts so long when it's snowing out! Throwing a granola bar in your bag for the car ride out is also a great idea, if you tend to get sleepy or tired: it will give you a good burst of energy to navigate back to your bed. Once there, you'll probably have the best sleep of your life, as you've just gotten lost - in the spell of the hot water.