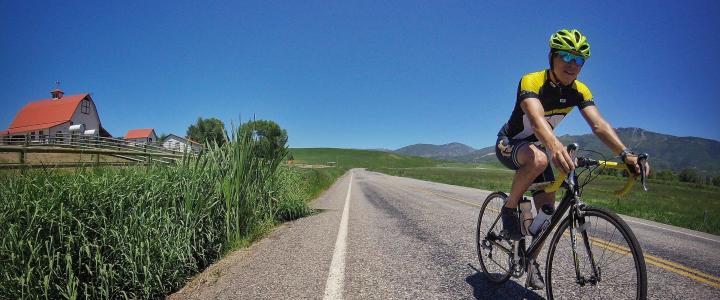 Road Cycling in Steamboat Springs
Steamboat Springs and the surrounding area plays host to some truly amazing road riding. There are endless routes one can choose to ride, each having its own and unique character.
Climbing Rabbit Ears Pass is a local's favorite ride. Starting in town, this route leaves the valley floor and immediately turns its sights to the skies. Traveling south on U.S. Highway 40 to an elevation topping over 9,400 feet, this route in not only challenging but rewarding as well. The views along the way are spectacular. To the south, Lake Catamount and the Flat Tops Wilderness Area come into view.
The snow remains on these peaks well into the summer and it's not a rare sight to see a fresh dusting even in the month of July.

Biking in Any Season
Winter is always watching us and the weather can frequently change in a moment's notice. I'm always prepared when I go for a long road ride. I always carry an extra layer, including a rain jacket and arm warmers. Afternoon thunderstorms are almost a given during the long summer days. Being prepared for your ride makes the journey that much more enjoyable. Ski Haus carries a wide variety of layering pieces and can outfit you from head to toe.
Passing by the West Summit parking lot signals the peak of the climb, however, the challenge is not over yet. I usually continue taking Highway 40 to the east and set my sights for the Muddy Pass Lake.
Located on the other side of the pass, this lake is a great turn around spot. The top of the pass feels more similar to a plateau than a true mountain pass, the road rolls through high alpine terrain dotted with stands of aspen and pine trees. Moose and elk are frequently seen feeding in the early morning sunshine along this route, retreating to the higher elevations where the air is cool and the vegetation is endless.
The wildflowers are also another major draw to this ride. The variety of colors that show up mid-summer combined with the views of the twin Rabbit Ears peaks will surely take your breath away. The total round trip takes about two hours to complete.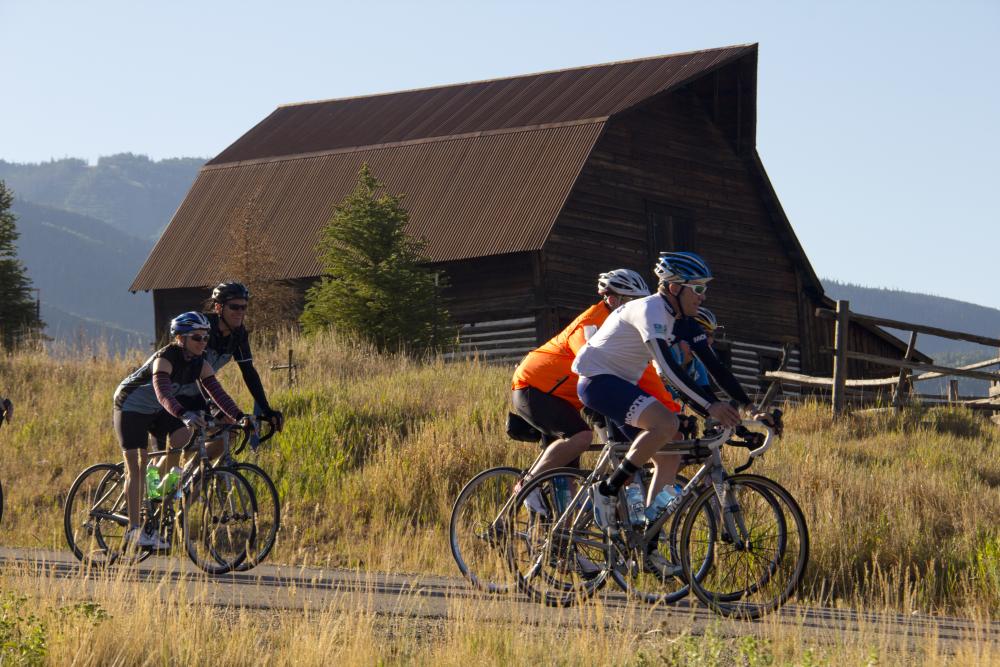 Favorite Rides
If you are feeling ambitious, keep heading down Highway 40 and take a right on Highway 134. This route, known as The Gore Gruel, is another popular century ride with the locals. Climbing one pass at 9,400 feet is usually enough for me, but add in another and you got yourself one epic ride. This route climbs Gore Pass and enters the tiny town of Toponas, riders turn right onto Highway 131 and make their way through the hip town of Oak Creek before completing the journey back into Steamboat Springs.
Descending Rabbit Ears Pass is just as much fun as climbing up it. The long straightaways allow you to generate a good amount of speed and will test your cycling skills. It will also give you a rush you won't soon forget. The road is generally in good shape, but there is always an occasional rough patch, so stay on your toes. As you round the final corner, you get a wonderful view of the city of Steamboat Springs and the ski area. Your ride is almost complete, just a few twists and turns near the Haymaker golf course and the straightaway into town is upon you. A final sprint into town and your classic Routt County ride is complete. For years Rabbit Ears has been a chosen route for all the major cycling events held in this area. The local cycling club also holds their annual time trial to the West Summit Parking lot. How fast do you think you can climb it?