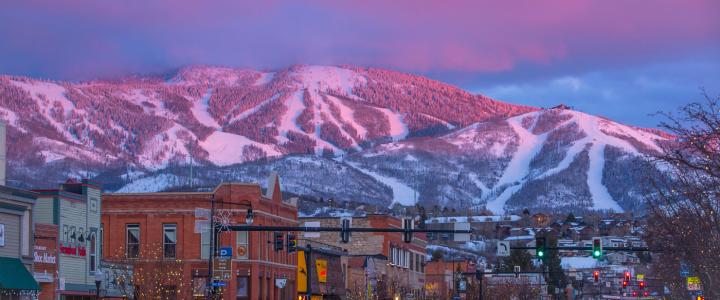 In Steamboat Springs and the Yampa Valley, the holiday season is full of festive lights, winter activities, and community gatherings. It feels like a true winter wonderland, and Thanksgiving weekend is typically when it all kicks off. Whether you're visiting for opening day at the resort or to get in the holiday spirit, we believe you'll find what you're looking for.
Dining
For those looking to dine out for Thanksgiving, Steamboat Springs has plenty of five-star options to fulfill your wishes.
The dining options in downtown Steamboat Springs include everything from classic American to Latin Fusion. Lincoln Avenue and Yampa Street boast most of our top restaurants, with Laundry, Aurum, and E3 Chophouse being favorites in the fine dining category. Bésame is one of the more unique restaurants in town, with menu items like grilled octopus and croquettes. For a place better suited for brunch or lunch, consider Yampa Valley Kitchen, Creekside Café, or The Cabin at The Steamboat Grand. Some of these restaurants will offer special menus on holidays so be sure to do your research to make the best choice for you and your family.
For a full list of options, check out our restaurant guide here.
Activities
Those ready to walk off the turkey can take a walk along the Yampa Core Trail or up Emerald Mountain for views of the town below. And if you're looking for something for the whole family, consider bowling at Snow Bowl Steamboat or pick up a board game at Steamboat Fun and Games.
Or perhaps relaxing after a big day of cooking, skiing or exploring is what you're after? You're in luck! Steamboat Springs has two hot springs facilities here to pamper you. Old Town Hot Springs is right downtown and is perfect for the whole family. There's even a gym, sauna, and other amenities to take advantage of here if you're looking for a complete wellness package.
The cherry on top of Thanksgiving weekend in Steamboat Springs is opening day at Steamboat Springs Resort. Each year, Steamboat Resort opens on the Wednesday before Thanksgiving giving skiers and snowboarders a long weekend to get out and enjoy those first few days on the slopes. 
Shop Local on Small Business Saturday
Thanksgiving is a wonderful time to express gratitude for the little things in life. With that in mind, another national holiday we love to celebrate after Thanksgiving here is "Small Business Saturday." Delicious food, good company, and making memories are top of the list for many when they visit the Yampa Valley community. The character and memories that so many families cherish from their visit wouldn't be possible without the small businesses that line Steamboat Springs' main streets and beyond. When you're out and about, consider stopping in local shops like F.M. Light & Sons, Ohana, and Steamboat Hatter to commemorate your time in this magical place. Our small business owners work hard to provide excellent products and services and truly appreciate the support and kindness of the visitors who come through.
This Thanksgiving, we're grateful for those who choose to spend their holiday celebrating with all of us. How about you?