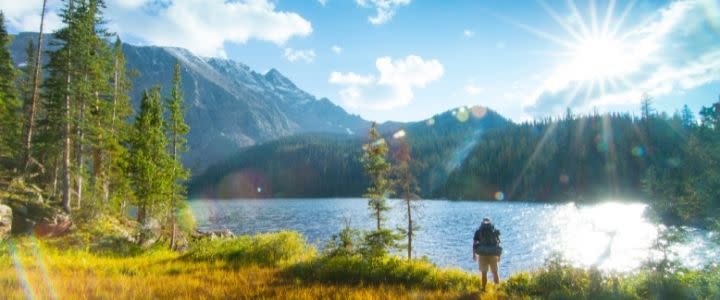 Nothing quite compares to getting outside, soaking up the clean mountain air, and hitting the hiking trail to clear your mind. Indulge in Steamboat's breathtaking views, wildlife, and all that pristine nature has to offer during your vacation. Steamboat's welcoming western hospitality and friendly Colorado atmosphere will ensure your visit is just the touch of calm you need. Whether you're looking for a simple stroll among the trees or a dedicated backpacking excursion, you'll appreciate hundreds of miles of the best hiking trails during your vacation. In all hiking seasons, you'll be captivated by our valley's beauty, elegant mountains, crystal clear streams, and much more.
Unique Steamboat Hikes
Explore the cherished Steamboat landmark Fish Creek Falls with the entire family and marvel at the majesty of this mountainous waterfall. If you are up for more challenging hiking, head up to Upper Fish Creek Falls or Long Lake for some high alpine meadows and remote hideaways. Relaxing Spring Creek Trail also provides a peaceful getaway during your vacation next to the water and through the trees. The Vista Nature Trail, located on Mount Werner, is another trail with incredible views that is quickly accessible for visitors staying in the town of Steamboat. For a day trip farther south, grab a picnic lunch and head to the mild Elk Run Trail located in laid-back Stagecoach State Park.
Rocky Mountain Favorites
One of the best views in Steamboat can be found on Emerald Mountain, which boasts over 24 miles of trails. The treasured Rabbit Ears landmark made of pyroclastic rock is accessible via an intermediate uphill hike in Medicine Bow-Routt National Forest. North of Steamboat Springs, explore the rugged Mount Zirkel Wilderness containing Hans Peak, Mad Creek, and Gilpin Lake, all serene hiking trails you are not soon to forget. In the southern part of the Yampa Valley, intermediate hikers will enjoy the Flat Tops Wilderness, including the Devil's Causway and Sarvis Creek.
Hiking Gems Abound
If you're up for the ultimate challenge during your visit, Steamboat is part of the Continental Divide Trail, a world-class trail system adventure that offers the highest, most challenging, remote, and scenic trails on the planet. Steamboat is a welcoming gateway community, providing awareness, stewardship, and the best hiking resources. If you want to find your own personal escape trail, check out the abundant U.S. Forest Service website for detailed maps and more helpful Colorado information.
Prioritizing Funds for Colorado Trails
Steamboat's environmentally conscious community values our Colorado hiking trails and works hard to make sure they're in excellent condition. The City of Steamboat Springs prioritizes its efforts and funds yearly to ensure our outdoor spaces and trails remain protected and cared for. Their goal is to enhance the vitality of Steamboat Springs as a premier hiking destination for visitors and tourists with a focus on environmental desirability to make sure our unique valley remains beautiful for generations to come.
Successful Hiking Tips
A few helpful hiking tips include making sure you know your route, packing a reusable water bottle to stay hydrated, applying sunscreen, packing out all trash, cleaning up pet waste, and being respectful in leaving no trace during your visit. Be aware of Colorado's changing weather conditions according to the season before you hit the trails. If you are looking for the best gear from local experts, head over to Ski Haus, Big Agnes, B.A.P., or Christy Sports to get outfitted. End your glorious day with a local Colorado craft beer celebrating your hiking accomplishments.
Get the most out of your next Steamboat vacation by getting outside on our abundant hiking trails for all skill levels. Be it a quick trail excursion, heading deep into the wilderness, or testing your ability on a challenging mountain trek, you're sure to find solace during your next Steamboat visit. With so many options to choose from, it won't be easy to decide which gorgeous Colorado trail to head out on, but rest assured, you'll leave with valuable memories. Energize your body and mind outdoors on your next Steamboat vacation with the best hiking trails unparalleled. We look forward to seeing you soon!