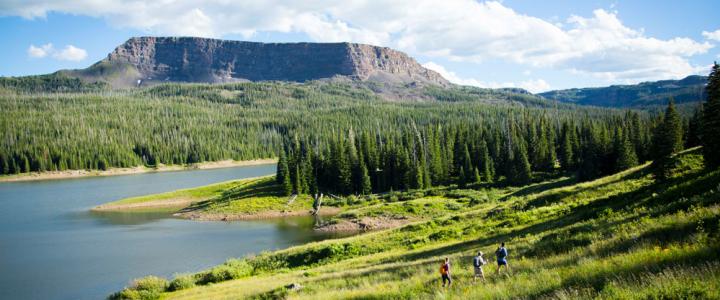 Northwest Colorado is among the best places to visit and explore the grandiose rocky mountain landscape. The town of Steamboat Springs is the perfect homebase for the ultimate northwest Colorado vacation. Stay overnight in Steamboat and enjoy these incredible day trips within an hour our drive of town. The landscape surrounding Steamboat Springs is so incredibly varied that it is absolutely worth the drive to explore north and south of town. Whether you're craving an incredibly scenic driving tour or access to hiking trails and fishing, these perfectly curated day trips will offer everything you're looking for.
Best Day Trip to Clark, Colorado
The trip to Clark, Colorado starts as soon as you turn onto Elk River Road off Highway 40 in Steamboat. This scenic byway winds through gorgeous pastures and meadows alongside the Elk River. Multiple trail heads, including Mad Creek, and fly fishing areas can be accessed from pull offs and parking lots along Elk River Road. 30 beautiful minutes later you will arrive in charming Clark, Colorado marked most iconically by the Clark General Store. Here you can stop for burgers, snacks, and beverages before continuing your voyage into North Routt.
Next, drive an additional half mile to get to stunning Seedhouse Road. Turn right to continue following the Elk River as it climbs towards the Zirkel Wilderness and Gilpin Lake. Advanced adventurers should follow this road all the way to the Slavonia Trailhead and hike the 10 mile out and back trail to Gilpin Lake. Otherwise, enjoy an out-and-back drive down Seedhouse Road for stunning views of North Routt. Return to Elk River Road and continue heading north for access to Steamboat Lake, Pearl Lake, and Hahn's Peak. At Steamboat Lake visitors can enjoy paddleboarding, kayaking, canoeing, fishing, and more. Eat the Hahn's Peak Cafe if your party is peckish. Start making your journey back to Steamboat Springs around dinnertime to enjoy sunset views over the Elk River as your drive back to your lodging.
Best Day Trip to Oak Creek & Stagecoach
Start your day with breakfast in Steamboat before heading out to Oak Creek and Stagecoach State Park. Just 30 minutes south of Steamboat you'll find Stagecoach Reservoir. In the summer this is the perfect place to stop for fishing and boating, or hiking on the well maintained intermediate trails around the lake. During the summer time kiddos will love playing at the swimming beach near the marina. In the winter the surrounding trails are maintained and groomed for cross country and nordic skiing.
After your adventure at Stagecoach State Park head on over to the quaint old western mining town of Oak Creek, Colorado for lunch at Lupitas, the Franciosi Brothers, or the timeless Colorado Bar. Take the scenic route by exploring Highway 27 nicknamed "20-Mile Road", County Road 44, or Highway 131 back to Steamboat. 20-Mile Road will take you through aspen groves, high plain meadows, and western rock formations all the way to the town of Hayden where you can stop for food and gas, or turn right back onto Highway 40 and complete your journey back to Steamboat Springs.
Best Day Trip to Yampa & The Flattops
Another amazing day trip from Steamboat Springs well worth the journey involves making the trek to Yampa, Colorado and the Flat Tops mountain range. About 45 minutes south of town on rural Highway 131 you will see signs for the town of Yampa. The historic downtown area features some of the oldest buildings in Colorado, including the Montgomery General Store, which was originally established in the 1890s. Stop here for food or refreshments before continuing down County Road 7 toward the Flat Tops Wilderness Area. Drive slowly and soak in the sights on your way to Stillwater Reservoir. From the trailhead access here at the end of the road you can access easy, intermediate, and advanced hiking trails.
Bring a picnic lunch out to the Flat Tops Wilderness if you plan to stay for the whole day. Be mindful to consume your meal in a designated picnic area, such as the Bear Lake picnic area, and clean up any trash to help protect local wildlife from potentially dangerous human interactions. Once you've concluded your day in the Flattops Wilderness, begin your journey back to Yampa, Colorado. You can eat here at the Antler's Cafe or Penny's Diner, a historic establishment that has operated as a 24/7 diner for more than 50 years to serve the local railroad workers who ended their shift in the middle of the night. Wrap up your epic day trip by enjoying the scenic drive back to Steamboat Springs along rural Highway 131. Keep your eyes peeled for eagles and hawks that frequent the trees and telephone pools along the way.
Return to Steamboat for Dining, Shopping, and Lodging
After your epic day trip concludes, head back to Steamboat Springs for an abundance of dining, shopping, and lodging options. Steamboat is host to a large variety of family friendly and fine dining options. For shopping, park downtown and walk up and down Steamboat's historic main street area to explore art galleries, clothing boutiques, outdoor outfitters, and more. In town visitors have access to a plethora of hotels ranging from simple to luxurious. Book your lodging accommodations in advance to ensure availability, especially during peak seasons.