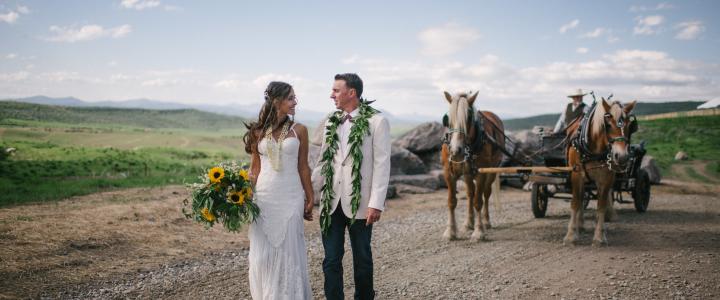 Steamboat Springs is the crown jewel of Rocky Mountain weddings. We may be biased, sure, but we can (nearly) guarantee glorious sunsets, alpenglow for days, and whether you're looking for elegant, ranch formal, or adventure, you can find what you're looking for in the Yampa Valley. The perfect destination wedding for an elopement or a 300-person shebang, we have what you're looking for in Steamboat.
Picking Your Venue
If you're seeking to tap into the heritage of the valley, you have many options. For the barn bash of the year, consider the Lucky 8 Bison Ranch south of town to show off bison herds to your guests, or La Joya Dulce for picturesque barns. Glen Eden Resort or the Midnight Ranch in Clark offers lodging; you could invite 200+ guests on either property or keep it intimate with your bridal crew and a couple dozen of your closest friends. In all these places, you'll get to show off the ranching heritage that is singular to Routt County. If ranch formal is more your idea, then you can't go wrong at the Flying Diamond or Catamount, both gorgeous, sprawling properties surrounded by aspens, lakes, and some magic.
If you're looking for a more traditional site in our mountain town, plan a hip downtown wedding at one of the beautiful restaurants on the water: Aurum Food & Wine or E3 Chophouse. Both have private rooms available, including a gorgeous summer porch at E3 perfect for an intimate elopement dinner. Steamboat Ski Resort can also host your celebration in an elegant ballroom at the Steamboat Grand (bonus: guest lodging an elevator ride away) or the Haymaker Golf Course, just minutes from downtown.
You might want mountain and valley views for days in all your photos, and there is nothing grander. Consider your wedding reception and ceremony at Thunderhead Lodge at the top of the gondola at Steamboat Ski Area. Want to be even more immersed in nature? Consider the Overlook trail at Fish Creek Falls, where you can marry in sight of the spectacular waterfall, and all it takes is a permit from the US Forest Service. If you're really seeking views without any other people in it besides you and your partner, the possibilities are endless: get married on horseback, stand-up paddleboards, river rafts, chairlifts ... the mountaintop is the limit. 
Wedding Planning
Especially if adventure is what you seek, hiring a wedding planner will eliminate stress and put a smile back on your face, whether you're local or not! Soul Spark and Heavenly Days both specialize in wedding event planning, from small to large packages that match your budget and your needs. Both event agencies offer elopement packages, including "Adventure Elopement". If you're a planner yourself, you might want to manage your own logistics and hand things over for the day. Check out rental packages from Colorado Event Rentals and Bell Productions for tables, chairs, glassware, yard games, and other essentials (bonus: Bell offers site design and day-of services if you only want help on the big day).
Florals
There's no lack of spectacular florists in town, including the Tall Tulip, the Glacier Lily, and the wedding-only Wild Hare Floral. If you're looking for something a bit smaller for your eloping party, check out Wild Hare's "pretty dead flowers" option, which are dried florals perfect for the edgier, romantic bride, or Glacier Lily's a la carte services, which are individually priced bouquets and bouts. Don't forget what will make the atmosphere on your big day!
Make it Steamboat
What else do you need to make your day Steamboat special? Spice up the menu and hire the mobile Mountain Tap Brewery truck, the brewery's traveling wood-fired pizza oven, and wow your guests pre, during, or post-reception - nothing like a fresh pie to counter an evening of dancing. Host your rehearsal dinner at the Snow Bowl where guests can mingle and bowl a strike in between meeting the in-laws, or the 8th Street Steakhouse where guests can bond over the open grill while they cook their beef to perfection. If you're not working through a formal caterer, consider mobile bar services like Yampa Valley Shakers, whose proprietor Michael Ruby specializes in custom batch cocktails, or R Bar 2 U, a traveling horse trailer and/or whiskey barrel bar to bring some western flair to your celebration. No matter what you do, know that you can count on Steamboat hospitality to get you 95% of the way to the finish line as we celebrate right along with you on your special day.