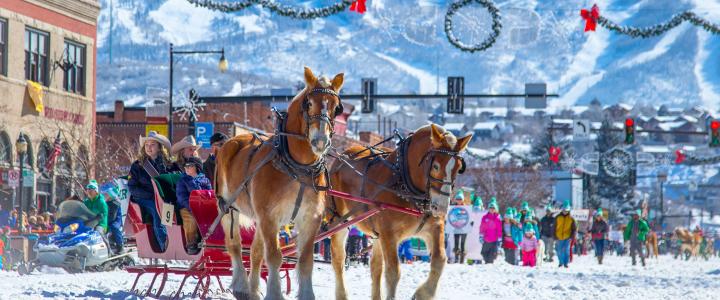 Only in Steamboat Springs do western heritage and rich skiing history weave together in an unforgettable week of festive winter celebration.
Many of the time-honored traditions on display throughout Winter Carnival are experiences that are truly one-of-a-kind. Here's an idea of sights you'll only see in Steamboat Springs during Winter Carnival:
Skijoring down Lincoln Avenue
It's a rite of passage for the children of Steamboat Springs: lining up on the snowy main street of downtown awaiting their turn to fly down the street, pulled by a horse as crowds cheer. The fastest time wins, but every smile that crosses the finish line earns a memory for life.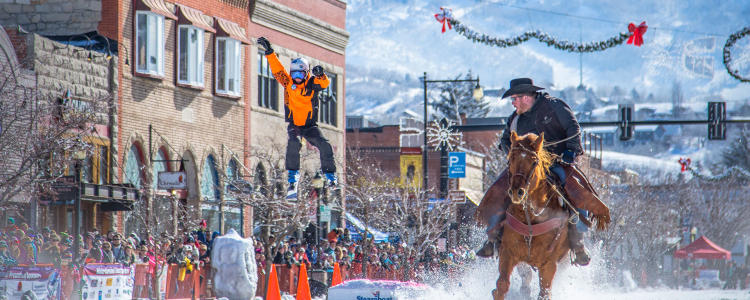 A marching band on skis
Steamboat is the only place where the marching band wears skis. Shuffling down Lincoln Avenue during the Diamond Hitch Parade on Nordic skis, the Ski Band is well-rehearsed and ready to glide through the elements while playing triumphant and festive arrangements.

Shovel races
There's a reason that the annual Shovel Races are for adults only and require a full-face helmet. Horseback riders urge their steeds on to full speed ahead while the racer is pulled behind, dragged down snow-covered Lincoln Avenue on a shovel usually reserved for clearing sidewalks.  The races – and the crashes – aren't a sight you're soon to forget.

Champagne Powder®
Steamboat Ski Area is known for its light, frothy Champagne Powder. Be prepared for the skiing and snowboarding of a lifetime by suiting up at your local Christy Sports – with two locations! – here in Steamboat Springs. You're going to want to stock up on wide skis, warm jackets, goggles for the bright Colorado sun and more.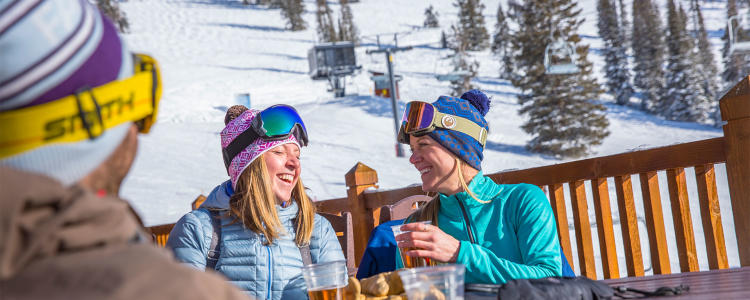 The World's Largest Firework
After several years of dedicated efforts to launching the World's Largest Firework, Steamboat Springs accomplished their goal during the 2020 Winter Carnival. After a 2019 malfunction in which the firework went off too early, the team behind the firework created a nearly 5ft wide, 2,800-pound firework and launched it during the Night Extravaganza. After a successful (and wildly impressive!) launch, Guinness World Records awarded Steamboat Springs the dominating title and we hold it to this day. Check it out for yourself here! 
The Lighted Man
For more than 40 years, the Lighted Man has donned his legendary illuminated suit for the annual Night Extravaganza. Adorned with LED lights, sizzling sparklers, and a backpack with Roman candles shooting off his back, the Lighted Man is so revered that his suit spends part of the year at the History Colorado Center in Denver.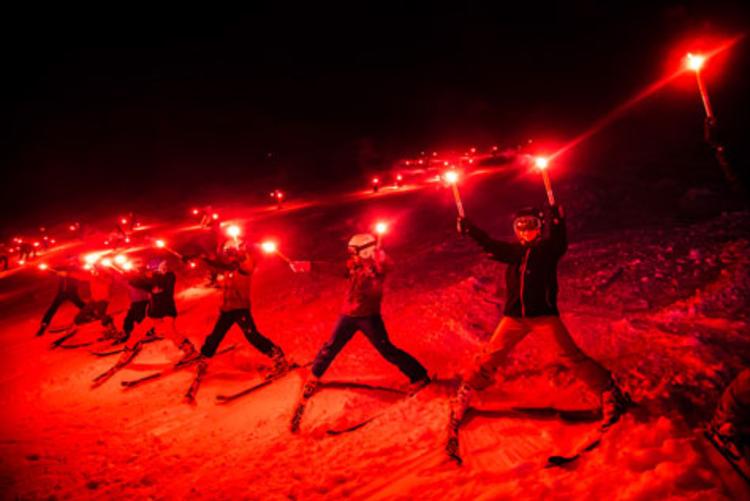 Skiers jumping through a flaming hoop
At the apex of the electrifying Night Extravaganza, the boisterous crowd will suddenly hold its breath as a skier pulling a flaming toboggan careens down one of the Nordic ski jumps. Cheers will erupt as they both launch into the air, flying through a burning ring of fire.  At that moment it's blazingly clear, there's no place like Ski Town USA®.
View this video of the Winter Carnival Night Extravaganza which features the Lighted Man, the flaming hoop, and many other highlights of the night show.
Winter Carnival, is a once in a lifetime experience. Be sure to get to Steamboat this year and celebrate with us!